David Stairs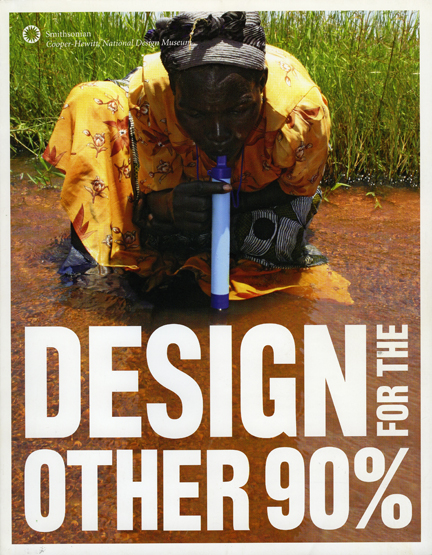 I've been haunted for three years by an essay I posted on Design Observer in 2007. Having just spent a year in Africa, I visited the Cooper-Hewitt while passing through New York upon my return. The exhibit that drew my attention, and fire, was Design for the Other 90%. My piece, "Why Design Won't Save the World", was just contrary enough to the prevailing design rhetoric that it stirred up a hornet's nest of response, some of it really negative. The basic complaint, often coming from famous people who ought to have known better, was that I was breaking ranks by criticizing the National Design Museum. Not surprisingly, people from the developing world stood by my critique of the neo-colonialist exhibit, almost to a person.
Since 2007 things have developed apace. The sustainable design movement has caught fire with climate change now a widely accepted fact, and everybody and his brother, even IDEO, is laying claim to being socially responsible. Unfortunately, the neo-colonialist language hasn't gotten any better. Emily Pilloton can make as many tours of the country as she likes promoting Design Revolution, but the profession-wide mantra that design, especially design by formally trained individuals from the western/northern hemispheres, will save the rest of the world is unchanged.
A couple of days ago I was contacted by Carolina Vallejo, a grad student at NYU, who has conceived an interesting project. According to Carolina, the idea came to her after she was asked to develop a socially responsible design project for the developing world on a one week deadline. She became indignant, realizing that most of the other students in the class had never traveled abroad, yet were being expected to design for people they had never met living in a place they had never visited.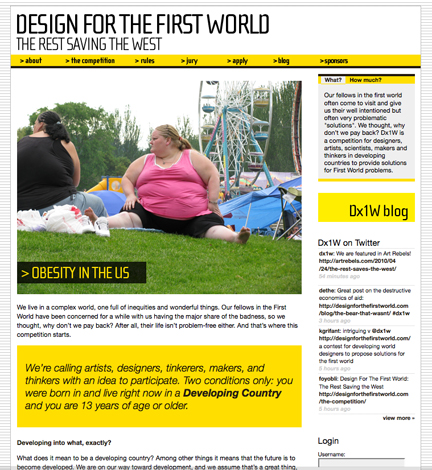 What emerged was a contest called Design for the First World, an attempt to critique "the pater­nal­is­tic and mis­in­formed approaches that end up as a waste of resources and cause more harm than good in the long run." Targeting four areas for improvement in the developed world: reducing obesity, addressing low birth rate, reducing consumption, and integrating immigrant populations, the challenge hopes to solve "First World problems" with "simple Third World solutions."
Response to this idea has been enthusiastic, and the Dx1W Twitter feed has been buzzing for days. A part of me wants to see this initiative succeed brilliantly, but, even clever ideas have limitations. The initial premise, that the patronizing West ought to focus more attention on its own problems, is all good. It's in the application that the idea begins to break down.
For example, promoting the idea as a contest, and an online one at that, just extends the design profession's obsession with solving perceived "problems" through remote competition, rather than face-to-face cooperation. Vallejo defends this approach (currently 59% funded through Kickstarter) saying that attention from the art & design establishment in New York would lend legitimacy to the project overall. Personally, I feel a less conventional approach, such as a traveling exhibition in developing world capitals, or donating entry fees to select First World charities, would ultimately accomplish both ends of addressing social problems while still foregrounding talented young designers from the developing world.
Increasingly, designers from China, Brazil, India, Uganda, Colombia and elsewhere are taking their place in the world design discussion. The greater problem is not so much a matter of who is involved in the conversation as how we go about choosing our vocabulary. The language of hegemony is hard to let go, especially when cultural and economic dominance favors one group so completely. Solving First World problems is good, but it isn't necessary or desirable to have people from the developing world imitating our flawed method. Let them show us the way to a better one.
If you'd like to make a donation to Design for the First World, please use the Kickstarter link above.
David Stairs is the editor of Design-Altruism-Project
8 Responses to "Just Deserts"