David Stairs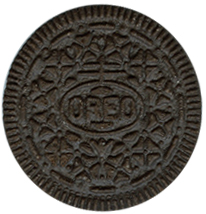 There are two treats I remember from childhood, and they were both manufactured by Sunshine Bakers: Cheez-Its, and Hydrox. Cheez-Its are still around in many updated variations, now a Kellogg's brand. Hydrox dropped from sight for awhile, the result of several changes of ownership, only to reemerge in 2015.
The Loose-Wiles Biscuit Company was founded in 1902 by Joseph Loose, who left the Board of Directors of Nabisco to start his own company in Kansas City along with his brother Jacob and John H. Wiles. They named their company Sunshine, and for nearly 90 years manufactured a number or original products, including Vienna Fingers and Hydrox, the original chocolate sandwich cream cookie.
Hydrox, a composite name of the elements hydrogen and oxygen meant to convey purity, was introduced in 1908, predating Oreos, which Nabisco launched in 1912. This copycatting cut both ways. Sunshine and Nabisco went head-to-head for many years. To counter Nabisco's Uneeda biscuits, Sunshine made Takhoma. Where Sunshine made Animal Crackers, Nabisco produced Barnum's Animals.
Nabisco began to pull ahead after Sunshine went through a series of takeovers beginning in 1966 and ending in 1996 when it finally merged with Keebler. Keebler itself was absorbed by Kellogg's in 2001. Kellogg's discontinued Hydrox in 2003 but, under intense pressure from Hydrox fans, reintroduced the cookie in 2008 for its 100th anniversary, only to drop the brand again soon after.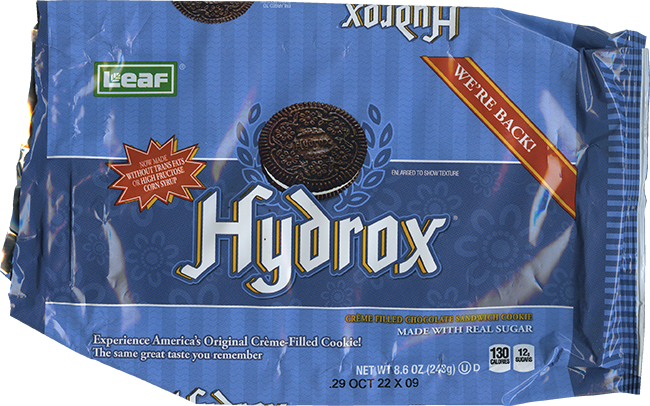 Over the years Oreos eventually surpassed Hydrox in popularity, largely due to marketing, despite being less chocolatey, less crispy in milk, and having a much blander cream filling. In 2014 Leaf Brands registered the abandoned Hydrox trademark and began manufacturing an updated recipe that does not include any trans fats or high fructose corn syrup. The original logo and familiar sunny cookie pattern are back and, in my opinion, even the biscuit design is superior to Oreo's Nabisco logo, itself a derivation of Nicolas Jensen's 16th century printers marque.
Oreo has been a brand of Mondelez International since 2012. For my money, all the extra "Double Stuff" in the world cannot make up for Hydrox's superior crispness, sweetness, and flavor. If you grew up in a Hydrox-free world you might not believe me if you haven't tried them, but friends, you have been living a deprived existence. (My young son reminds me that he grew up eating Newman-Os, the "all-for-charity" version of chocolate creme sandwich cookies. He gave Hydrox two thumbs up.)
Hydrox vs Oreos? No contest! Hydrox wins every time, hands down!
David Stairs is the founding editor of the Design-Altruism-Project.