Jenny McGee
In August 2002, just after graduating college with a BFA in Graphic Design, my husband David and I headed to El Salvador for a three month visit. With $2,000 to our name we had decided to extend our honeymoon to visit a friend working with a Salvadoran not-for-profit called ENLACE. As the three months is now turning into an eight year commitment some lessons about life and graphic design are being learned. Not long after arriving in El Salvador I took a fresh look at some of the deepest values and assumptions I had held. I intuitively knew that there was something wrong with the short-sighted dreams of personal worth that I had in my head as a graphic design student. I felt like my mission in life was to make a famous logo in order to be somebody.
When I came to El Salvador, I acquired dreams of being a different kind of designer; a designer who was cultured and international, not to mention a designer who needed to earn a living. Dave started teaching English and I started working for an advertising agency. My clients in the Latin corporate world were Toyota and Coex Coffee. I was hired as a senior designer and positioned to give creative direction and "let go" for doing so. It seemed that my boss did not appreciate creative input from a "gringa." A few weeks passed and a new opportunity came up; a freelance position with a not for profit called CHF (Community, Housing, Finance.) This time my clients were Salvadoran victims of the 2001 earthquakes. I designed brochures, flyers and a CD ROM fundraising for the construction of new homes.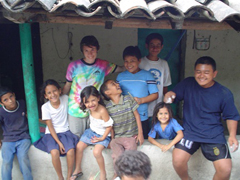 Kids in Colima
The experiences I had with CHF forced me to think whether it was enough to be 'international' and 'cross-cultural.' I came to see that being a designer in El Salvador amounted to more than just being hip and international. It was all about making a difference in people's lives. I learned that in development circles they talk about transformational development. They call it 'transformational' because there are no static entities in the process. Everyone involved must be open to change and growth. In the same way, I came to believe that I should be committed to a transformational vision of design. This kind of design would impact lives and cause positive change and an opportunity to provide servant leadership. In this way of thinking, intention and purpose are the starting and ending points.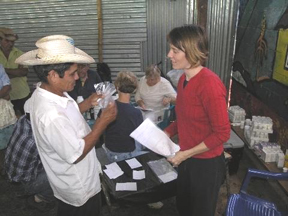 Medical Clinic
Instead of taking design commissions for a corporate power house like Coex Coffee I took up the work of subsistence coffee farmers, creating coffee packaging for ENLACE and World Relief; two agencies that pay just wages to small scale farmers while raising funds for sustainable development projects. For ENLACE, I provided a website, annual reports, newsletters, proposals, letterheads and business cards. My goal is to enable the not for profit sector to better communicate their stories, their passion, their development strategy. I want to help an organization to more clearly identify and share its story; for example the story about providing clean water for the first time to thousands of people. I want to help tell the stories about curative and preventative health care, sanitation facilities where none previously existed, improved cooking methods and many more projects all identified and managed locally in El Salvador. Part of the commitment that Dave and I made involved itineracy, that is, a pledge to raise the funds to cover our own cost of living. Thanks to a network of churches and individuals we have raised a solid funding base for our work. The sacrifices of so many enables us to live simply and work for organizations that would not otherwise afford to have quality design. What has El Salvador taught me? In simple terms, you can make a difference in people's lives no matter what your social location and cultural setting are. What is required is reverence toward life and an awareness that a better world does not come from sweeping changes, but, as Mother Theresa said, from doing little things with great love.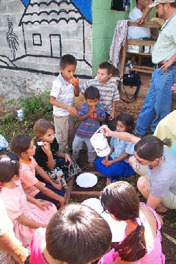 Mural making
Jenny McGee is a 2002 BFA graduate of Missouri State University. She lives and works as as an artist and graphic designer in El Salvador collaborating with ENLACE, a Salvadoran Not for Profit working in rural El Salvador.
6 Responses to "Transformational Development"