David Stairs
"That we are surrounded by deep mysteries is known to all but the incurably ignorant." —Chinua Achebe
Mr. James Lutwama is a teacher, a farmer, a social activist, and a philanthropist. This would be enough to kill most men, yet James attempts more and more. At Arcadia Valley, the seven acres James oversees near Bombo, a variety of garden vegetables and fruits are growing to pay for school fees and building projects. Through his newly registered non-profit, Fhope, James and his wife Tabitha, who is also a teacher, support a group of young learners and orphans in their efforts to better themselves. James certainly knows the value of education. He obtained his bachelor's certificate in teaching at age thirty after years of struggle.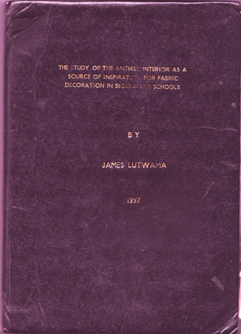 It is about James as a teacher of art and design that I choose to devote these thoughts. James' pupils at Mwereerwe Secondary School are often without art supplies. It is in such extreme moments that James relies on the bounty of nature to prove a point. In the absence of poster colors flowers, for example, can be used for a lesson in color, or trees for one on line.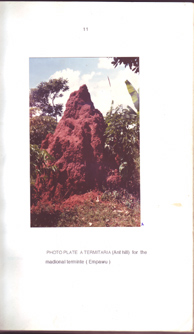 As a student at Kyambogo University in the late nineties, James developed a degree thesis entitled "The Study of the Anthill Interior as a Source of Inspiration for Fabric Decoration in Secondary Schools." Now, most of us have probably not thought much about termitaria, let alone torn one apart and cross-sectioned it searching for inspiration, but herein lies the beauty of living close to the land. James' designs reference, in part, the truffles, what he calls "mushrooms," that the termites raise for food.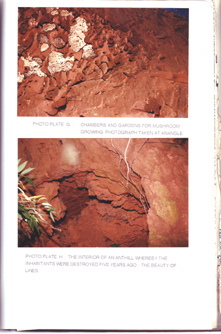 Fabric design is still an important commercial art form in Africa, a fact any western visitor can attest to. It is taught at Makerere University, and we've had occasion to feature a variety of fabrics on our former DWB website. The patterns and colors are so vibrant and varied one has frequent occasion to lament coming from a northerly clime. That said, James' research speaks for itself. It is unique, it is original, and it holds much potential.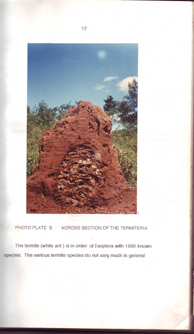 I asked James if I could write about this for the D-A-P in part because I didn't know how else to help purvey his idea. He has been trying to interest visitors, most recently DWB Board Member Michael Phillips, in the possibility of publishing this research for a number of years, so I thought maybe I could get him a little exposure through the Internet.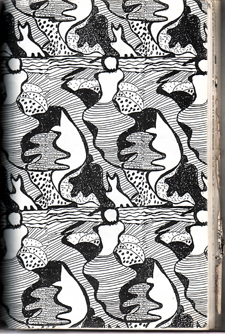 If you are interested in making a donation to either Arcadia Valley or Fhope, you may do so by way of a specified gift at the Designers Without Borders website. If you would like to help produce any of James' termite-inspired fabric designs, you can contact him directly: nattabi2001@yahoo.com. And for those of you who are educators, I hope you take inspiration from James' reliance on Mother Nature, our one and original master resource, as a teaching tool.
David Stairs is the founding editor of Design Altruism Project