David Stairs
What do Legos, Tinkertoys, Lincoln Logs, Erector, Capsella, K'Nex, and Brio, have in common with Structo, Nylint, Ertl, and Tonka? Next to nothing, right?
Yet who hasn't heard of some of these famous "creative" building toys or "collectible" sheet metal toy trucks? Most boys, and many girls have spent endless hours developing their spatial abilities with one or more of these standards. But when it comes to originality our children are missing the boat.
I'm thinking here about the limitations of adult designed experiences. Most successful toys are backed by hours if not years of design modification and consumer testing, guaranteed to provide children with safe, creative fun. But where it may be safe, is it really creative? While engineering profs wax poetic over facsimiles of famous structures using Jenga blocks, do our children learn anything about design from making a Lego copy of the Empire State Building?
Conversely, I've often heard Ugandans criticized as adopters rather than creative originators. But every Ugandan boy has had an experience designing his own steerable wire vehicle from recycled materials, and some of these are amazing. While searching for such a toy for my young son Luco for Christmas, I decided to commission a couple different young Ugandan designers to compare and contrast design approaches.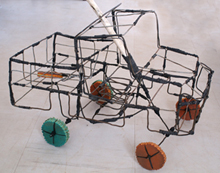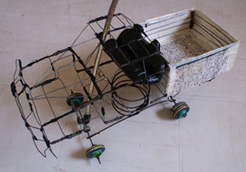 Start with a couple different thicknesses of bendable steel wire. Body shapes and panels are easily bound together using strips of black rubber cut from recycled bicycle inner tubes. Doors, bumpers, and details like mirrors can be added.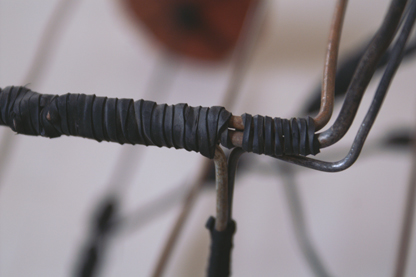 The rubber strips keep the structure tightly bound while allowing for maximum resilience. But every superstructure needs a suspension. In some cases this is made from bent wire; in others, as in the righthand example, a reused bedspring suffices.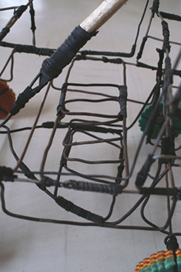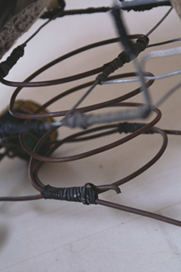 Then there's the matter of steering. The column must be tall enough to accommodate the owner's height, but not so heavy as to tip the vehicle sideways. Steering linkage designs range from sliders, to center torque. Rack and pinion has yet to be adapted.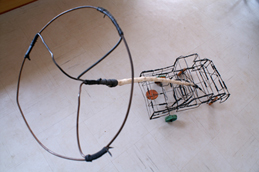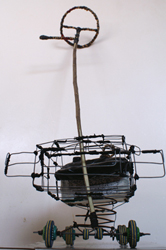 Tires are made from recycled flipflops cut into rounds, double-mounted for the heavier rear axle, and bound together with rubberbands. Note the treads on the lefthand and hubcaps on the righthand model.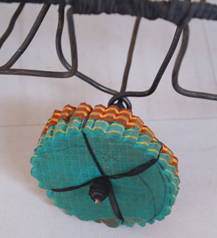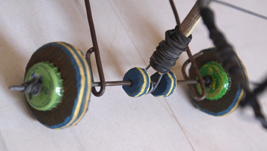 To this basic structure one can add seats, boxes, trailers, tippers, whatever one's imagination fancies.
When I first saw one of these toys I was intrigued with the overall concept. I thought it was probably made by the boy's father to keep him out of trouble. Come to find out that most boys make their own vehicle. Interest in this self-styled African-wide folk art is spreading, with even mainstream periodicals like Smithsonian running articles about these trucks. But the reality remains: perhaps these sons of adversity are in some ways better off than children of affluence. At least they are making their own design decisions, something a modern American child, in his thoroughly designed umwelt, can hardly lay claim to.
David Stairs is founding editor of Design-Altruism-Project