David Stairs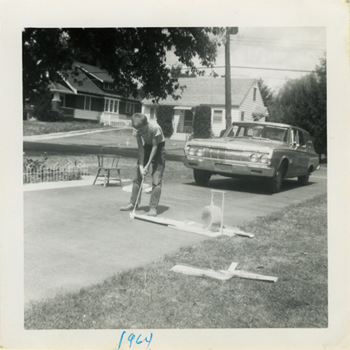 The author, at his homemade miniature golf range, with his Father's Plymouth Belvedere in the background.
I was driving across northern Indiana last year when a wide-tracking station wagon blew past me at 85mph. Once upon a time this event would not have warranted notice. But on this particular day it was the only such vehicle on that broad highway, the lone survivor of an illustrious if not heroic age.
A child of the 50s, I grew up surrounded by station wagons. Just as with contemporary tastes in vans, a little fashion hysteria dictated that most of the families in the neighborhood owned a wagon. Each summer my father would fold the backseat down and pack the wagon for a trip to Airdwood Lake Lodge near Speculator, N.Y. in the Adirondacks. The seemingly interminable 100-mile trip necessitated that my brothers and I have a place to play card games in back and, at that time, a station wagon was the only answer.
Originally called "depot hacks" the vehicles were in low production from about 1923 on, primarily used to ferry people and their luggage from the train station, hence, the popular designation. Many early manufacturers built a wagon body atop a Ford Model T chassis, creating the prototype of the later stylized "woodies" of surfer fame. Ford made the first production model steel body station wagon in 1937 and, by the late '50s the woodies were effectively dead. But by then, as sales statistics attest, station wagons were some of the most popular models on the road.
I remember the day when my Dad sailed down the street in his first wagon, a robin's egg blue 1956 Ford Country Sedan. An answer to the Chevy Nomad, the Country Sedan (which out sold the Nomad) was itself, at 17,000 units, a low production model. For our family this began a string of station wagons, continuing with the push-button 1961 Plymouth Suburban, "the worst lemon I ever saw" according to Dad, and antithetically, the 1964 Plymouth Belvedere, "the best car I ever owned." Plymouth used the designation "suburban," another of the many descriptive monikers for wagons, right up into the '70s.
In 1965, when Pat Glessing won the Oldsmobile Vista Cruiser raffled at the St. Margaret's Parish Festival, I thought it was the coolest car I'd ever seen. It had a small skylight in the roof above the back seat that let in too much glare, although it did accommodate Pat's expanding family. Since her son Jack was a friend of mine, I eventually got to ride in it.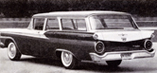 Dad wrecked the Belvedere in 1968. He fell asleep in Fulton, New York on a sunny autumn afternoon and crossed into the oncoming lane. Then a 16-year-old with a learner's permit, I drove my Mother to the A.L. Lee Memorial Hospital to recover him. Since Dad's business kept him on the road, it wasn't long before a 1968 AMC Rambler wagon replaced the beloved Belvedere.
After the Rambler Dad had his first and only brush with a European car. A dealer talked him into buying a 1971 Volvo 144 wagon. I loved the damn thing. It almost fit all Dad's sales kit and equipment, had disc brakes, got great gas mileage, and was a cinch to park. But it only had a 4-cylinder engine and suffered vapor lock when hot, a thing none of the larger American cars had ever done, so Dad hated it.
After the Volvo I began to lose track. My brothers agree that there was a used Plymouth Satellite wagon sometime in the early '80s, and an Aspen later still, but, by then, I was gone from home and paid little heed. Most American station wagons died unceremoniously in the late '70s, with Chrysler discontinuing its full size Plymouths. By 1984 they were being replaced by new minivans and increased truck sales that, to this day and to our collective shame, dominate the American market.
The 1990s saw the end of seventy years of American station wagon production. The 1996 Buick Roadmaster, the car that passed me on Interstate 69 in Indiana, was the last production model. There have been concept cars and plenty of sporty new version wagon/SUV hybrids, like Subaru Outbacks and Foresters. The implosion of the American auto industry does not bode well for the station wagon's return any time soon. I recently bought a Toyota Prius hatchback that is considered a station wagon by some, but it just doesn't have the same rustic family charm as the old "prairie schooners."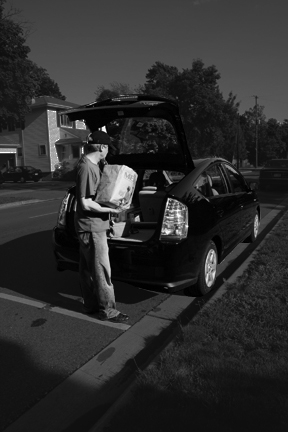 Forty-five years later, the author with what now passes for a station wagon, a 2009 Prius hatchback.
There are, of course, station wagon websites and fanzines, like Steve Manning's wonderful site www.stationwagon.com. It's hard to believe that something once so commonplace could now be relegated to the polar extremes of scrap yards and collector clubs but, as with so many things, that little bit of Americana is perhaps best left to the history books. If you have a suitable garage you can still purchase a fully restored 1950 Buick Super Model 59 Estate Woodie Wagon, complete with a "Grandpa visor," for a modest $66,500. At that price, what am I waiting for?
David Stairs is editor of Design-Altruism-Project.
2 Responses to "Requiem For a Middleweight"
comby Says:
December 11th, 2009 at 8:55 am

The fellow that I am remains downright pleased to have had a motorized childhood composed primarily of German engineering. That said, there's still probably a photograph or two floating around of me leaning on the bumper of a Chevy.

admin Says:
December 11th, 2009 at 9:39 pm

Dear Comby,

Or a Rover.