David Gunn
Twenty years after the end of the Khmer Rouge, Cambodia still bears the scars of this time. Some of its effects are obvious – related to the decimated infrastructure, the depopulation of cities and displacement of peoples. But some of its effects are more complex.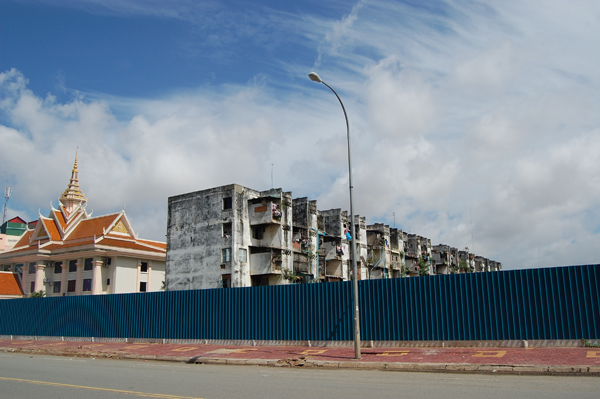 The impact upon the cultural activity of Cambodia is one of these more complex effects. By the end of the regime, almost all of the artists, writers, musicians and intellectuals had been killed, and much of Cambodia's cultural heritage was irrevocably lost – sustained only in the memories of the few musicians and artists who survived, and those who had managed to flee the country.
In the last 20 years, great efforts have been made to find these people and to recover and preserve endangered traditional khmer culture. These efforts are clearly important, but in a country that has limited resources for the arts, these conservation efforts have left little room for experimentation into what contemporary Cambodian art or music could be. For example, although many young Khmer musicians are working to master traditional instruments, notions of how to use Khmer instruments in experimental or improvised music contexts are almost entirely unexplored. In a similar way, though there is a thriving market in traditional art, and some support for modern painting and dance, examples of participatory and community-led artworks are rare.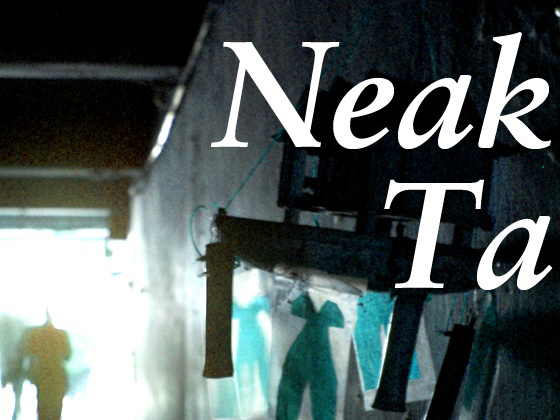 We work at a UK-based arts organisation called Incidental, specialising in new media and participatory artwork. Over the past five years, we have visited and worked in Cambodia several times, and as we have spoken to many Cambodian organisations and artists, a question has continually fascinated us: what would an experimental Cambodian music and culture look like? And could it be used to raise debate and action around pressing civic issues in contemporary Cambodia?
Next month, we are traveling to Cambodia to establish a new cultural development project to help answer these questions, called Neak Ta (the term translates roughly somewhere between "natural spirits" and "ancestors"). Partnering with three Cambodian institutions, we are working with young Cambodian artists and musicians to explore new forms of artistic and musical creativity at the borderlines of traditional Khmer culture, new media and participatory arts practice.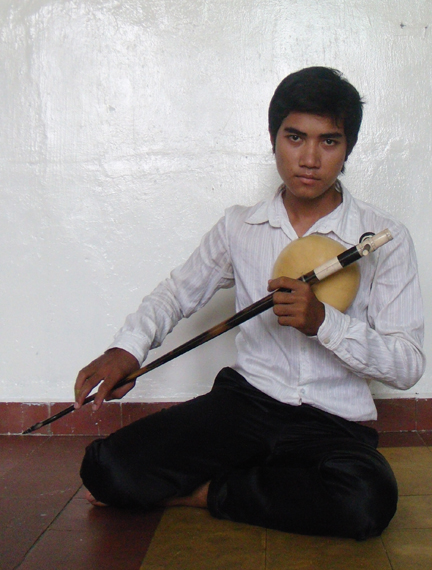 Chomneth with his Khsae Diew
Over a six week period we are running a series of workshops with the Royal University of Fine Arts, Cambodian Living Arts and Java Arts Cafe in Phnom Penh, working with local musicians and artists to develop a series of public arts events and performances. But this isn't a project about exporting European or American practices – but about providing the tools and knowledge to young Cambodians to explore new and uniquely Cambodian forms of creativity.
The project is run on a not for profit basis – Incidental are donating their time to run the sessions and covering all travel expenses. But we are trying to raise funds via the Kickstarter platform to purchase vital equipment and materials to be used during the project by our Khmer partners This is an important part of the process – allowing us to design a flexible and lightweight project that isn't restricted by the limitations of more traditional cultural development.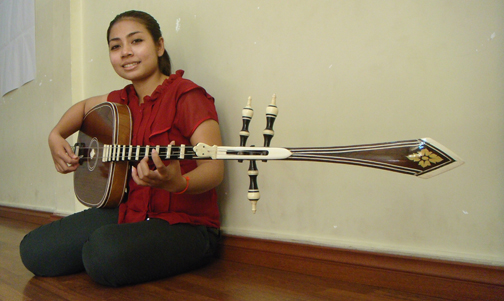 Savy and her chapei
People who donate will not only be helping to realise this unique project and directly supporting young artists in Cambodia, but will also receive various rewards (handmade CDs, unique photographic prints, real-time updates on the project.
In addition to the work and skills developed during this process, this phase will also be used to research for future opportunities – developing skills and sowing the seeds for follow-up projects to be led by by our Khmer Partners, and hopefully fostering an ongoing and self-sustaining tradition of cultural innovation and development.
You can read more about the project (and donate) at http://kck.st/9CKhM8
David Gunn is the founder of Incidental, a UK-based trans-national organisation specialising in cross-disciplinary creative work.