An Xiao Mina
They're a colorful, familiar sight all across the Philippines. Converted from old US army vehicles and personally decorated by the drivers, jeepneys have been transformed into viable public transportation vehicles. They zip through dense traffic much more easily than a bus but they can still fit at least a dozen people. In the provinces, passengers even ride on top, and they can get on and off at any point along the driver's route.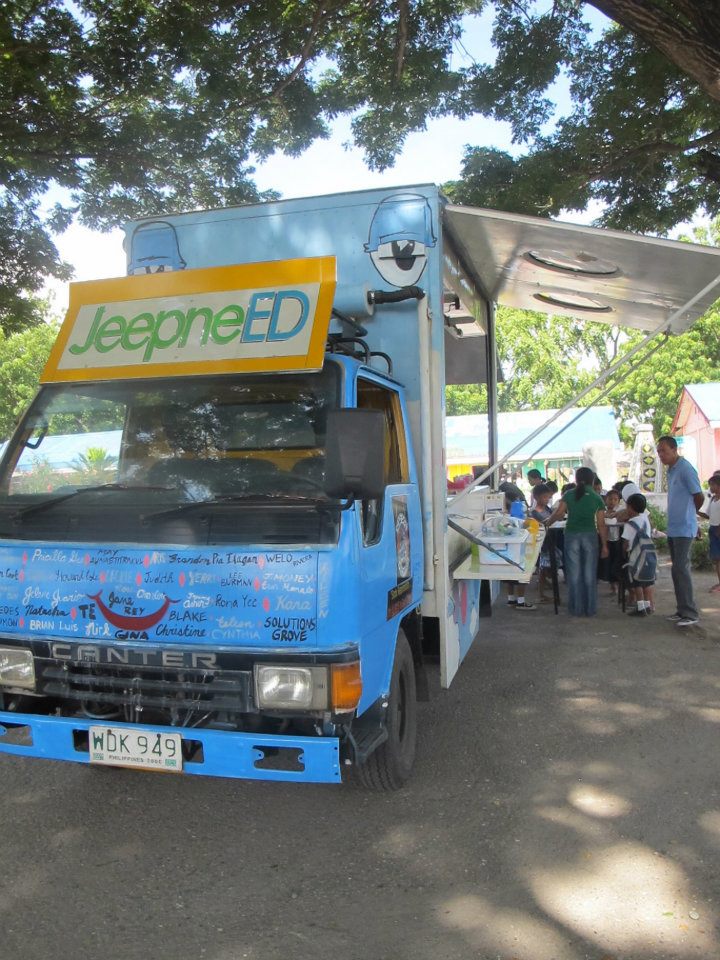 Recently, educators Shaina Tantuico and Erika Pineda decided to take a different route. Starting with a Kickstarter campaign that raised nearly $10,000 from 164 backers, they aimed to galvanize the international community to help them transform a jeepney into a mobile science education lab. Backers received unique awards that involved them in the colorful design so essential to jeepney culture. For $500, for instance, backers had a 2×3 print on the vehicle designed in their honor, and for $15 they could have their name on the bumper.
Dubbed JeepneED (a delightful ambiguity that could be read as "jeepney-ed" or "jeep-need"), they then took the project a step further. They began livestreaming their construction progress from a car garage in Manila. They created a series of videos on YouTube showing their progress and answering backers' questions. One particularly insightful clip revealed the design process behind the first finished product, a process that involved input from a number of industrial designers, educators and consultants they recruited to advise them.
Ultimately, the design serves two essential functions. It creates a functional mobile science laboratory that brings much-needed science education to schools across the Philippines. The organization backs its approach with extensive research about the impact of quality science education on students' future prospects. The project launched in Sarangani, a city deep in the south of the Philippines and best known as Manny Pacquiao's hometown. Children who might not otherwise have had access to expensive science equipment get a regular visit from JeepnED.
But there's an extra step. Mobile education isn't new, of course. Mohammed Rezwan's floating solar-powered schools in Bangladesh are a particularly inspired solution, responding to both climate change and difficult access to basic education tools like books and the Internet. JeepneED board member Manuel Hernandez in Fresno, CA has pioneered the award-winning Mobile Science Workshop, which is modeled after Southern California food trucks.
By crowdsourcing the design on both the aesthetic and functional level, what Tantuico and Pineda have done is make mobile education fun and relevant for potential funders, and they've given a way for educators and designers to contribute their skills. Not everyone can just up and leave their homes and jobs, and giving money may be easy but not necessarily fulfilling for creatives. Bridge figures like JeepneED can make it easy and exciting for a dedicated global community to form canadian pharmacy and make a meaningful impact.
An Xiao Mina is an American designer, strategist, and researcher who recently worked on the Gwangju Design Biennale's Un-Named Design exhibition. She focuses on the role of social media and communications technologies in building communities and empowering individuals. Find her on Twitter here.