David Stairs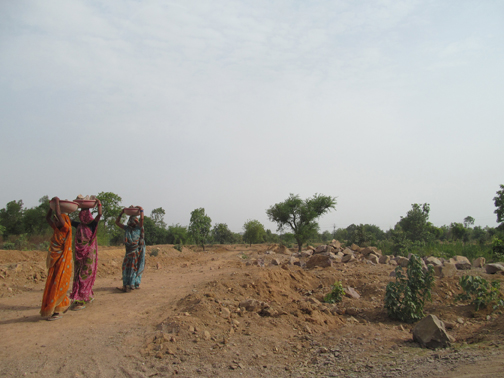 Madhya Pradesh, in north central India When one thinks of France one automatically pictures the Eiffel Tower; New York and it's the Statue of Liberty; India and 9 out of 10 people will say "Taj Mahal." India is home to many other significant sites, including many of World Heritage caliber. Think here of the Red Fort in Delhi, or the Sikh Golden Temple at Amritsar. For me there was only one place I didn't want to miss while in India: Khajuraho.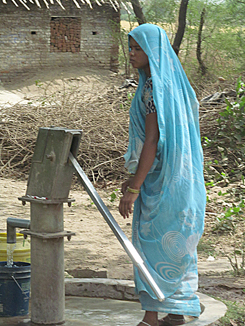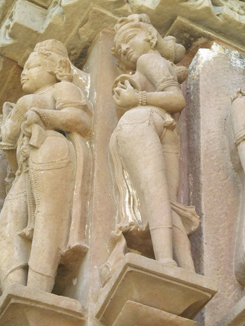 Contemporary and idealized medieval Indian women
The temple complexes at Khajuraho, dating from 950-1150CE, were erected by the medieval Chandela monarchs. Originally there were about 80 temples in the area of which about 25 remain. Before the Mughal invasions, Kahajuraho, a dusty rural town of 20,000 today, was a large religious center and home to many monks.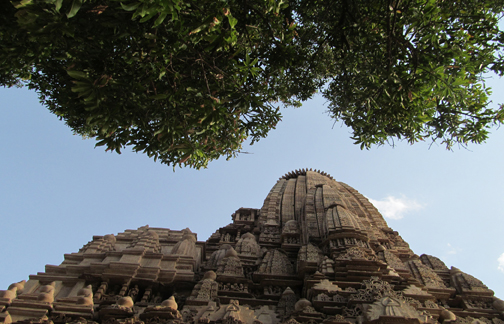 Located about 350 miles southeast of Delhi in Madhya Pradesh, Khajuraho is not easy to reach. We drove nine hours from Benares to get there, the reason most tourists fly in. The landscape is dry, and the main industry seemed to be cement manufacturing, followed by dryland agriculture, pastoralism and, of course, tourism.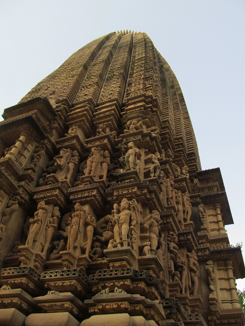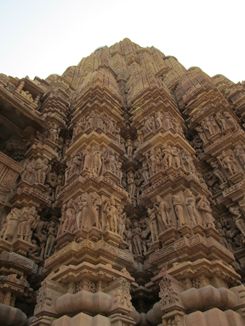 The illusion of outward bulge
The temples at Khajuraho were not constructed using cement but, rather, mortice and tenon. These huge piles of carved stone, the largest Kandariya-Mahadev temple is 80 feet tall, are built around small interior sanctums, themselves decorated with numerous sculptures. The temples vault skyward in a curvilinear pyramidal manner, at points apparently defying gravity where they create an illusion of outward thrust.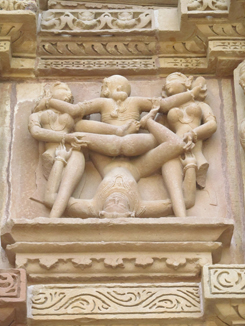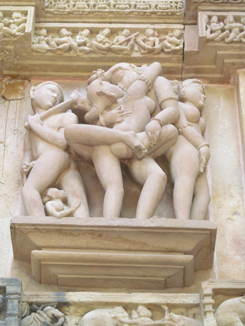 Two acrobatic tantric positions
Made primarily of sandstone, the carvings have suffered the damage and weathering that 1000 years will exact from sedimentary rock. But such carvings! Khajuraho is justly famous for its erotic sculptures, arguably the best in the world. Row upon row of figures stack skyward, many in coital positions. Although not representative of the Kamasutra, there are many inventive positions here. Self-pleasuring and "animal sex" positions, as well as oral sexual stimulation are represented.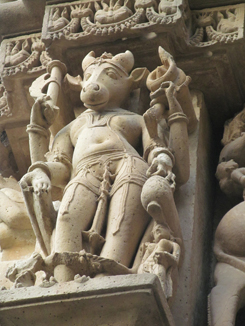 Sculptures of fantastic chimeric animals and gods
Overall, it has been estimated that 10% of Khajuraho's sculptures are erotic. By far the larger number depict a variety of fantastic creatures, horses, elephants, and chimeras. Column heads and capitals are universally comprised of kneeling figures with extra arms who support the structure on their backs.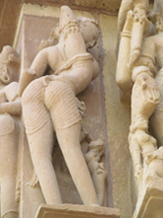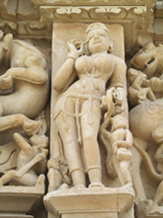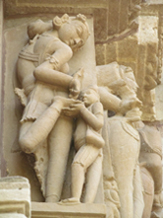 Bathing, applying eye makeup, removing a thorn
Themes abound at Khajuraho, and can be seen at its various locations. All of the females are buxom, but many are pursuing other than sexual pastimes. Here one nymph is playing a flute, there another is looking in a hand mirror. Charming sculptures depict women removing thorns from their feet, or applying eye makeup. These small sculptures were obviously carved off site then transported to the temples and incorporated into the stack.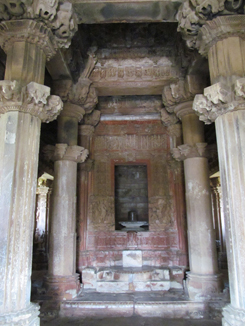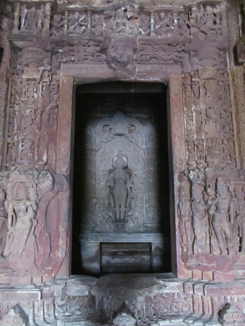 Temple interiors, with deity on right
Each temple is different, and yet the style is remarkably similar. Inner sanctums are dedicated to different deities, and some, like Nandi, have their own shrine. The existing temples have been rescued from overgrowth, and a certain amount of restortion has taken place. Where this involves a paste-over of cement, it has been poorly done.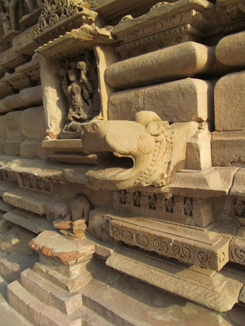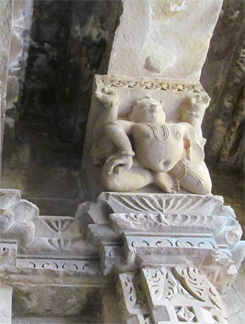 Lion spigot on left, capital on right
Occasionally the practical portion of the structure surfaces in the form of a carved drainage spout or ventilation screen but, for the most part, these effects are secondary and under emphasized. Design motifs are as strongly repetitive as sculptural themes, with decorative elements repeating on columns, capitals, friezes, and entabulatures.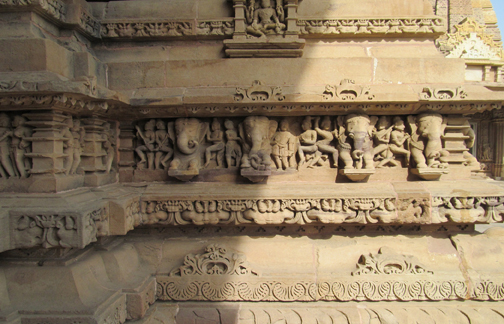 Repetitive design motif in this elephant entabulature
Amusingly, while animals are a common theme at Khajuraho, few can today be seen inside the manicured compounds, except for a troop of monkeys that inhabit Chitragupta structure at the north end of the western group.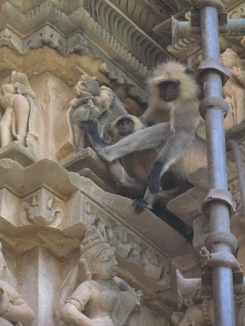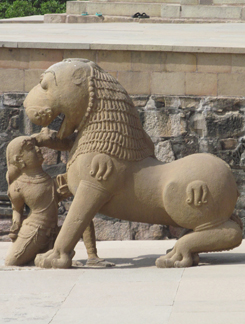 Khajuraho did not disappoint and, because we went during the hot season, tourist attendance was small with most visitors being from India. While you may not think about the industrial revolution when you view the Eiffel Tower, or think about freedom when you see Lady Liberty, there's no escaping thinking about sex at Khajuraho. And that's largely justifiable!
David Stairs is the founding editor of Design-Altruism-Project