David Stairs
"Oh Mother, today I remember the sindoor on your forehead, the red-bordered sari you used to wear, and your eyes—calm, serene, and deep."
—spoken by Bimala in Home and the World, by Rabindranath Tagore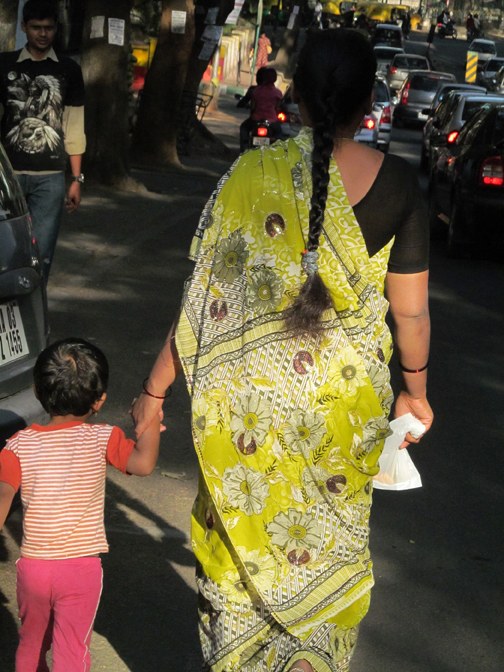 On the matter of women's dress, there are two approaches in India, traditional and westernized. There's not much to tell about the latter other than that it's branded designer wear. But of the traditional, two main forms exist, the sari and the salwar kemeez.
Saris are worn throughout southeast Asia. Indian women's saris are elaborate 6-7 meter weavings of silk or cotton, or even crepe, satin or chiffon. They are sometimes decorated with silk thread, embroidery, and gems. Their advocates consider them very sexy all-weather garb, a form meant to show the feminine figure at its best that can be full of frills, sequins, and accompanying gauzy scarves. Because of this and the fact that they do not cover the navel they are considered immodest by many in Pakistan where the knee-length kurta or shalwar kemeez is preferred by both genders.
Lovers of the sari say it is cool in summer and warm in winter, as well as being flexible and adaptable. Supposedly there are between 60 and 80 different ways of draping it.Enemies of the sari consider it ungainly and ill-suited for all occasions. According to them it does not keep one adequately warm, and is miserable in wet weather.
Whichever side one takes in this debate, you have to admit saris are brightly colored, comprising one of the most vivid aspects of the Indian urban environment. Although modern machine-woven saris have devastated the hand weaving trades, traditionally hand woven saris are still popular for weddings and feast days. I visited a couple artisinal producers to observe their process and get a better appreciation for this iconic garment.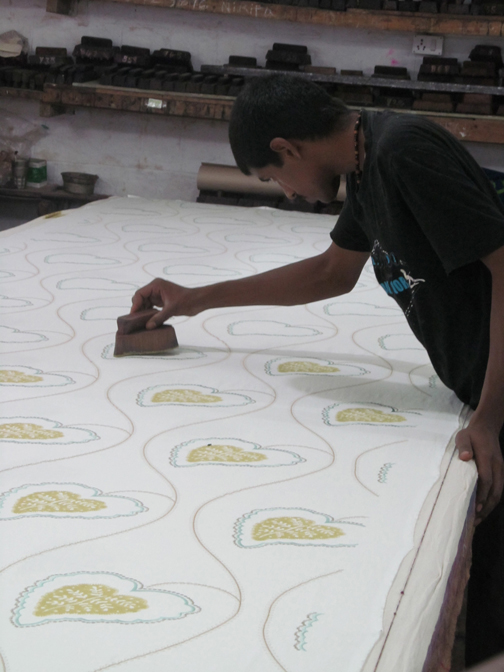 At Tharangini, a traditional block printing workshop located in Bangalore's Sadashiva Nagar neighborhood north of Sankey's Tank, workmen hand print on a variety of materials in single and multiple block patterns. On the day I visited, a 40 meter bolt of cloth five feet wide was being printed with a one-color block. This would require approximately 1600 impressions to complete the task, much too labor intensive for any but a high-end, often export market. In this same way patterns designed by William and May Morris over 100 years ago are still printed in England by custom order.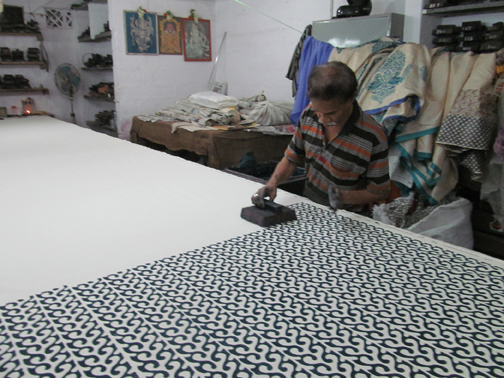 The blocks are hand carved from teak by skilled craftsmen to extremely high standards of accuracy. Padmini, second generation proprietor of Tharangini, has experimented with the use of gum arabic-based paints as these are better for both the workers and the general environment. Tharangini is the only shop in Bangalore still printing fabric in this manner.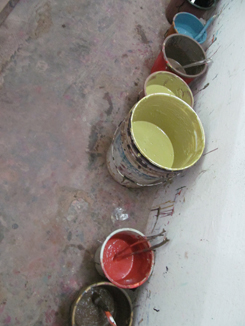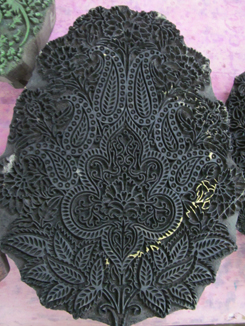 At Tharangini, gum arabic-based paints provide a safer environment. An intricately carved teak printing block.
Tharangini's fabric is supplied by Rajesh Doraswamy's weaving operations in Yelahanka. On a beautiful Sunday morning in June, Rajesh's nephew Raghava met my son Chris and I near the giagantic statue of Hanuman the monkey god in Yelahanka New Town to take us on a tour of their operations.
As the car wound through the alleyways, Chris commented that he felt almost like he was back in Africa. In a mews we stopped outside a non-descript three story cement building. As we passed through a narrow doorway we entered another world. Twenty power looms were crammed into two small dark rooms. Only about half of the machines were working, but the noise was deafening, and none of the workers were wearing ear protectors. As we watched, workmen tended the 50 year-old looms, weaving diaphanous silk sari yardage. The machines used punch card programming, as Jacquard looms have done for over two centuries.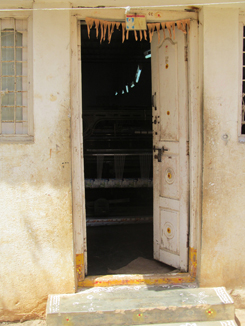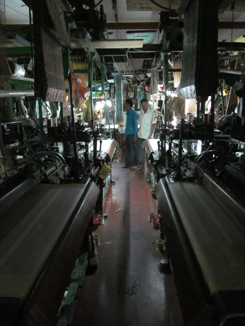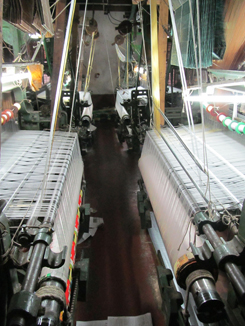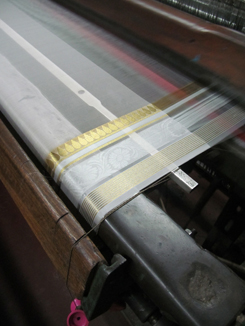 Entrance to a power loom shop; the working environment; a typical product, demonstrating the decorative border
Next we moved on to another building a few blocks away. Here, in a much quieter, brighter room with twelve looms, three workmen sat at their looms which straddled treadle pits. A six-meter sari takes three 12-hour shifts to complete on a hand loom. The garment will retail for 3500 rupees ($70), but only 600 go to the weaver. Hand looms allow for more variation, and require more skill to operate, but are fast becoming obsolete. Of the approximately 10,000 looms in Bangalore, not more than 200 of them are manual. Raghava estimated that hand looms would vanish from Bangalore within five years' time.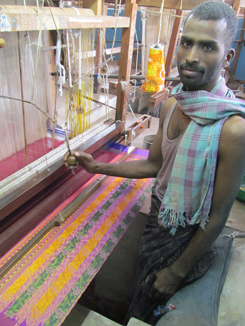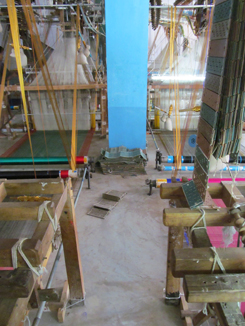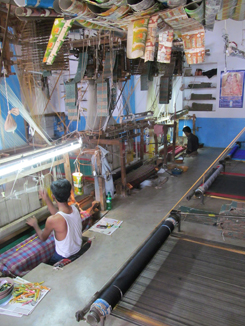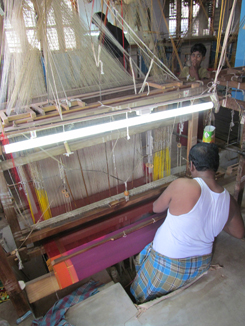 A handloom workshop, with treadle pits
Most of the sari materials we saw being produced were made for the Indian market. About 10% of Doraswamy's production is exported to other destinations in southeast Asia where saris are popular, like Malaysia and Singapore. Workmen and their families often live in the premises, usually on a upper floor above the workshop.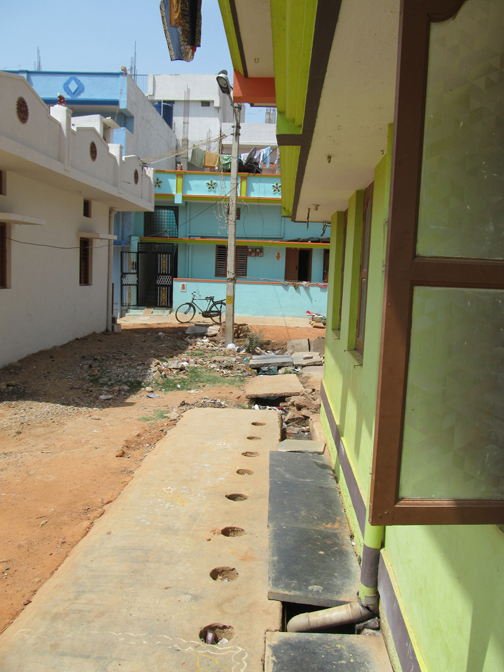 Outside the hand loom workshop
Saris are sold at retail at all types of outlets from plush malls to ritzy neighborhood stores to small market stalls. And people always seem to prefer what's difficult to find. Bangaledeshi shoppers visit Calcutta to buy Indian cloth, while Bengalis covet what's woven in Dacca.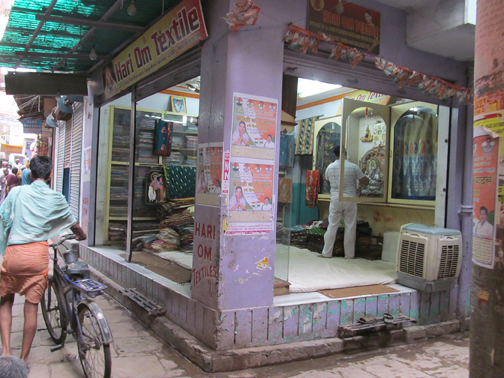 Sari dealer in the mews above the Benares ghats
The tradition is old enough, and still strong even among young professional women that the sari will not soon disappear. And while methods of maintaining saris vary, I tend to greatly appreciate the women I saw holding saris up to dry in the wind beside the Ganges in Varanasi.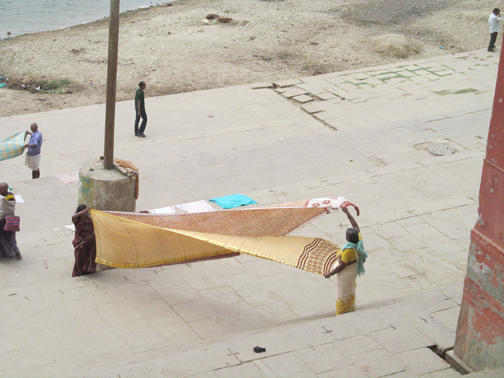 David Stairs is the founding editor of Design-Altruism-Project