David Stairs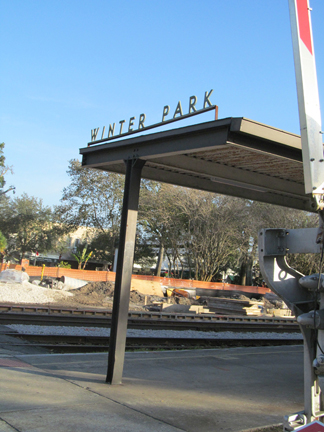 Winter Park, FL. train station
I'm having this printed on a t-shirt in 100 pt. demi-bold letters:
I survived Universal Studios
Over the Christmas holidays I was invited to Florida by an old friend I hadn't seen since 2005. Never mind that I have purposely avoided the "Sunshine State" my whole life. Each year my young son and I take a culture trip at holiday time. The last couple years have seen us visit first Chicago's Field Museum and a Blue Man Group performance, then New York and the U.N., Hi-Line, Empire State, and a Broadway show. While staying with our friends in Winter Park we spent an afternoon visiting the Morse Museum's fantastic L.C. Tiffany collection. When I walked into the chapel Tiffany designed for the 1893 Chicago World's Fair I did a double take, having just seen Mark Wahlberg's report on a recent Antiques Roadshow program. We also took in a performance by the Cirque du Soleil company resident at Downtown Disney. But one doesn't travel to Orlando for high culture, as even the least experienced child knows. In a city based upon theme parks, they are a little hard to ignore.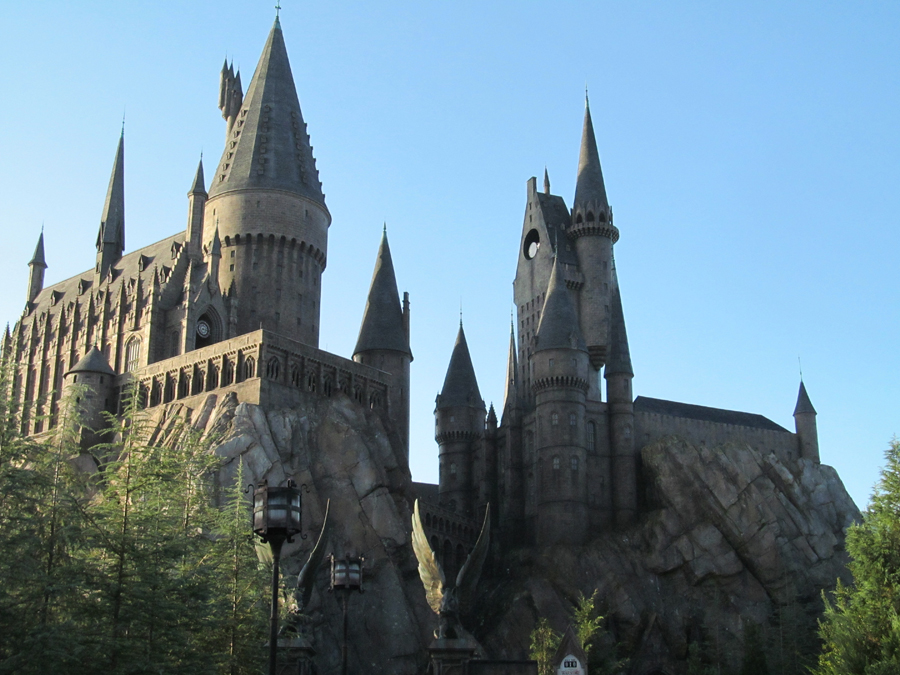 Hogwarts at Universal Orlando
My son thought he might want to see Epcot and the Harry Potter exhibit at Universal. I vetoed Epcot, preferring for him to see the Tour Eiffel in its original setting, but I couldn't avoid Hogwarts, which doesn't physically exist anywhere else. I should emphasize that, while Luco is a Rowling fan, I've not read any of her books, and only seen snippets of one of the movies, making me a virtual Harry Potter virgin. We arrived at the gates of Universal at 8:15am January 1st. The nice woman at the ticketing kiosk tried her best to convince me that, due to 3-hour waits the previous day, I needed to pay a double amount, $175 per person, for expedited service. I politely disagreed, and chose to take my chances with the $88 option.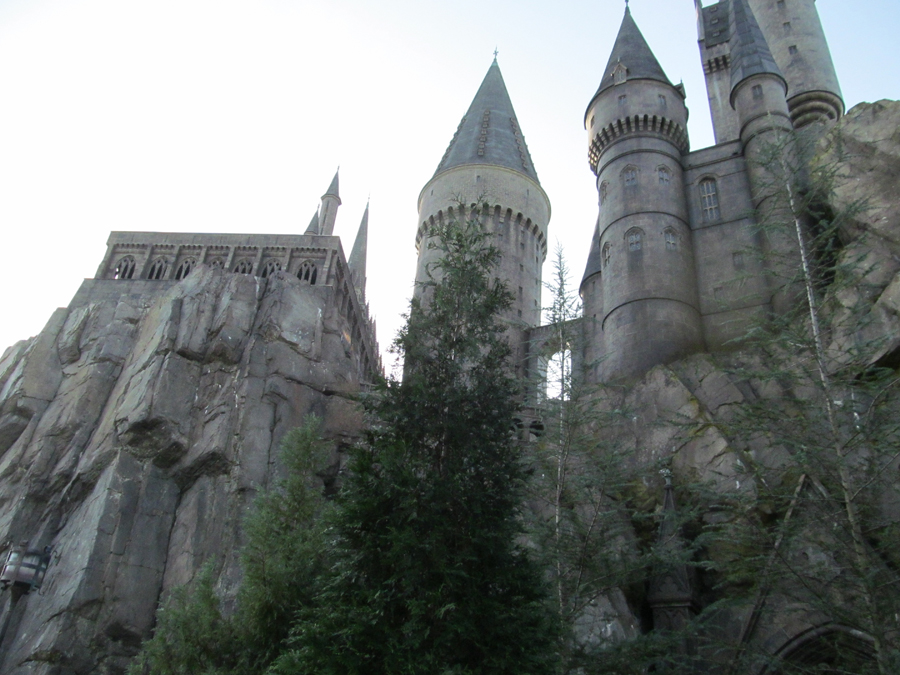 Fantastic "false perspective" and scale reduction makes the castle seem much taller
Once inside the park, all the pedestrian traffic was streaming in one direction: toward Hogwarts. We covered the desultory 3/4 mile walk to the castle and entered a storage area to find a locker for my backpack. I was beginning to understand why so many people were encumbrance free; lockers were available gratis for 40 minutes. After that, starting at $3, they increased in price a dollar for every 40 minutes. Luco donated a thumb scan and we grabbed the last available locker, hoping the wait would not be more than the time allotted.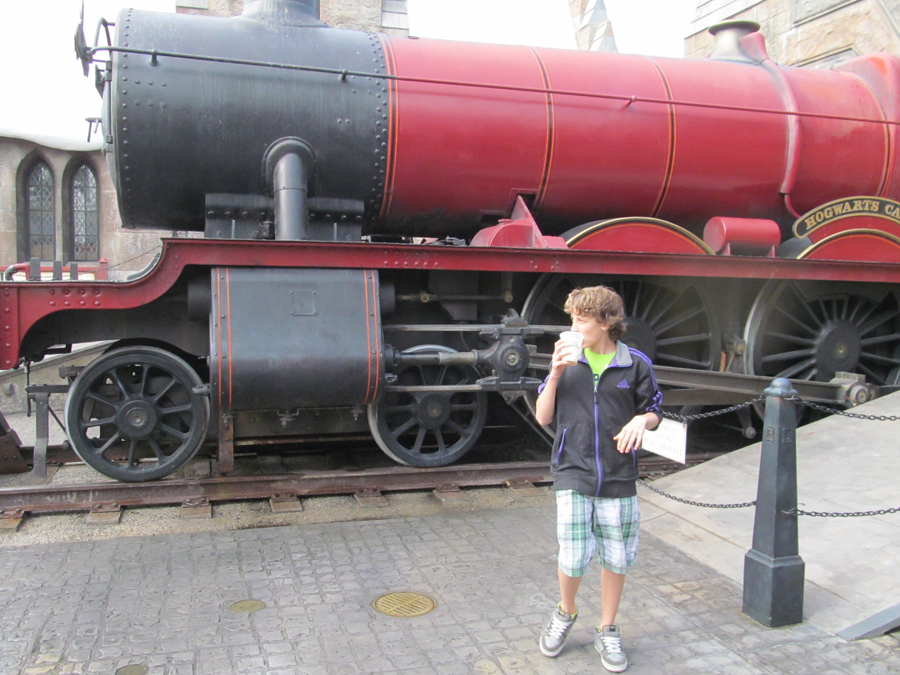 Enjoying "butter beer"
In keeping with current approaches to amusement park crowd management, we were continuously entertained as our queue snaked through the castle. At every turn of the bend we entered new rooms where pre-recorded projections reminded us of critical details, prodding and admonishing us "muggles" how to behave and what to avoid. After about 40 minutes we emerged onto the ride loading dock, were strapped into top-mounted roller coaster seats, and whisked away on our adventure. What happened next I can barely recall— most of the three minutes my eyes were shut. What I remember is a series of vomit-inducing 3D projections combined with violent chair movements simulating flight, punctuated with gusts of air, steam, and animatronic creatures. When we finally dismounted, it took me a couple minutes to regain my sea legs. By 9:15am the wait for the ride had extended to 60 minutes, and by 11am it was 90. Arising at 6am New Years' morning had been difficult, but I thanked Dumbledore, and my hostess for recommending the early start. The rest of the day at Universal was anticlimactic. We rode the Dr. Doom Fear Fall vertical drop, and got wet on the Jurassic Park water ride but, after six hours, the crowds got to me and we decided to pack it in.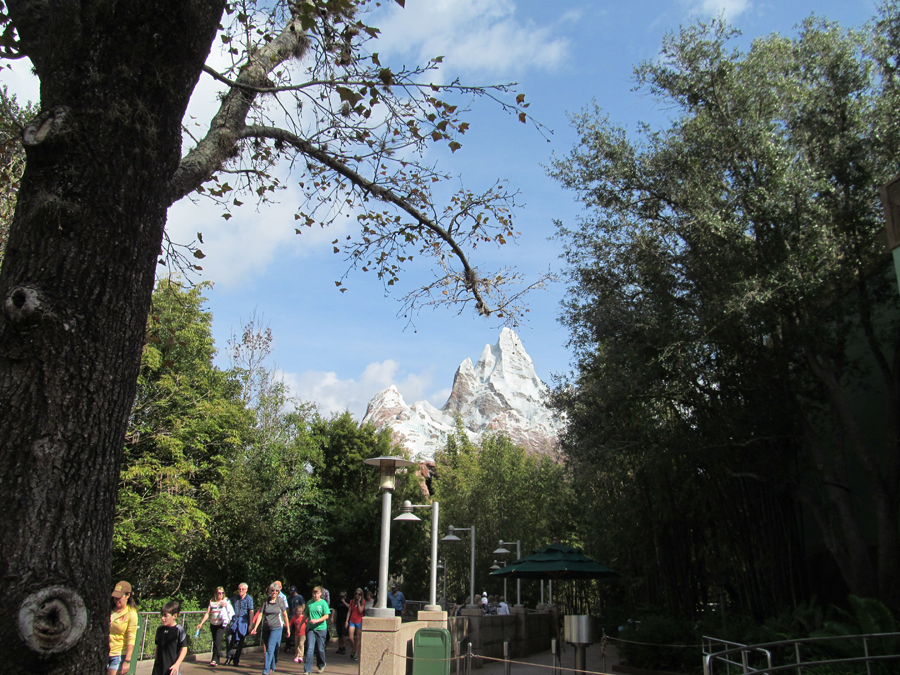 Disney's Everest at a distance
Next day we visited a Disney attraction, The Animal Kingdom. I should mention that our host is a recent Disney hire, an imagineer who oversees project development at all the Disney Parks. As a result, our $88 entrance fee, as well as parking costs, were waived. Inside AK we decided to make reservations for some key attractions, thereby avoiding long wait times. But this day we'd gotten a late start and, by midday, the earliest express reservations for the Everest Expedition were 5pm. My son, my friend's daughter, and I decided to enter the standee's queue. For 70 minutes we inched along, passing through a Himalayan trail-registery office, around a temple, and finally entering the Yeti Museum.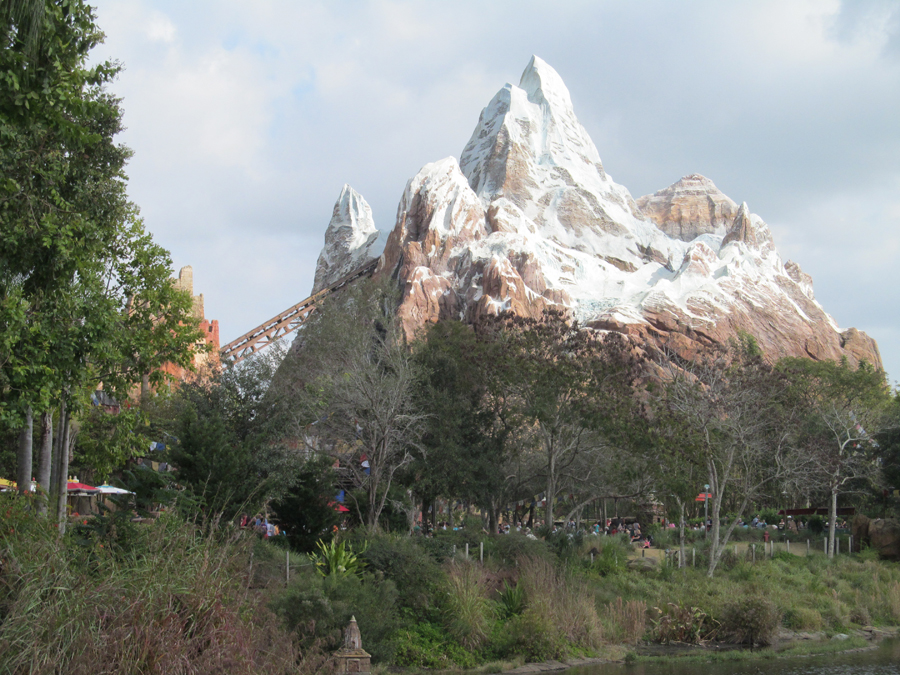 A steep ascent
As with Hogwarts, this was an immensely detailed prelude to a thrill ride, but unlike the Potter franchise, this attraction was attempting to recreate an actual place. Having recently returned from India, I can attest to the depth of research involved. Architecturally, structures and furnishings appeared to be Nepalese. Prayer flags fluttered in the January breeze, and hand-painted signs seemed to have been purchased in India. Maps, photos, tinware, paintings of deities, and mountaineering equipment all seemed authentically antique. An exhibit documenting a "lost expedition" set the scene for the ride's dramatic conceit: abominable snowmen roamed the mountain, and might attack at any moment.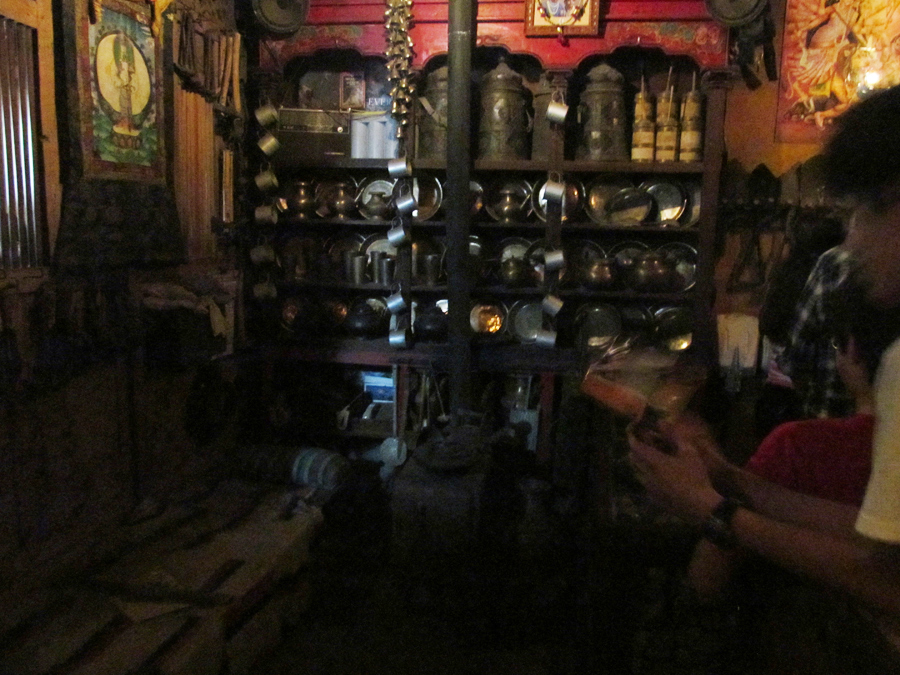 Inside the Yeti Museum
If you don't mind vertiginous ascents up massive piles of concrete (my son is not partial to heights), the Everest rail ride seemed more like a traditional coaster. At the summit the train stops at a breach in the track, then rolls down and backward through dark caverns to a rendezvous with an animatronic Yeti before another reversal and a steep headlong descent to the bottom. My friend, who worked on this event, could now reveal that the backward descent had been a tightly-kept secret during the ride's construction, but about the upcoming Disney "Avatar" attraction he was mum, restrained by the non-disclosure agreement every Disney employee must sign.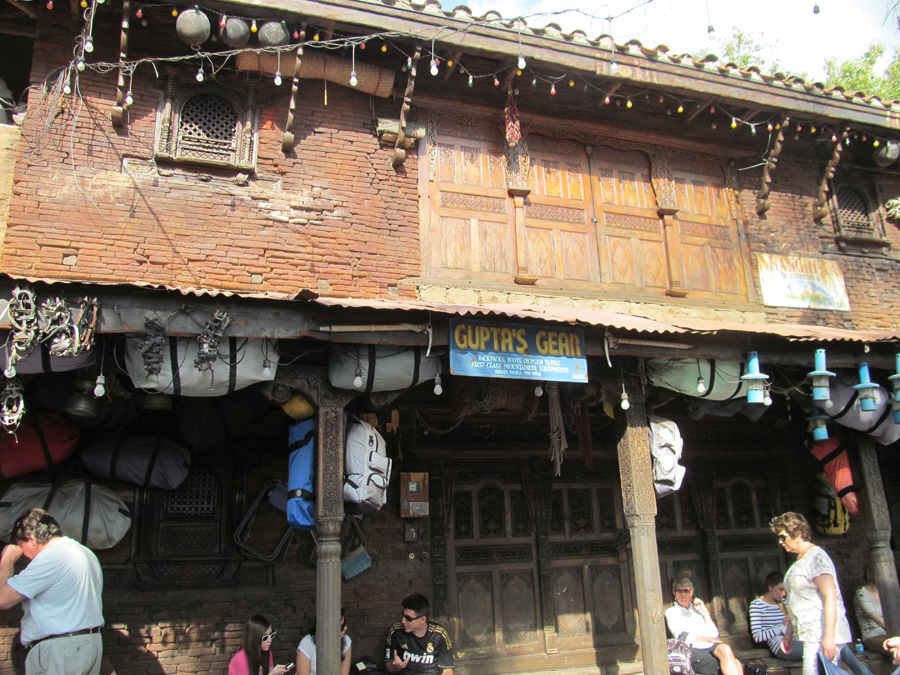 An ersatz Nepalese outfitter
All-in-all, Everest is currently the premier attraction of the Animal Kingdom's Asian section. A time-travel ride to the past in Dinosaur World did not match Universal's Jurassic Park, and a trip through Harambe, Disney's East African village, which included a safari ride in an open truck, could not impress one who has observed cheetahs in the wild, and seen giraffes running in tandem across Serengeti's plain. Furthermore, African towns I've visited not only have plenty of litter on the ground and diesel exhaust in the air, but they do not have happy Africans giving dance lessons in the middle of the streets. People there are too busy "running up and down," as Ugandans would put it.
I asked my friend if Disney was attempting to reproduce a foreign experience for the hordes of middle class Americans who neither cared nor thought they could afford to visit the real places. In actuality, three to four thousand dollars would transport a small family direct to Nairobi. He responded that it wasn't so much an effort to recreate the experience as to provide people a reference point for what things are like overseas.

My thirteen-year-old loved his visit to Orlando's theme parks, and I have to conclude they were constructed with him and his peers in mind. As for me, my tour of Disney and Universal paled by comparison to the Tiffany exhibits of the Morse, a real deal at $5 admission. At Cold Spring Harbor on Long Island Tiffany constructed Laurelton Hall, his ill-fated Art Nouveau museum estate, but at least his fantasy-land was still a part of this world, not a commercially branded 3-D tromp l'oeil extravaganza.
David Stairs is the founding editor of Design-Altruism-Project