David Stairs
When I first saw the house, a big old Victorian three-story I thought, "This place is great, but it's way too big." I'd been living abroad for a couple of years, and returning to rental space in a college town, where rentals are either of the townhouse variety, or student-destroyed older homes, had me on the real estate market. I already owned one house, but it was in another state, and this wasn't helping my current situation.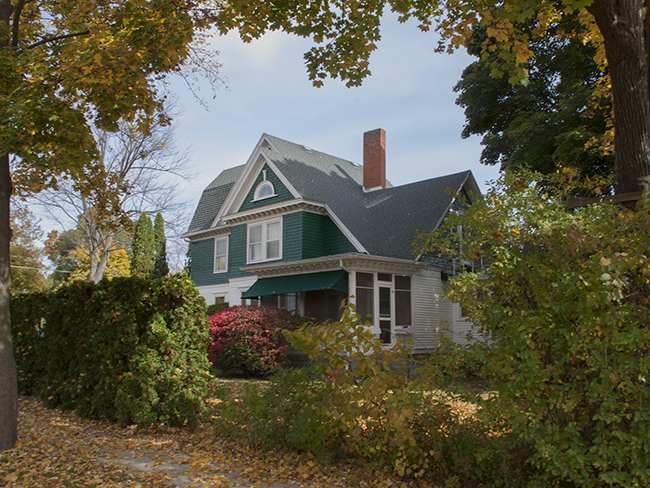 photo: Al Wildey
Available real estate in a college town falls into a few limited types. There is new construction, which I have never been a fan of, and, of course, "fixer-uppers." I went with my partner and looked at several of the latter. They ranged in price from $90 to $160k, but were generally in sad shape— cut up, or badly maintained. Any house is bound to be a maintenance headache, with some worse than others. But to purchase a house that requires a multiple of the purchase price in repairs, not to mention the time commitment that entails, just was not what I was looking for.
After a few unsuccessful weeks' search, I decided to revisit the big Victorian. On second viewing it looked pretty good, especially by comparison to the other properties I'd seen. At $235k it was on the outer limits of my price range, but after renegotiating the price to $220k, and with a $20k down payment and sterling credit, I was able to secure a mortgage.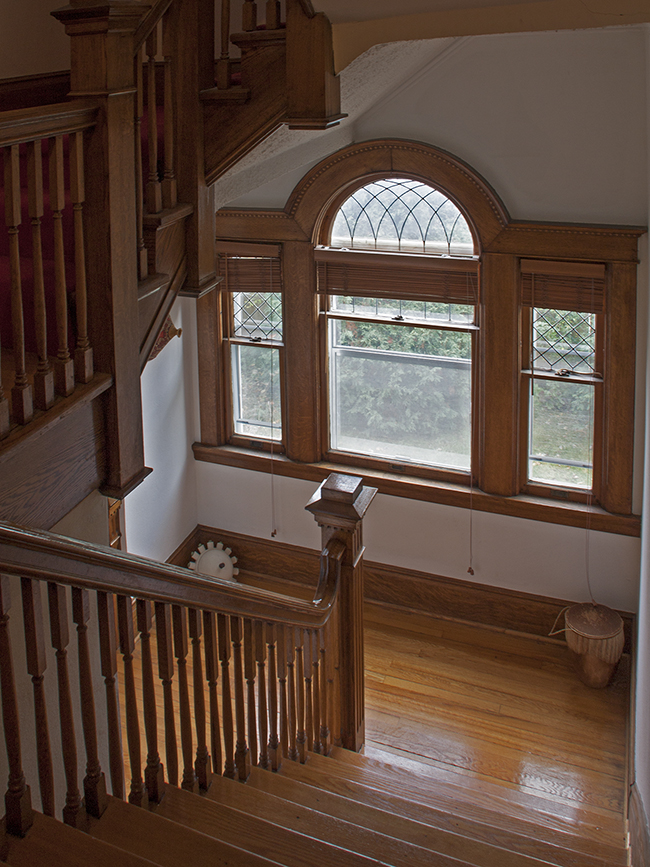 photo: Al Wildey
When you move into a house you sometimes wonder about its pedigree: who lived here previously— were they drug dealers, criminal bankers, or model citizens? With an old house you may also think about its history; the provenance, or chain of ownership, can be convoluted. In many cases, it is lost or unknown. My first awareness of this house's history arrived in the mail one day. The person who sold me the house, its third owner, sent me the old deed of title. It stated that the land the house sat on could be traced to 1856, the year after an 1855 treaty with the Ojibwa Nation was signed.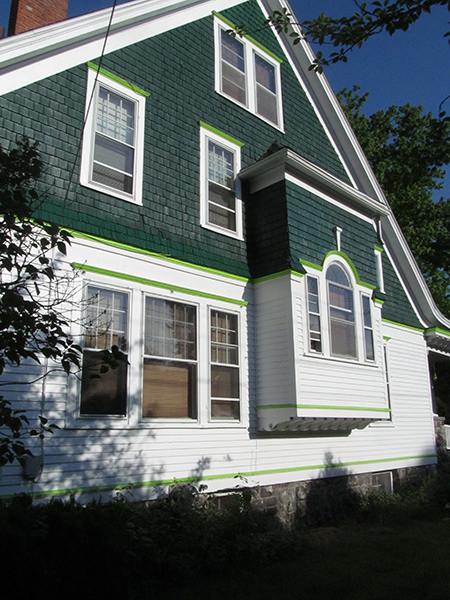 The value to history of an edifice has more to do with who built and used a structure than where it's located. It was interesting that the land originally belonged to David Ward, the 1862 founder of Mount Pleasant, Michigan, but he bought the land to speculate in timber and, after it was logged, he turned it over to New York land agents to parcel out. Two of his larger customers were Pamelia and Langdon Bentley, who farmed a sizable portion, and after whom this section of town is named on the land titles.
The most significant player in the history of my house arrived from Saginaw on a lumber wagon. Dr. Peter Richmond received his medical degree at McGill University in Montreal in 1873. A native of Louisville, New York, Richmond migrated to Michigan after med school to set up practice. In 1874 he purchased four lots from the Bentleys, and proceeded to establish what would become the area's pioneering medical practice. According to one account, Richmond visited some of his patients on horseback riding along Indian trails. In 1877 Peter Richmong married Anna Gray, and they had one daughter, Imogene, who herself eventually married a doctor.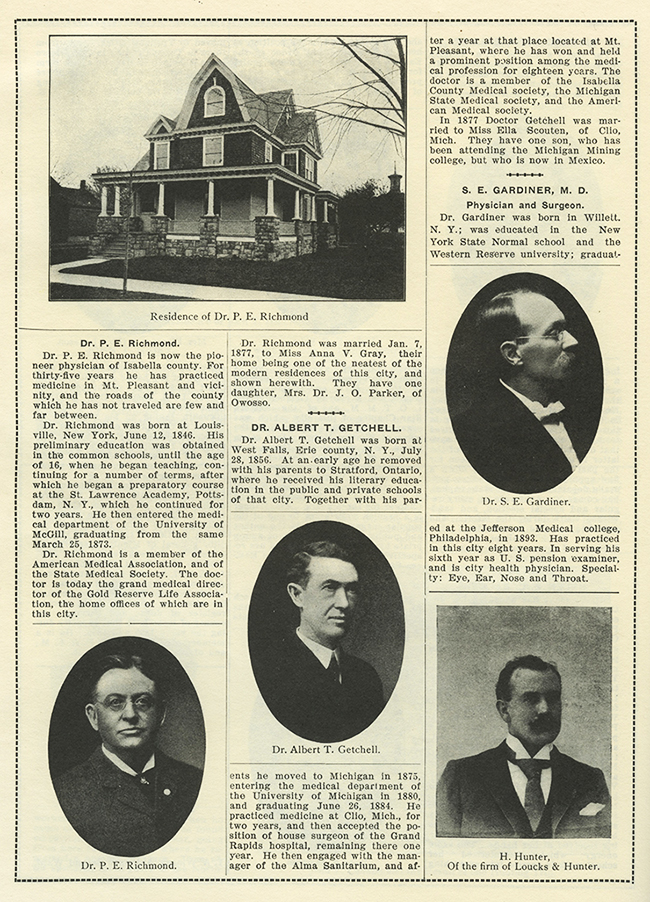 Peter Richmond (bottom left) and his "neat modern residence" circa 1906
Peter Richmond settled in to a comfortable middle class life as one of Mt. Pleasant's premier citizens. He was the medical advisor to the Gold Reserve Life Association, an early medical and life insurance scheme. He even joined John Kinney, one of the area's lumber barons, in platting the northeast section of town.
In 1893 Richmond finally got around to developing the property he'd purchased from the Bentleys nearly twenty years earlier. He engaged the services of the area's leading builder, John Hidey, a man who constructed many of the area's finest houses, and who also built the Mt. Pleasant U.S. Indian Industrial School. Hidey erected a three-story Queen Anne-style house at the corner of Locust and Washington Streets.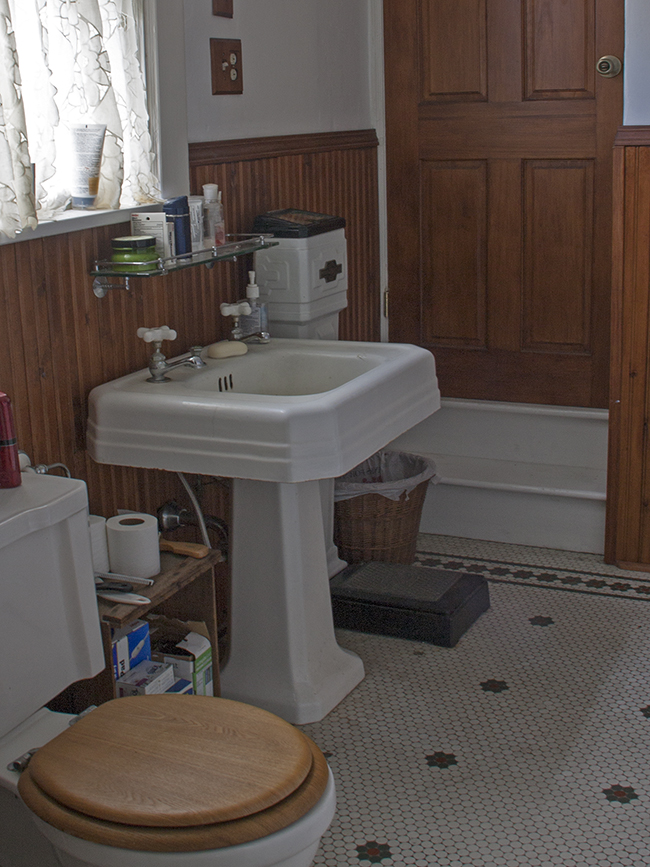 photo: Al Wildey
In 1910, while en route to a state medical convention, Peter Richmond collapsed and died in Saginaw. He was 64. Anna remained in their home until 1915 when she sold it for $4700 to the future two-time mayor of Mt. Pleasant, R.T. Kane, who would reside here for the next 56 years.
The process of applying for historical marker recognition can be lengthy. In my case, it took ten years to secure all of the facts. Only original documentation from the subject's lifetime is permissible. This meant searching through microfiche obituaries, Sanborn fire insurance maps, even the birds eye map of Mt. Pleasant, which predated the house. Eventually, with the help of a 1906 history, "Faces and Places Familiar, Mt. Pleasant," it all came together.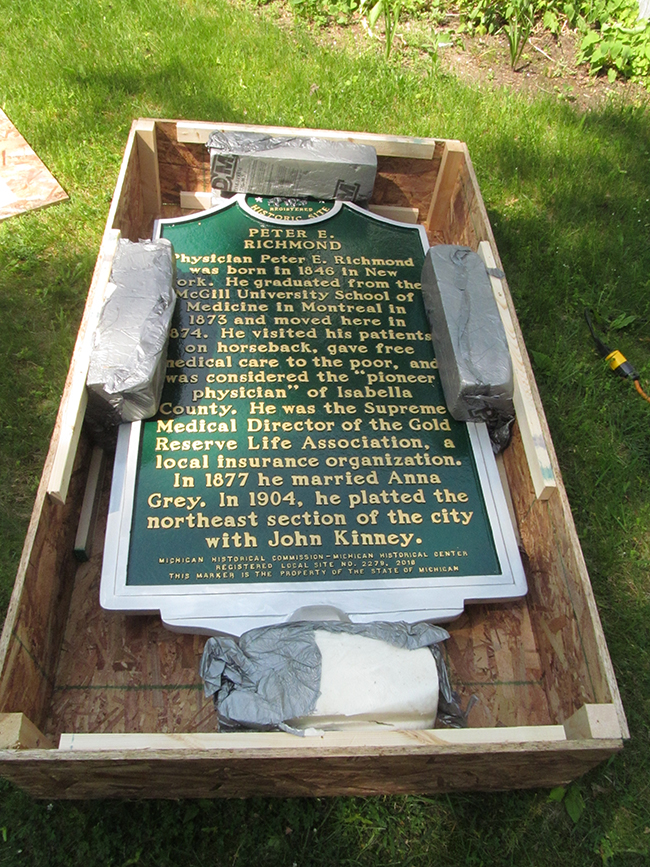 Uncrating Michigan Historical Marker #2279, a baked-enamel aluminum casting
Once the application is accepted, the marker text must be finalized prior to sending it to the foundry. This can be a tricky process since there is only so much space on the casting and it is desirable to present as much information as possible. I elected to go with a two-sided free-standing marker as a way to optimize the information. Then there is language appropriateness— people in the 19th century were less likely to refer to "designers" or "developers" than "architects" and "builders." Once there is agreement between the applicant and the State Historical office on text, payment must be made— the applicant's responsibility— and then there is a four month wait for the casting to be done.
When the finished marker is shipped, there are pretty specific installation instructions. Since the marker is state property, it is in everyone's best interest to secure it from theft or defacement. Finally, if an applicant chooses, a dedication event can be arranged for the public unveiling.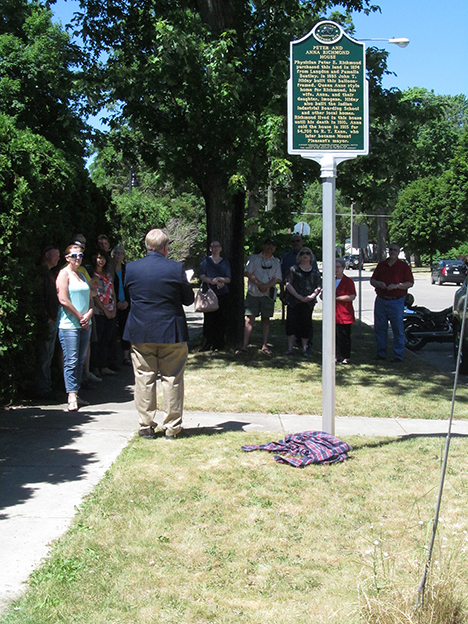 Marker dedication ceremony, June 29th, 2016 photo: Christian Stairs
This was my first attempt to secure historical recognition for any structure. In the case of the Richmond House it was a good thing; many of the grand old houses nearby have been converted into boarding houses and sororities. The marker will protect the house from ever being anything other than a single-family dwelling. I don't necessarily recommend the activity to everyone, but I do believe it's a good thing to rescue the past from obscurity, and make history generally and publicly available.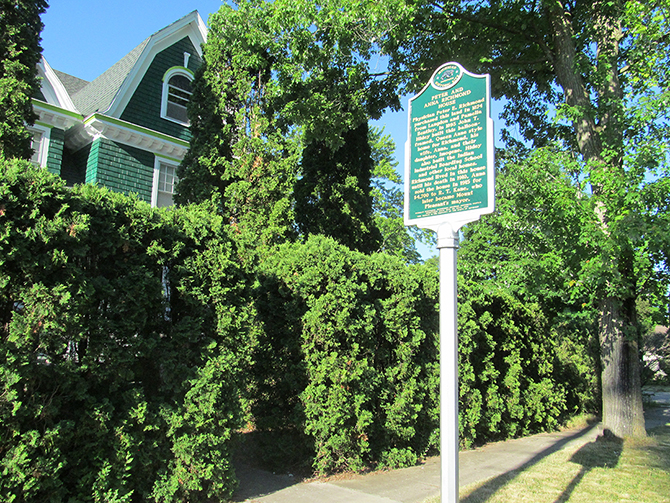 David Stairs is the founding editor of the Design-Altruism-Project