David Stairs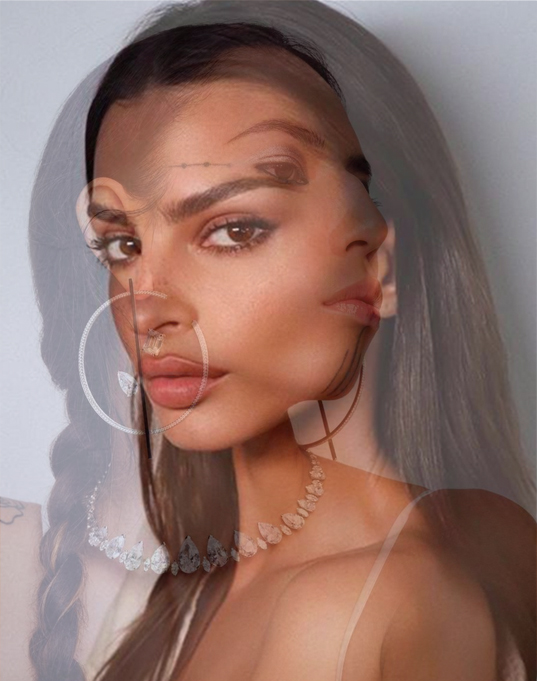 Quannah Chasinghorse by Nathaniel Goldberg; Emily Ratajkowski from Instagram
A recent article in Elle Magazine online by Terese Marie Mailhot (Photographed by Nathaniel Goldberg and Styled By Alex White) introduces us to Quannah Chasinghorse, a nineteen-year-old native American runway model of Hän Gwich'in and Sicangu Oglala Lakota descent. (Corset, $1,295, pants, $2,295, Christopher John Rogers. Earrings, necklace, bracelets, 2021 Tiffany Blue Book Collection.)
Ms. Chasinghorse, the first Indigenous woman to walk for Chanel, was a multi-tatooed sensation in Paris as much for her progressive politics as her natural beauty. Along with her Mother, Jody Potts-Joseph, Chasinghorse works as a land protector for the Arctic National wildlife Refuge in Alaska. Her advocacy work for indigenous land reclamation and preservation makes her seem like a warrior while working for Chloé, Savage x Fenty, Gabriela Hearst, and Prabal Gurung during Fashion Week. (Blazer, $3,445, bustier, $1,195, Dolce & Gabbana. Tiara, earrings, necklace, Dolce & Gabbana Alta Gioielleria.)
Concurrently, in her 2021 collection of essays entitled My Body, Emily Ratajkowski outlines the reality of young girls being groomed for the fashion industrial complex in no uncertain terms. Ratajkowski signed her first contract with the Ford Agency at thirteen, the gruelling routine, constant travel, and rampant sexism she encountered seemingly offset by the easy money she was making. This eventually led her to drop out of college and commit to full-time modelling.
Ratajkowski's rise to fame after her appearance in Robin Thicke's Blurred Lines music video in 2012 would seem to be the stuff dreams are made of were it not for Emily's repeated experience of rape, molestation, and exploitation at the hands of the men she posed for and worked with. In fact, the recounting of her ten year plunge into the hedonism swirling around top models reads more like a horror story than a dream come true. That she finally found love leading to motherhood with her husband, producer Sebastian Bear-McClard, seems like divine justice at the end of far too many traumas.
Quannah Chasinghorse, like Ratajkowski, is a middle-class woman committed as much to her advocacy as to modelling. She came to social consciousness a little earlier maybe, but we won't quibble about degrees of seriousness. The trouble lies less with the individual than with the fashion industry. As a current modelling sensation, a native American woman gives legitimacy to a system that exploits people, specifically young women, to sell expensive stuff to those who have more money than sense. Using beautiful young women of color to hawk couture in a world crying out for environmental and social justice is offensive. The cruel hypocrisy of the photo captions hovering beneath photos of a First Nations model, here reproduced verbatim in bold, is a clear indication of how low the industry is willing to go to shill high end baubles. (Shirt, $970, jeans, $1,378, Alexandre Vauthier. Earrings, necklace, Harry Winston. Rings, from $8,340, Messika Paris.)
Female bodies are not the only ones chewed up by our systems of entertainment. Young male athletes suffer in their own way for being admitted to the fraternity of professional sports. But so long as people justify the influence of fashion through the captivity of young female bodies, we won't need to cite Jeffrey Epstein and Ghislaine Maxwell as the only perpetrators of exploitation. Emily Ratajkowski understood that her body gave her a certain power over men until she finally realized that those profiting from using her body, primarily men, were laughing all the way to the bank. One can only hope Quannah Chasinghorse will soon cross this threshold of recognition.
The fashion industry is really just another sad example of a serious power imbalance, readily available in the pages of both My Body and Elle online. You can afford to skip the latter, but get your hands on a copy of the former and prepare to be shocked. Then do everything in your power to resist being part of the scam.
David Stairs is the founding editor of the Design-Altruism-Project.