David Stairs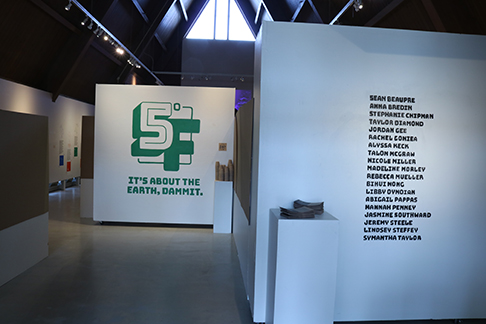 Title wall of the exhibition 5°F
Gordon Lightfoot had a song on Summer Side of Life entitled "10 Degrees and Getting Colder." That record is now over 50 years old, and things have changed dramatically since it was released. Primarily, everything on Earth is getting much warmer, even winter.
In April 2022 my students held an exhibition of work that reflected the current status of our climate. Entitled 5°F, it was meant to remind viewers of the potential worst-case scenario of our current climate trajectory. Bill McKibben founded 350.org in 2008 in hopes we might be able to arrest or return to a lower state of atmospheric CO2. We blew through 400ppm in 2013 and by 2020 were at 412ppm.
Our research project started with a visit to a site on the west edge of campus in September 2021. There is a sign there commemorating the planting of trees in honor of Earth Day 1990. Afterward I asked a biology colleague to speak to my students about pending environmental disaster, which was when they collectively first realized the extent of the threat. They'd heard about tropical storms and wildfires, but acidification of the oceans? Yikes! Loss of the planetary wheat and rice crops? Holy shit Batman! So they commenced a semester long research of everything they could find (there is a lot) and, in January started to design an exhibition.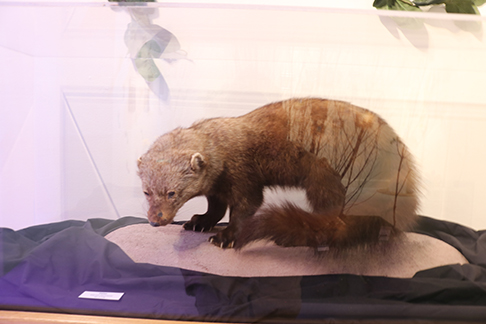 A fisher, a weasel-like species now extinct in Michigan's Lower Peninsula
Naming and branding is always a challenge when developing a complex project with a group of twenty students, and this year was no different than previous years. It took nearly three weeks to brainstorm a name but, once decided, smaller groups began to bang out visualizations. Taylor Diamond decided to make a "melting machine" to demonstrate how melting ice affects sea levels. A 4-gallon bucket of ice drained as it melted into a series of vertical tubes that cascaded into one another, metaphorically demonstrating oceanic rise based upon water changing phase.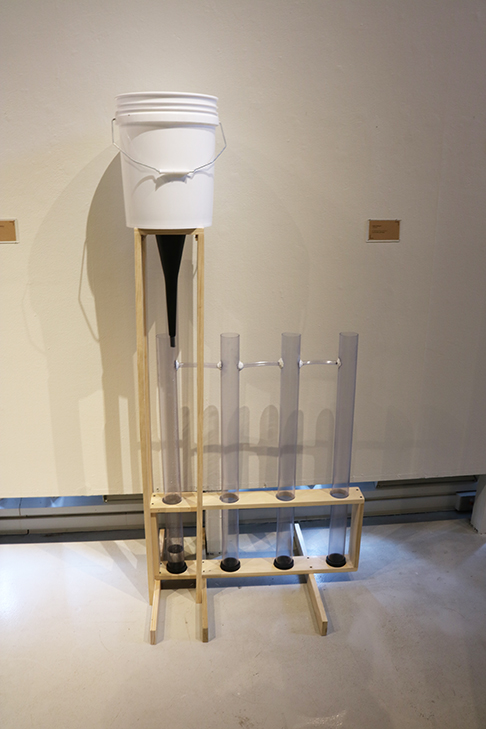 A Melting machine demonstrated the cascading effect of global warming
An adjacent project, this one by by Talon McGraw, carried facts about wildfires burned into tree sections mounted on the wall, especially pertinent given what's happening in the world, while a third installation by Bihui Nong was a demonstration of the adverse health effects of urban smog.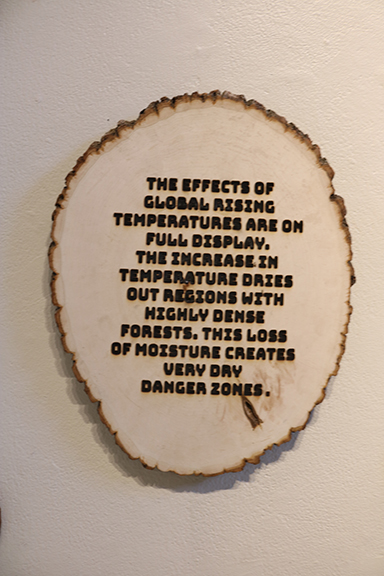 A reminder that temperature change effects forests
One group decided to focus on waste. Lindsey Steffey assembled a cow's head from throw away fast food packaging. Another project took second hand Tees and published facts about the damaging effects of fast fashion on them.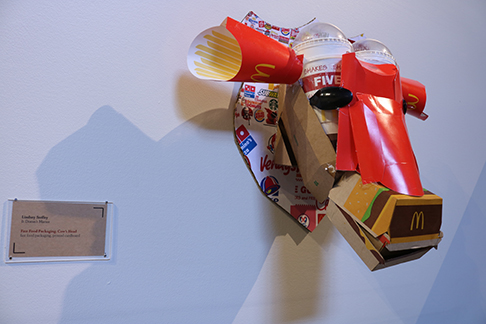 Cow head made from fast food packaging
Rebecca Mueller and Lindsey Steffey captured visitor's imaginations with an interactive wall of hinged panels representing 21 corporations. Viewers could flip the panels open to see whether the companies were green, or just "greenwashing."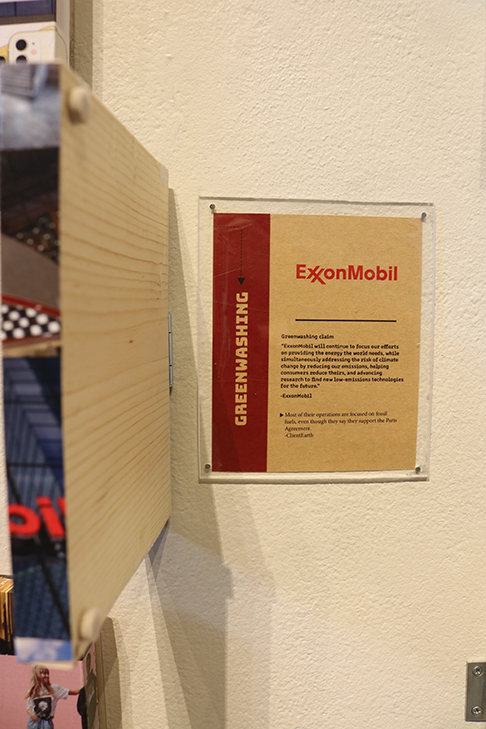 Corporate greenwashing needs to be called out
As viewers snaked through the maze-like exhibition, they passed taxidermied samples from the Central Michigan University Natural History Museum of extinct or endangered Michigan species, eventually arriving at a space called "No Place Like Home." Here viewers could sit surrounded by small trees and a plant wall, hear bird sounds, and watch a soothing video mix of young children and outdoor scenes. This calming effect was appreciated by all, but did not prepare them for what was to come.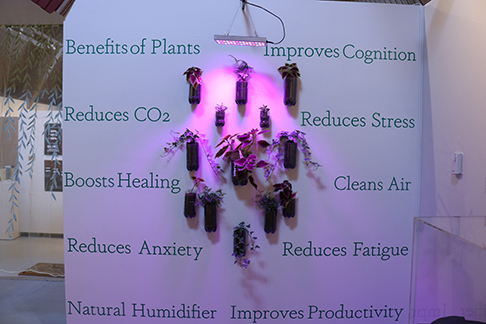 Abby Pappas and Anna Bredin created a plant wall in the calming No Place Like Home area of the show.
The exhibition's culmination was a space called the Doom Room. This area was littered with trash, its walls covered with spray-painted pollution statistics. One side of the room carried a projection of a Doomsday Clock counting down on a 30-minute loop, while the opposite wall was a mirror-covered reflection of the viewer surrounded by the chaotic hell of a dystopic future. Some children visiting the show were heard to ask to return to No Place Like Home because the Doom Room was "too scary."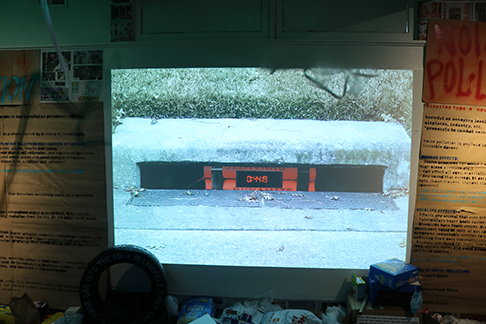 Every 30 minutes the DoomsDay clock counted down to disaster
One of the things I tasked students with was to try and see if they could create a carbon offset for their activity, in other words, to promote planting. Rachael Goniea supplied viewers with a small cup, seeds, and potting soil.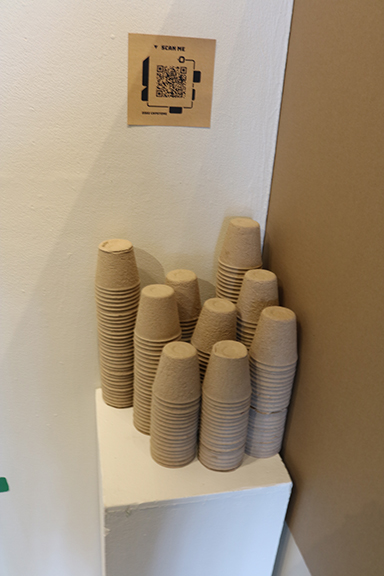 Visitors were encouraged to take a small biodegradable cup with some seeds and soil to make their own start.
Symantha Taylor was working at Tractor Supply Co. and she first got a couple trees donated from each of the four TSC stores in a 50-mile radius. Then she tapped TSC corporate for a $500 grant. Finally, she purchased everything, over $900 of nursery stock in the form of 30 trees, with her employee discount. We had been working with University landscaping staff to accept a donation of these trees, all on their approved list of best acclimated species for our latitude.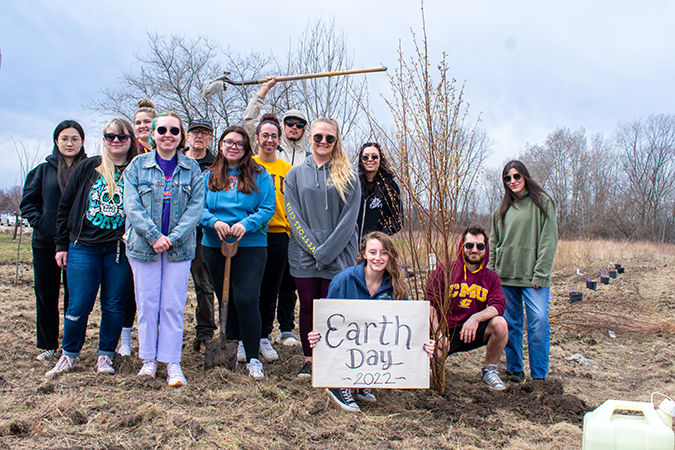 On Earth Day, April 22, 2022, we gathered in a nursery field tilled by the university in preparation and planted our small "forest." As the trees mature, they will be transplanted to various locations around campus.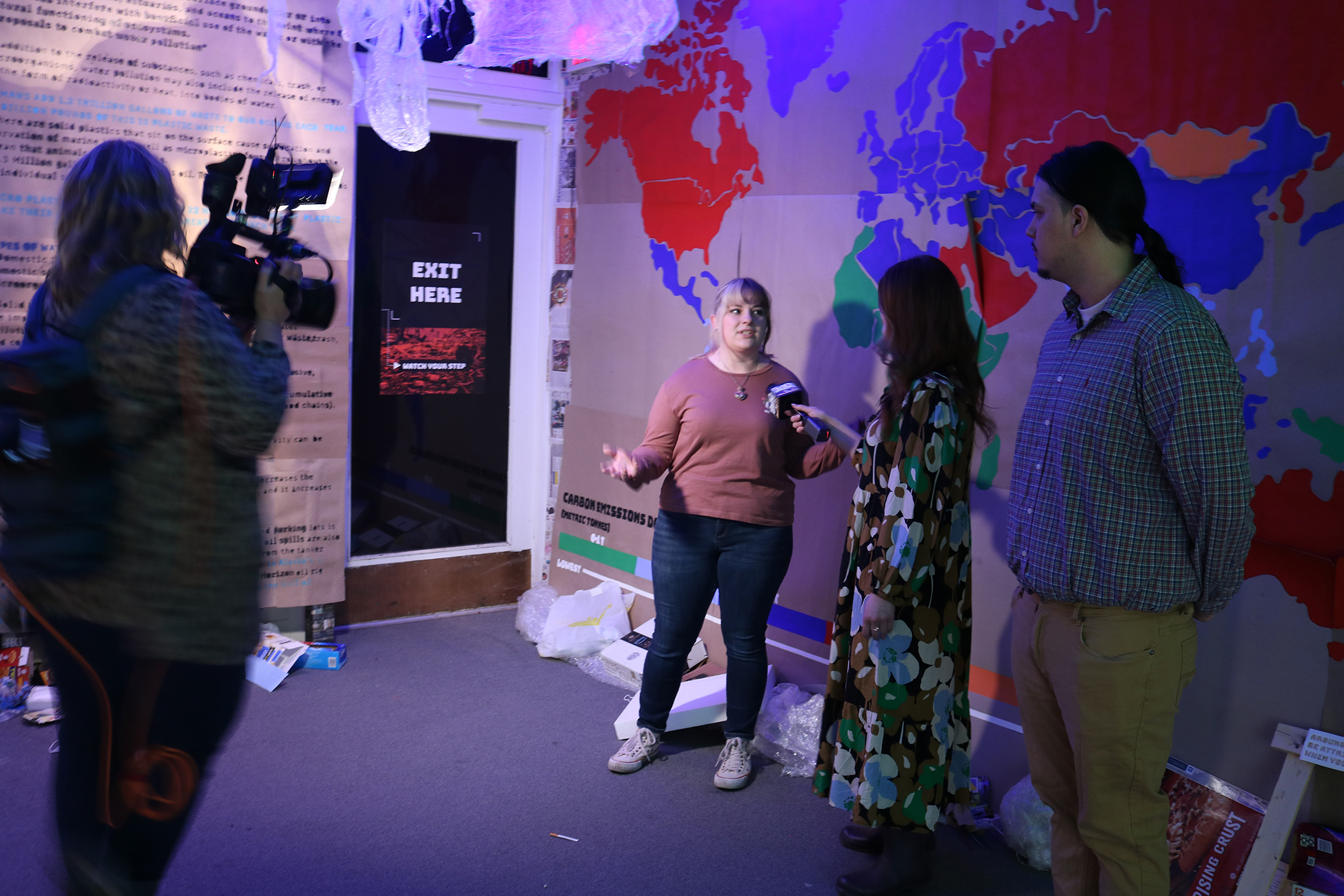 Stephanie Chipman and Jeremy Steele in the Doom Room. 9&10 News' Michigan This Morning crew interviewed eleven students throughout the morning of April 5th, 2022
As with previous research capstones, the main deliverable was the exhibition at the Central Michigan University Art Gallery, supplemented by live television broadcasts from the site of the show. But this year there is not only the annual Process Book documenting the project, but a field full of small trees serving as a living reminder that design can be so much more than mere images in an online portfolio.
David Stairs is the founding editor of the Design-Altruism-Project.