Wes Janz
1. It's two years since the Midwess Distress Tour, a 6-day drivathon with architecture students, organized by Olon Dotson and me. To challenged places, abandoned lives, upstart efforts. Detroit, Flint, Gary, Chicago, East St. Louis, and Cincinnati. Written up as "Compared to What?" Posted on Archinect in early 2007.
Then, Olon mixed a 6-CD soundtrack and "Compared to What?" was there. Eugene McDaniels (lyrics) "love the lie and lie the love," Les McCann (vocals) "hangin' on with a push and shove," and Eddie Harris on tenor sax "tryin' to make it real."
I've been on the road quite a bit since— Gulf Coast, West Coast, East Coast, Rust Belt, Central America, Middle East, south Asia, east Asia—lookin', as McCann sings, at "the motivation that is hangin' up the God-damn nation."
Messin' with myself. Seein', but more importantly, wantin' to believe.
In October 2008, Olon and I, with Nihal Perera and students, bookended Midwess Distress with Distress Too: Cleveland and Youngstown, Ohio; Braddock, Harrisburg, Philadelphia, Pittsburgh, Scranton, and Wilkes-Barre, Pennsylvania; and Camden, New Jersey.
With this writing, I call for a humane architecture—one that considers a person to be the primary source of our juice. For now, this is a simple idea: to extend a hand, to offer my name, to listen to a response. To know another person on a first name basis. To ask: Does this knowing matter to my work as architectural educator and architect?
A number of influences contributed recalibrations. The Practice of Everyday Life by Michel de Certeau; Neuwirth's Shadow Cities; Nickel and Dimed by Barbara Ehrenreich; Thunder Enlightening and Soul of a Black Cop, both taken from Brian Willingham's life as a poet/photographer/cop in Flint, Michigan; Sakaguchi's Zero Yen Houses; Prisoners' Inventions by Angelo; Sharma's Rediscovering Dharavi; and Urgent Architecture by Marjetica Potrc among them.
Central to this first posting are my efforts to see one person and to question his or her connections to the built environment. The second half of this writing will be posted at Design-Altruism-Project in the near future. With it, I will review the inspired work of three student projects and three architects connecting themselves with another person or persons and the built environment.
I close this introduction with several stanzas from "Praise Song for the Day" as written by Elizabeth Alexander and read at the inauguration of President Barack Obama on January 20, 2009.
Someone is stitching up a hem, darning
a hole in a uniform, patching a tire,
repairing the things in need of repair.
Someone is trying to make music somewhere,
with a pair of wooden spoons on an oil drum,
with cello, boom box, harmonica, voice.
A woman and her son wait for the bus.
A farmer considers the changing sky.
A teacher says, Take out your pencils. Begin.
Maybe I'm ready to begin . . . alongside the woman and son waiting for a bus, the farmer in the field, and the teacher.
I know these people. I am these people.
I'm taking out my pencil.
I'm writing.
———-
2. And maybe, finally, I'm listening . . . to Mary Martha in San Luis Rio Colorado, Sonora, Mexico. October 2007. An SRO, of sorts, for persons caught crossing illegally. Homeland Security vans drive just inside the border, doors open, persons are dumped, doors close. Crissed-crossers. Probably broke, far from home, scared. Mary Martha runs the dorm, managed by the Housing Association for Migrants of Divine Providence.
I remember a young couple eating. Heads down. Forks busy.
Listening . . . to a local man, booze-breath, December 2007, the Lower Ninth. Brad Pitt busy "making it right." Shipping containers display architects' proposals. One design by MVRDV for a "bent" shotgun prototype, raised on its ends, broken in the middle. More like a "get bent" or "bend over" prototype. Local man gets it: "Tell me, professor, what the fuck is this? How the fuck am I supposed to live in this?" My students lean forward, anticipating insight, a defense. Something. Anything. After all . . . it's MVRDV.
I remember silence. All that's wrong, no way to "make it right."
Listening . . . Michael Orange loudtalking: "DO YOU KNOW WHERE YOU ARE? DO YOU KNOW WHERE YOU ARE? YOU'RE IN THE HEART OF CAMDEN. YOU'RE IN THE WORST PLACE IN THE WORST CITY." October 2008, sidewalking Camden, New Jersey, Mechanic between 4th and Broadway.
Rapid-fire Orange. Ten years in the Army, trained to "walk point" in a war zone helps his survival these days. An eight-year prison hitch. Three brothers murdered here, another dead from cancer.
We stopped because Olon saw the good condition of the block's rowhouses and wanted to ask why–the architecture got his attention. As we stepped off, Michael warned, "There's serious creatures around here, in these buildings. Don't be fooled."
Orange is an entrepreneur (he has no choice) and freelance guards at a local convenience store owned by Indians. Kids "torture" the owner as he sits in a plexiglas box, taunting, shoplifting. "It's no good," Orange says, what is done to the man.
His mother returns. Up the stairs, she backs through the door, eyes scanning. Pointwalking. Everybody but us pointwalking.
Earlier, Orange showed us goosebumps he gave himself describing his Camden. I'd never seen anything like that.
Me thinking: If this man scares himself, how afraid should I be?
Later, a man living in a self-built squat in woods north of Federal Street, behind Police Lodge #1. He steps out, waves at us.

A man and his squat. Camden, New Jersey. October 2008.
———-
3. Facts have shock value. I use this to my advantage.
"Today, worldwide, one person in six lives in a slum. That's one billion people," I say. "The United Nations predicts that by 2050 the world's slum population will be three billion." If talking to college students, I say, "When you're my age–fifty-five–one person in three will live in a slum."
"Two hundred thousand people urbanize every day. Two hundred thousand moved to a city yesterday. Today. Tomorrow. Probably every day for the rest of your life."
I might mention arriving in Mumbai, March 2008, 4AM taxicab. Dozens of people in the street, asleep. Later, Sheela Patel, co-founder of SPARC (Society for the Promotion of Area Resource Centres) says that 28,000 Mumbai households are pavement dwellers. I do the math: maybe 150,000 people streetsleeping that night, in one city.
I go on.
"A study by the United Church of Christ Commission for Racial Justice and cited in Pellow's 2002 book Garbage Wars found that 60 percent of African Americans and Latinos live in communities with one or more uncontrolled toxic waste sites."
"Indianapolis, my home city, has over eight thousand vacant houses, most abandoned, many in need of demolition." I say, "On any given night in Indianapolis, three thousand people are looking for a warm place to sleep, probably more need a meal."
I might cite a January 3, 2007 Indianapolis Star newspaper story:
For the past seven years, [Thelmon] Green, who says he's 93 . . . has lived in a broken-down Chevy van on the lot of Big Red Discount Towing in the 3800 block of North Keystone Avenue. . . The camper has a functioning restroom, heat and air conditioning, a stove and running water.
I might say that Mr. Green lived twenty-five blocks from me. I might say, "I've driven past Thelmon's house, past Thelmon, dozens of times and didn't know it."
———-
4.Even though there are a billion slum dwellers and many others in need of attention, this writing is not about them.
Not exactly.
It is not about millions, thousands, hundreds, or even tens.
It is about one.
I'd like to write about Emilia Sanchez, her urbanization in Panama City, Panama as an eleven-year old. Living as an invasore (invader), finding an informal settlement, a man finding her. A move to a planned settlement where as a precarista (one living precariously) Emilia and the man purchase reclaimed building materials at the garbage dump for her house. How a politician paid for partial construction of a permanent house to replace her "meanwhile house" (la casa mientras tanto), where she's lived for a decade.
But I've seen her house once. Y no hablo español.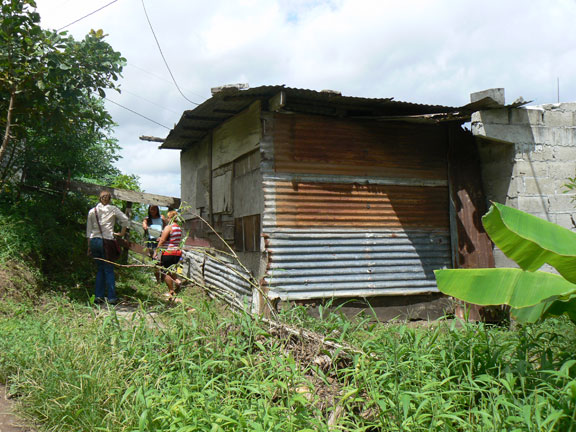 Emilia Sanchez (in red and white top) and her meanwhile house. Panama City, Panama. October 2008.
I'd like to write about the young Indian man next to me, Mumbai to Dubai flight. He led a small crew through Customs; I assume they'll work at UAE construction sites. Next day, Abu Dhabi, I see foreign laborers in jumpsuits move between work camp and work site. That's it, all the movement they're allowed. Later, an ArabianBusiness.com story, a riot of 1,500 construction workers in Sharjah who "set fire to management offices within their labour camp and smashed windows [and] burnt down five cars, damaged 40 others and stoned 28 buses, before turning their anger on police offices and labour officials." One witness said: "It looked like a scene out of Iraq." I wondered how the young Indian man might be treated by the Sharjah police.
But we didn't exchange one word. In this, I'm a fiction writer.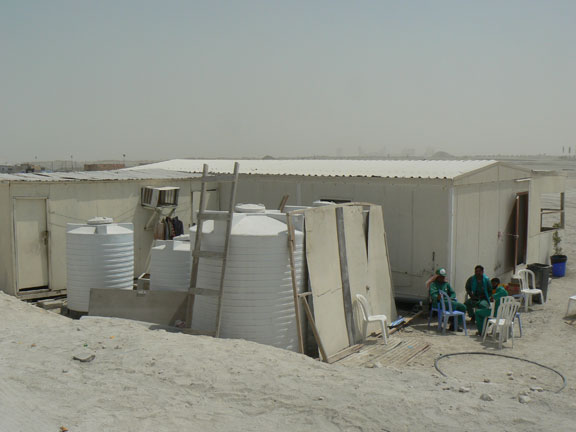 Construction workers. Reem Island, Abu Dhabi, UAE. March 2008.
I'd like to write about Dharavi, an informal settlement in Mumbai with almost one million people. A man at a bandsaw (Borofsky might call him "working man"), his back to me, one-timing plastic bucket lids through the blade, flipping halves on a pile for more processing. No safety glasses. No respirator. No saw guards. Yes flip-flops. Yes baggy shirt. Yes shorts. Grab lid, push through, throw pile. Grab, saw, throw. How long (I remember thinking) before this is "nonworking man"–crippled, asthmatic, blind?
But it's likely he thinks this is a good job. And who am I to argue?
I'd like to write more, listen more. But maybe these lives aren't knowable by me.
———-
5. Along the way, I've come to know more wise people. I'll write about three of them.
Adam.
The story of Flint's decline is rather simple. General Motors was founded there one hundred years ago. In time, the company's ascent drove the worker-citizens to unparalleled gains. At its peak, 1960s, Flint was home to 190,000 persons and 80,000 GM jobs; 250,000 residents was predicted, confidently. Today, Flint's population is 120,000 and fewer than17,000 GM jobs remain. No one is sure if the bottom has been reached or if it is in sight.
The large quantity of abandoned and boarded houses in Flint is critical: thousands have been torn down and thousands await demolition. Hard numbers are difficult to find. A City of Flint demolition crew chief told me that 4,000 houses need to be torn down "today" and another 10,000 will need to be torn down.
I've been to Flint over a dozen times in the past three years, most recent September 12, 2008. At day's end, the Carriage Town Historic District, a neighborhood in deep decline, deterioration, and distress and any other D-List word you know. Here, the past few years, hand-painted signs hammered to a vacant house:
HUMAN SACRIFICES NEEDED
INQUIRE INSIDE

Adam speaks. Flint, Michigan. October 2006.
Those visits, backyard adorned with plastic skulls wrapped in barbed wire atop fence posts, plastic skeletons swinging from tall posts. Weeds, tall trees, doghouse, a bleating goat.
This day, trees, goat, and doghouse gone. Skulls and skeletons catch our eyes. We stop. Others warned me off the owner. "He took after somebody with a chain saw," I'm told.
On this day, he's home.
Adam comes over.
He's a Halloween baby and gets plastic skulls and skeletons on birthdays. Evangelicals performed an exorcism on him and the property and videotaped it. Searchlight to discourage hookers, hustlers, meth users. A public telephone he Gorilla-glues to stop deals. Lawsuits pending against the City, on the hospital nearby.
Adam's stories.
Copper scrappers break in, have no luck as he's reinforced everything. They leave, defeated.
911ing police re: scrappers pulling pipes out of a house across the street. Cops won't go in, there's no sign of "forced entry" (and no glass in windows, so scrappers jump in). Adam taunts cops and scrappers. Cops leave. Scrappers exit with bounty. Diss Adam.
He envisions a deli in a nearby abandoned house. Asks us about shared driveways and rights of property owners sharing a driveway, specific to deli site. He was at City Hall this day to determine ownerships, rights, seeking advice, guidance. No help.
We leave. I'll go back. He's committed to a place most leave. Staked a claim on property no one wants. Imagines a future in a city where one doesn't seem to exist.
Try this D-List: determination, dedication, desire.
In Flint, for nearly everyone (as in Mayor, police, zoning officials, prostitutes, thieves, newspaper editors), Adam is trouble, unpredictable, a nuisance.
I see that.
But I also see Adam as an urban pioneer, a proud homesteader, an activist preservationist. Flint, I argue, should be built on his back, imagined as he imagines it, lively in the way that he is alive.
How does one advocate for a near criminal, an entrepreneurial character who, I find out later, is probably a long-term squatter himself, for a street activist who doesn't return emails and is always wondering about the motives and intentions of others, including me?
———-
6. John
A borough alive, then, in Pittsburgh's shadow. Braddock circa 1875 was home to Carnegie's first steel mill, the Edgar Thomson Works. It was home to the country's first Carnegie Library, opened in 1889. In the 1920s, the population was 20,000+.
A place gone, now, notable for being among the first to go. According to John Fetterman, the borough's mayor, Braddock 2008 "has lost 90% of everything it once was and remains in a rapidly deteriorating state of disrepair." Allegheny County's poorest community also has the highest asthma rate in the region, maybe the country. Less than 3,000 residents remained in 2000, a drop of 70%. Police officers starting pay: $8.12 an hour, no benefits. The mayor's take-home: $110.22 per month.
A voice plain speaking. John: Braddock is "gentrification proof . . . We're making the most of the hand that we've been dealt. . . How do you create something sustainable within a community that is not? . . . If the architecture is in place, the community can come back." When asked what success in Braddock looks like, Fetterman is not interested in "success or failure . . . [Braddock] is a work in progress with certain milestones . . . the only metric [is to reduce] the number of homicides to zero as a way to measure improvement in quality of life."
A new vocabulary. Malignant beauty. Family Dollar moms. Get Whatever You Can Moms. Destruction Breeds Creation. Create Amidst Destruction.
A life, alive, again. Braddock, October 2008, Distress Too Tour. John gives us a walk.
12:50 PM (from my camera's timer). An urban garden. Three acres nurtured by Grow Pittsburgh. As stated by Miriam Manion, the executive director of Grow Pittsburgh, "If you can green Braddock, you can green anywhere."
12:55. A smaller urban garden.
1:06. Artist live/work spaces. Conversion of St. Michael's Catholic School and the Ohringer Building. Artist spaces, a 2700-square-foot flexible space, and the city's only gallery now downtown.
1:11. A bread-baking oven. Conceived by Ray as a wood-fired oven shared by the public. Recycled brick, cinder block, leftover stones . . . materials destined for the landfill, now producing herb-spiced breads and pizzas, hosting open-air book readings.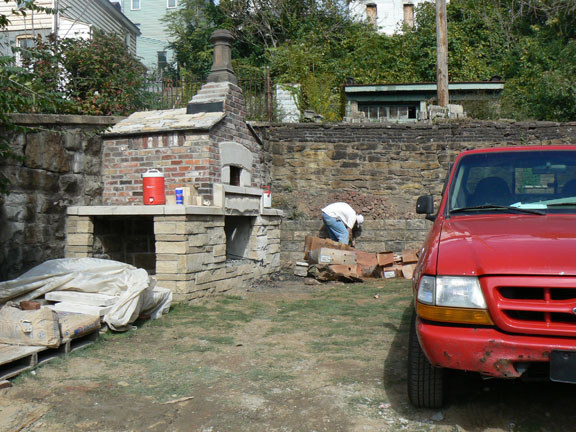 Outdoor break-baking oven. Braddock, Pennsylvania. October 2008.
1:13. An orchard. Thirty-eight trees in a grove planted by the Regent Square Civic Association, Fall 2007. Intended to "reinforce the impression that this is a neighborhood where people live."
1:16. A house. Formerly a 2-storey car dealership, complete with concrete ramp for cars. Think Le Corbusier. Think Villa Savoye. The owner, Fetterman's sister, is scraping plaster off a wall.
1:36. A mosaic. "The Pond" by local sculptor James Simon, 2008. Assisted by local teenagers (including Brittany, 14, Jason, 15, and Cameesha, 17) employed by the Braddock Youth Project.
1:41. A downtown life. John's home. A warehouse conversion, $2,000 purchase price, with extra living space on the roof in two shipping containers, final conversion price = $30,000.
It takes less than one hour to appreciate this approach, the smallness, the nearness, the connectedness.
Wes, leaving: "John, we're energized by what's happening here. What do you need help with? What would you like us to work on?"
John, staying: "I'm not in a position to ask anyone to do anything. You tell me what you want to do, what you think needs to happen, and we can probably help you make that happen."
Asking myself, what should be done in a place where a mosaic, a grove, an oven are the answers, the solutions? Can I think this small? Act this small? Wondering, how to get involved? Remembering the recent questions/insights to me about the "scalability" of onesmallproject and how I fight that urge, resist that opportunity to get bigger, to replicate in one place what "worked" in another place, not wanting to float among places and lives with a toolkit of solutions. No desire to be that "professional" and "successful." Still . . . why not another oven?
———-
7. Rasika
According to Science magazine, the Sumatra-Andaman earthquake produced the most devastating tsunami in recorded history, a mass murderer of more than 216,000 persons in twelve countries. One estimate from the Asian Development Bank: over 35,000 Sri Lankans killed (1 death/500 persons); 443,000 displaced (1/50); and 50,000+ houses completely destroyed.
December 26, 2004. Rasika walks among coconut trees, bare feet press into sand, one-year-old daughter Naduni in her arms. The fishing village of Kalametiya was home to thirty families, including Rasika, husband Gamini, and their four children.
A liquid battering ram slams mother and daughter underwater, entangles them in a barbed wire fence. Clothes are torn, flesh, muscle, and deep tissue ripped. Water recedes. Rasika panics down–holding Naduni–to free them. A second killer wall tears child from mother's grip. She will not be found.
I met Rasika in March 2005. Hers was a prominent voice in the village, post-tsunami, that of an activist, attending meetings, saying things others might not say, and expecting results. We met, first time, outside her temporary "house" constructed four kilometers inland from Kalametiya. No cooling breezes, no palm tree shade, no sand. Villagers roasted, there, in the sun and sweltering boxes. To use her words, now they were the fried fish. House = concrete slab, wood walls, corrugated metal roof panels, approximately nine square meters per structure. With students, locals, and her family, we helped begin construction of a new house for Rasika, catalyzed by us, one of thirty underway when we departed a week later.
February 2008, days before I see Rasika, I'm told of a new baby, a new beginning. That's good news. And I'm told the baby has Down syndrome and a heart condition; the child, Chethani, is bused to a nearby city every week for treatment. I'm told Rasika blames her anxious post-tsunami mental state for the disorder. And I'm told that she and Gamini have completed a house expansion, adding a kitchen, dining room and bedroom.
To speak of the architecture of the village, is to acknowledge both a design mistake made by the architect Madhura Prematilleke and to see the Kalametiyans make the village and houses their own.
Prematilleke is a talented architect and a good friend; I've seen many of his projects during my six visits to Sri Lanka. He came to Ball State in 2002. Pre-tsunami, Madhura was planning a resort near Kalametiya. Not wanting the new facility to overwhelm the villagers' lives, he got to know the people believing this would help inform his design. Post-tsunami, he contributed a plan for the village and a prototypical design for the houses.
The house design included a small kitchen with countertop propane cookers intended as an upgrade from cooking with firewood. In time, the propane cookers were rejected by some of the women. The kitchens are used, as this is a source of running water, but families constructed a new outbuilding for themselves, made of scavenged materials and open on one side, in which to store and burn firewood for preparing food.

Kitchen buildings alongside new houses. Kalametiya, Sri Lanka. February 2008.
It seems the architect, a Sri Lankan, missed something here, and that the locals responded on their terms.
I will return to Kalametiya to see the buildings, the new kitchens, the new uses for Madhura's kitchens, and the villagers. But mostly, I will return to see Rasika, my touchstone in all this work, to know her . . . wounded, determined, alive. It doesn't have to be anything more than that . . . nothing more than a cup of tea in her home, if that's what she wants.
———-
8. What energizes me these days is to find approaches, built works, and designers that exemplify a "first name basis" sensibility.
In the next posting, six such efforts will be set out, three by students I have worked with and the others by architects I know, whose buildings I have visited.
The students, abbreviated. Marwa el-Ashmouni, after talking with Keith Austin, a squatter, integrated squatter building culture into her designs for a distressed Flint neighborhood. Bruce Chan and Ashley Webb's documentation of Shasikant Shinde's streetside cobbler stand in Mumbai include their conversations with him and 150 photographs of his stand. In Berlin, Kathrin Loer talked and walked with the "unhoused" persons Rene, Kalle, Bianca, and Babsi; her master's thesis foregrounds both her new knowing of them and a new awareness of the limits of her architectural knowledge.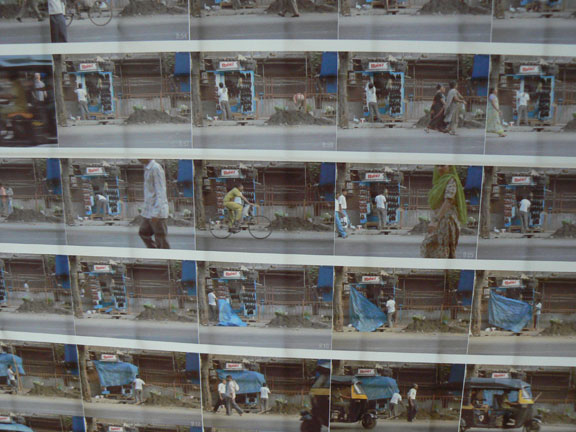 Shasikant's streetside cobbler stand. Mumbai, India. March 2008.
Architects = Michael Lehrer, Vijitha Basnayake, and Hector LaSala.
Michael, a board member of Homeless Health Care Los Angeles (an organization that operates a needle exchange center in Skid Row), designed a Drop-In Center where the Row's residents–the densest concentration of streetpeople in the U.S.–are given an 8-hour respite to sleep peacefully, maybe to shower or to wash clothes, before they're kicked out, restreeted. Vijitha attempted his own version of "make it right" in Sri Lanka with the shacks that construction workers build on-site for themselves . . . and ran into resistance. Starting with a $300 bench, Hector's involvements at the Acadiana Outreach Center in Lafayette, Louisiana are stabilizing a distressed neighborhood and neighbors.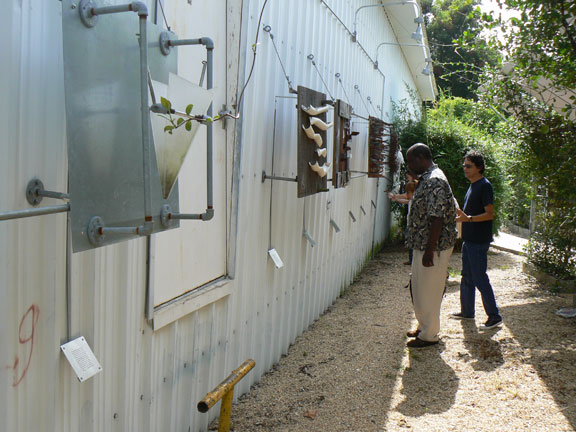 Student projects: Altars / Alters @ Acadiana Outreach Center. Hector LaSala on right, Olon Dotson to the left. Lafayette, Louisiana. August 2008.
These citizen-architects begin their work with another person. They might make mistakes. And as will be explained in the next post on Design-Altruism-Project, it is in working with and thinking about one person that each finds the energy to continue.
———-
9. A comment by the writer Alice Walker concludes this posting and complements the opening quotation from the Inaugural Poem.
Walker was the youngest of eight children in a sharecropper and dairy farming family in Georgia. Her novel "The Color of Purple" won the Pulitzer Prize and was made into a film by Steven Spielberg.
Elizabeth Alexander and Alice Walker speak to smallness and of potentials found, whether the potential that resides in the small moment, or in each of us. In this, they join Mary Martha, Michael, Thelmon, Emilia, Adam, John, Rasika, and billions of others whose lives and built works suggest the potentials and difficulties embedded in a more humanistic approach to architecture.
From Architects of Peace: Visions of Hope in Words and Images:
It has become a common feeling, I believe, as we have watched our heroes falling over the years, that our own small stone of activism, which might not seem to measure up to the rugged boulders of heroism we have so admired, is a paltry offering toward the building of an edifice of hope. Many who believe this choose to withhold their offerings out of shame.
This is the tragedy of the world.
For we can do nothing substantial toward changing our course on the planet, a destructive one, without rousing ourselves, individual by individual, and bringing our small imperfect stones to the pile.

Thank you.
Wes Janz teaches architecture at Ball State in Muncie, Indiana. He's the founder of onesmallproject.
3 Responses to "First Name Basis (Part 1)"
Wes Janz Says:
May 1st, 2009 at 12:45 am

Yeah, to The Daily News . . .

It's difficult for me — to view the automotive industry, to follow the decline in Flint, Michigan (the city where General Motors was founded 100 years ago), to read today that Chrysler is filing for bankruptcy, to find out that Fiat is about to buy a controlling interest in Chrysler, to read in the local newspaper that people in Indiana should be concerned that the State of Michigan is giving substantial incentives to auto-related businesses to relocate to Michigan, to wonder how long that local newspaper will even exist, etc., etc., etc. — and to know what to say, how to react. It's difficult, if not impossible, to see the future on such terms.

Such discussions, such decisions, such outrageousnesses exist in a space and place about which I know somethings about the ramifications, loss, and helplessness that visits so many lives. I know a little about Flint, about the wonderful photojournalist who took an early retirement and left a city and people he loved and to whom he was deeply committed, the devoted police officer who emailed last week to tell me he's been laid off, or the squatter Keith Austin, who is, once again, gone (see: http://onesmallproject.blogspot.com/2009/02/im-taking-out-my-pencil.html).

These, to me, are "major casualties."

We can see the world this way, our interest or curiosity can end there, in anxiety about the future.

I'm willing to say that the questions you ask — about industries, the future, recovery, major casualties — are just the sort of questions that we are trained to ask, educated to ask, expected to ask.

For two basic reasons, while I'm interested in such issues, I'm also looking into other energies.

First, EVERYONE asks these questions, everyone wants to "solve" the "big problems" of our time, we feel compelled to think at the level of policy, planning, the big picture. So, I say, maybe there's space for someone, for me, to look at this differently. To think small, to get to know one other person well, to pay attention to that. Period. Second, real people are making their way in the most difficult of conditions. I've seen it post tsunami in Sri Lanka, post Big Three in the Rust Belt, post Katrina and Rita in the Gulf Coast. Local people, regular people, individual people find space to make a difference, get on with life, help others get on with their lives, dream dreams and act on them, have aspirations and follow them, believe in themselves, don't wait for someone else to figure something out or to give something.

This, I believe, is a very good place to begin, with a small success story in Flint (see Adam above), Braddock (see John above), in Panama (Emelia), Camden (Michael), Sri Lanka (Rasika), all around the world such stories, these realities exist.

Such an approach does not argue against the sorts of big issues that you cite. We need organized first responders to natural disasters, unions to fight for workers, elected officials to represent the citizenry. At the same time, I'm interested in displacing or decentering some aspects of these relationships. I'm tired of waiting for Tim Geithner to figure it out, for Gordon Brown to figure it out, for Cristina Kirchner to figure it out. I'm tired of how important we've allowed them to become, even as I have experienced the difference that leaders can make in the most difficult of circumstances.

It is the unrecognized, unremarkable, unCNNable lives, these are the moments and todays in which I'm interested, and from which I am learning.

Whatever it means "to recover," let it begin there.

I hope that helps.

If you want to see some of my thoughts about decline in Flint, Michigan, specific to what to do with something like 10,000 abandoned buildings, see:

"Deconstructing Flint" at http://www.geneseeinstitute.org/downloads/Deconstructing_Flint.pdf

In addition, this post at Archinect might be of interest:

"Compared to What?" (a journal of a 2006 driving trip, with students, to Detroit, Flint, Gary, south Chicago, East St. Louis, and Cincinnati) at: http://www.archinect.com/features/article.php?id=50579_0_23_0_C

Thanks again,

Wes

@ tuskegee university | onesmallproject.org Says:
April 17th, 2010 at 8:59 pm

[…] University. Both efforts by Janz and Dotson are informed by the Midwess Distress Tour (2006) and Distress Tour Too (2008) field trips they led to Rust Belt cities including: Braddock, Camden, Chicago, Cincinnati, […]

onesmallproject.org Says:
May 9th, 2010 at 4:09 pm

[…] more: First Name Basis (Part 1) @ […]