Wes Janz
In Part 1 of this two-part post, I called for a "humane architecture" and reflected on the challenges and potentials found when designers put people at the center of our work.
Among the individuals and architectures discussed: Mary Martha and a dormitory for border crossers returned to Mexico; Michael's block in Camden, New Jersey; and the "meanwhile house" of Emilia in Panama City, Panama. Three profiles set out persons making their way in difficult conditions: Adam in Flint, Michigan; Rasika post-tsunami in Kalametiya, Sri Lanka; and John, the mayor, Braddock, Pennsylvania.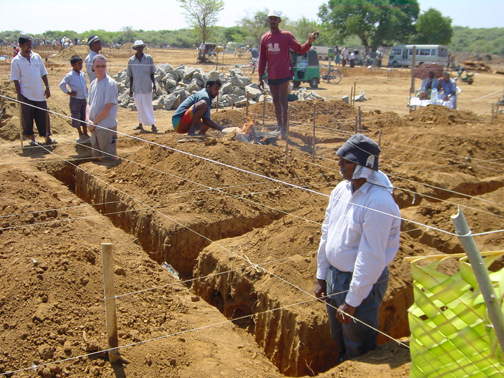 Nihal Perera and Wes Janz (in trench, right to left) participate in an "auspicious moment" in Kalametiya, Sri Lanka, March 2005, four months post-tsumami. House owner Manoj extended this honor and gave instructions, as the ceremony was coordinated with the Sun, stars, moons, and Earth. Rasika's house was built adjacent to Manoj's. (Photo by Kwanlert Nunthavisith)
This writing brings forward six projects I know done by persons I know. Two are in south Asia (Sri Lanka and India); two are U.S.-based (Los Angeles and Lafayette, Louisiana), and two—Flint and Indianapolis—are close to me. The designers were inspired by other lives that couldn't be imagined. The projects occur in places where few architects are engaged. These approaches and buildings suggest what a "first name basis" might look like, with architects among the participants.
These paired posts on Design Altruism Project are part of a larger effort to understand the small projects of self-reliant people, as a way to destabilize conventional understandings and teachings by asking: Who is a designer? Who is the teacher? Who is the learner? What is a profession? To further this effort, three bits of extra information are included in this post's conclusion: additional architects who might be of interest, graduate theses done under my supervision, and selected writings I've completed in recent years.
The central idea is to help every reader understand: you are not alone.
Here, I like a U2 lyric from "Walk On":
You're packing a suitcase for a place none of us has been
A place that has to be believed to be seen
Each of these designers knows: first you must believe something can be the case, only then can you see on its terms, not yours.
Each is doing small, socially responsible work for people who might appreciate what an architect can contribute, who might not think about an architect even once in a lifetime, or who might be openly hostile to the intentions of an architect.
Each clarifies and complicates a "first name basis" approach.
———-
Vijitha
In much of the world, construction workers live on-site. The first structures built are temporary living quarters the laborers create for themselves. Later, they occupy the permanent structure as it is completed.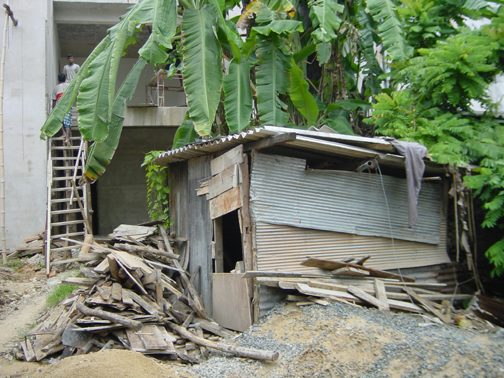 Foreground, temporary house of construction workers, Colombo, Sri Lanka, March 2005. Background, architect-designed house being built by the workers. (Photo by Wes Janz)
In Sri Lanka, this makes some sense. Oftentimes men move to urban construction sites from rural villages. They need a place to live, why not on-site?
And it makes no sense whatsoever. The men live in some of the country's worst housing, often located a few meters from a new building designed by an architect.
Vijitha Basnayake, an architect in Sri Lanka, is exploring the potentials in this setting. I know Vijitha. I've stopped at his home on each of my six trips to Sri Lanka (since 2001), he and his wife Ira stayed in my home for six weeks in 2003, and I've visited a number of his built works in the Colombo metropolitan area.
In 2006, a continuing client agreed to the inclusion of a support structure to accommodate the builders of the main house. Ten local men, relatively unskilled, would design and build the support structure, which in time would provide living quarters for the caretakers of the main house. This intervention pushed wages into the local economy and created decent housing for the recruited builders. In keeping with his interest in local and traditional construction techniques, Vijitha requested that the men design and build in wood and thatch. The resulting building has a simple wood frame with a roof span determined by the maximum length of wood members that could be harvested locally, along with a thatch roof.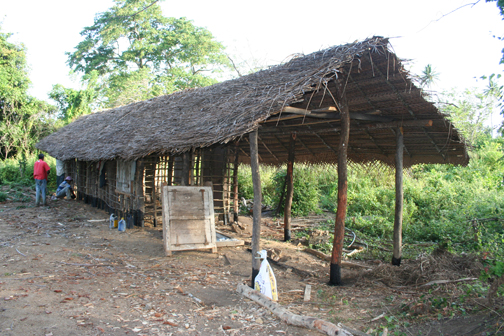 House for construction workers, designed by Vijitha Basnayake with locals, built by locals. Galkadawala, Sri Lanka, 2007. (Photo courtesy of Vijitha Basnayake)
Still, there were problems. The local crew asked the architect: "Why not build the building out of cement and concrete and concrete blocks? That's modern!" They stopped coming to the job site regularly, so disgusted were the men with the "stupid building." They were not, according to Basnayake, connected to traditional materials and methods.
Good intentions only go so far when the architect and others come to a project with agendas at odds with each other. One seeks to reinforce local traditions, while another wants to be modern. One pushes wages into the local community, others don't need the money, or hassle. One wants to improve living conditions, others have no interest.
This spring, Vijitha emailed to say he's doing a building with clay in Kurunegala, an ancient capital of Sri Lanka, for an ancient Buddhist monastery complex. "Doing everything ourselves," he wrote. "All the unskilled work done by us."
Me wanting to be part of that "us," mudding alongside monks, being unskilled among other unskilleds. Wondering what of this "model" can be translated to the formal economy, how we engage the unskilled as our builders, and maybe designers? Shifting my attention from those so obviously with power to those generally considered powerless.
———-
Bruce, Ashley, and Shasikant
Hanuman Road, Mumbai is a human crush, India style. Shasikant navigates the rush-thrush, traces the footsteps of his father and grandfather, arrives at his cobbler's stand around nine, shoes fixed while-you-wait, 'til the next nine. On a timber pallet, legs crossed, the stand's doors open, hanging shoes, sandals, and belts. On the sidewalk (in the way, really), adjusting the overhead tarpaulin to catch the Sun's gush.
Thirty-five years, seven days a week, twelve hours a day.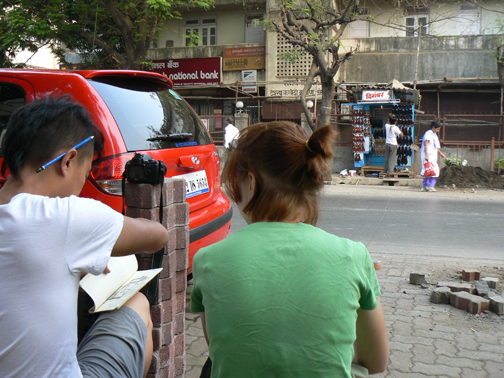 Bruce Chan and Ashley Webb document the cobbler stand of Shasikant Shinte, Hanuman Road, Mumbai, March 2008. (Photo by Wes Janz)
This streetside architecture observed by Bruce Chan and Ashley Webb (in March 2008 with Shasikant's permission):
The main structure is roughly 3 feet by 3 feet, and 10' tall, with the ground lifted a couple of inches off of the concrete sidewalk floor. It is made of a wooden frame with pounded metal sheets (~8′ X 8′) nailed to the sides.
The roof is made of corrugated asbestos screwed to wooden slats and further supported by a wooden box structure that has the name of the store on the front. Coming from various points near the top front of the structure, thin slats of wood protrude to the sides and are used to keep the doors of the shop open; the doors are affixed by thin rope to the thin slats. Another short board protrudes from the front of the sign and is used to hang a florescent tube light.
On the inside of the doors and inside part of the shop, there is laminated plywood/particleboard with holes drilled at regular intervals uniformly all over the board; the holes are used to hang shoes to display for sale. The shoes are hung in the holes by a nail driven into the soles.
The construction of the shop is very specialized to its location and piecemeal; it is definitely built on site as no pre-fabrication looks to be involved. Many nearby shops sell materials like those found in Shinde's shop construction. Some found materials are probably used as studied in other informal shops. There is a slight grade noted on the sidewalk (<1 degree) and adjustments were made by adding wooden blocks to the legs of the structure. If any piece of the structure was too short in construction, a new piece was not acquired, rather more pieces were simply added.
Shasikant's cobbler stand has official status, complete with electric meter and telephone line that powers a state-of-the-art wireless system. Still, as the stand is registered in his mother's name (not his) and the adjacent flower shop proprietors do not have official permission, "situations" could arise, suddenly.
While willing to speak (through a Nepali student fluent in Hindi), the cobbler said little. His customer base is spontaneous—tripping on a broken sandal strap, limping on a worn shoe sole, unraveling stitches of a bag or purse—and they wait for his repairs. A carpenter assisted in the stand's construction and makes repairs.
Bruce, an aspiring architect, and Ashley, a young urban planner, collaborated on a final report that overviewed the informal economy, described the larger urban setting of Vile Parle East, documented the cobbler's stand through 150 photographs, and a short interview with the reluctant shop owner.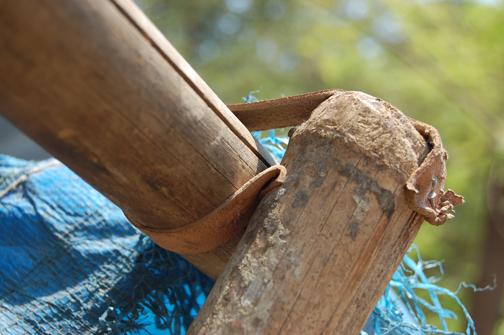 A leather strap connects bamboo post and beam, which in turn support a tarpaulin adjusted throughout the day on the stand's south-facing front façade. (Photo by Bruce Chan)
With their report, the collaborators brought a level of detail and attention to their study, one rarely found when considering the small architectures of self-reliant builders. Here, in the responsiveness and efficiency of a cobbler's stand in Mumbai, is a beginning.
———-
Michael
L.A.'s Skid Row is a 15-minute walk from the Disney Concert Hall (Gehry), CalTrans District 7 HQ (mOrphosis), Cathedral of Our Lady of the Angels (Moneo), and Central Los Angeles Area High School #9 (Coop Himmelblau). It is home to one of the largest stable "homeless" populations in the country. Best estimates: 7,000 to 11,000 people in the 50-block area.
If you didn't know, even in general terms, the biographies of many residents—the struggles with addictions, chronic mental illness and depression; abusive spouses, lovers, family members, friends; ADD, multiple-personality disorders—you'd say this is the liveliest neighborhood you've ever seen.
Streets with jaywalkers, bystanders, runners.
Sidewalks short-term to gawkers, laughers, taunters.
Curbsiding with sitters, talkers, watchers.
San Julian Park, at E 5th and San Julian, is full-up with boomboxers, dancers, singers, hustlers, charmers, louders, cardplayers, romancers, nappers, yellers, sellers, buyers, starers. And locked at night.
Anybody could find, in Skid Row, everything they hope to create in whatever dream neighborhood, community, development they chase.
Except . . . well . . . for the addictions, the abuses, the illnesses, the disorders, the poverty, the skid that everyone shares on Skid Row, that are shared, maybe in less extreme or obvious ways, in every neighborhood in the world. In yours, for example.
First time in Skid Row for me, February 2007, local architect Michael Lehrer led fifteen middle class Caucasians (students plus me) from Muncie, Indiana single file, with Mark Casanova (director of Homeless Health Care Los Angeles–HHCLA) at the rear.
On E 5th, a man up in my grille: "WHAT THE FUCK DO YOU THINK THIS IS, A FUCKING ZOO???"
I met Michael on this walk-through and again in October 2007. He's a talented architect, as evidenced by the awarding of numerous local, state, and national honors from the American Institute of Architects.
And he serves as vice president of the board of directors at HHCLA, which operates a storefront facility in Skid Row. Here, a harm reduction philosophy guides the needle exchange center's primary function—to provide clean hypodermic syringes to addicts in exchange for dirty needles, no questions asked, no judgments made.
Michael's office has completed two building projects in Skid Row—a drop-in center and community center–and both are worth knowing about, as is Michael and his commitment to the people of East L.A.
The Downtown Drop-In Center (628 S San Julian Street), built with a construction budget of less than $70 per square foot and opened in 1998, "was conceived as a temporary shelter for homeless persons in downtown Los Angeles, meant to provide only a shower and a bunk for a night's respite." Opinions vary among social work professionals regarding the effectiveness of such an approach: men and women wait, often for hours, for a bed that will be his or hers for eight hours. There is no music, no conversation. There are showers, washers and dryers. Some privacy, maybe some sanity, what might be considered normalcy, a good meal. And that seems like a good thing to me.
A second Skid Row project by Lehrer Architects—the James M. Wood Community Center, across the street from San Julian Park—also has received significant recognition for its design excellence.
Sure, Michael is an architect, but it's his accomplishments as a first order crossover artist between "big D" Design and "small a" architecture, between the lives of forgotten individuals and the intentions of those powering huge institutions, that are of note here.
As we closed a walk-through with students, I asked the group to consider what each found in Los Angeles—what "punched them in the gut," as my colleague Ana de Brea might say. Amanda Pagel wrote:
The trip to L.A. has made me realize how uncomfortable I feel with my own reactions to homelessness; I make eye contact with a person of the streets and don't know how to respond. I walked past a homeless person, I look down nervously, not prepared to interact. I stare from a distance, but I ignore when the situation is in my face. By pretending to ignore I isolated myself and the other person.
As I walked through L.A., I tried to take in all the glamorous and beautiful sites, but I would stop and stare at a person living on the street. I wonder what put them on the street, why they can't make it in the world, and why I stare but don't do anything? All these questions build up. Am I afraid to admit something about myself? Am I afraid of my reactions to them or theirs to me?
I want to listen, but I don't know how.
———-
Hector
My colleague Olon Dotson and I visited Hector LaSala in Lafayette, Louisiana in July 2008, intending to see the small bench that Hector told us was the re-beginning of the Acadiana Outreach Center campus. As imagined, the bench was but a minor element in a much larger project, initiated by Hector and Geoff Gjertson, his partner at the Building Institute, a design-build, service-learning program at the University of Louisiana-Lafayette.
In the Fall of 2003, Valerie Keller, the director of Acadiana, contacted the ULL School of Architecture about the design of a storage system to help organize donations. After several visits to the site–-a city block full of sprawled and disconnected structures–-the students and faculty observed a contradiction: while the Center's mission is "Giving People Back Their God-Given Dignity," the physical environment was depressing, coarse, and degrading.
According to LaSala and Gjertson, from the paper "Design on the Societal Battlefront":
The first installation on the homeless shelter grounds was the Parasol, a canopy seating element which elegantly "stormed the beach" of this previous "no-mans-land." Where there was no shade, no seating, no generosity for the human spirit; the installation is a welcome oasis for the clients of the shelter.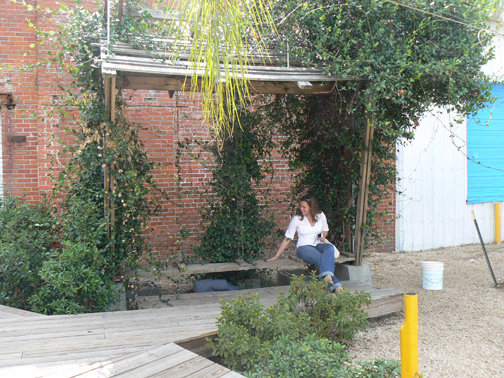 Parasol, Acadiana Outreach Center, Lafayette, Louisiana, July 2008. Gabriela Valencia sits on the bench. (Photo by Wes Janz)
LaSala describes the Parasol within a larger point: focusing on one small project at a time is counterintuitive. That is, we're told to plan, convinced that big plans are essential, told to "make no small plans." Yet one needs to begin somewhere, to make something, in order to find traction for the plan one might have. Starting small might be an essential component of thinking large.
Next: a barren alleyway that was the only connection between four halfway houses and the job training and rehabilitation center that serves the Acadiana residents. LaSala and Gjertson:
[T]he students first created small installations (altars/alters), inspired by the success stories and testimonials of residents who had graduated from the rehab program. These installations are displayed on the walls of a meditative garden called the Signposts of Grace. Residents now can stop, rest and reflect upon the struggles and victories of their lives. . .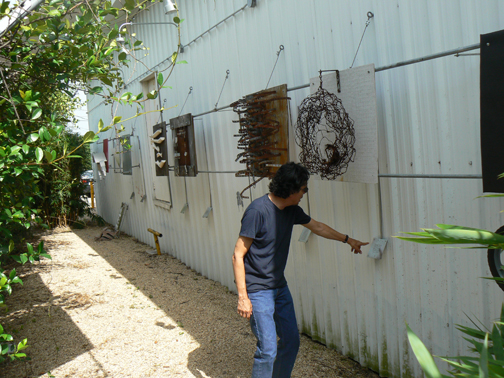 Hector LaSala explains first year student projects in the Signposts of Grace meditative garden, Acadiana Outreach Center, Lafayette, Louisiana, July 2008. (Photo by Wes Janz)
Excited I was . . . so excited by Hector's commitment to the purpose and people of Acadiana and the works completed there and imagined—including a 100+ bed facility for recovering addicts—that I forgot to sit on the Parasol bench that started it all.
I emailed Hector. It's a good excuse. I'll be back.
———-
Marwa
For Marwa el-Ashmouni, a big day it was. September 20, 2006.
She met Marvin, her first private demolition contractor, in Flint, Michigan. Don, her first backhoe driver. Glenn, her guide.
In the U.S. for a month, accustomed to moving among pavement dwellers and street people in her home country of Egypt, she met Keith, who always will be the first squatter she spoke with in her life.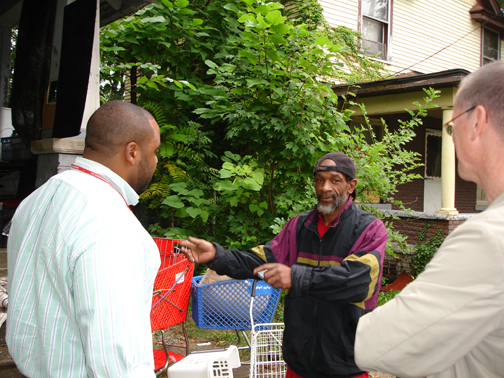 Keith Austin (center) talks with Glenn Johnson (left) and Wes Janz (right), while students, including Marwa el-Ashmouni, listen off-camera. Flint, Michigan, September 2006. (Photo by Mickel Darmawan)
She met Kevin, the City of Flint demo crew chief and eyed the backhoe he trailers, five or so stops a day.
Walking around and in Kevin's next victim—the countdown started, Marwa not knowing the house would be an unhouse in mere minutes—she took in the backside tags, the charred stairway where a fire advanced, then retreated. She stood in the second floor toast.
We stepped out as the yellow John Deere 690 ELC backhoe stalked the front door. No knock knock knock. No anybody home? Instead, a front porch shove-aside in one arm-sweep, a roof cave-in done by mechanical thrusts, exterior wall push-overs from a few horizontal shivers, vertical crushes to overwhelm the second floor structure.
More shoves, thrusts, pushes, and crushes. More sweeps. More. Thirty minutes, tops.
Then, a cigarette break. Idle conversation.
When she did her master's thesis—"Imagining the Alchemy of Shrinkage between the Real and Ideal: A Resilient Design in Evolution in Flint, Michigan"–Marwa wrote of the day:
Firstly, Keith, who used to squat on a front porch of a vacant house, was being evacuated from that porch on the day of our visit. Keith's way of talking wasn't that way of poor miserable people who may try to motivate others' sympathy at all. On the contrary, he seemed to appreciate himself. The common picture of these individuals in all societies is primarily focused on the pathetic lives, started to be untruthful. . .
[Secondly,] since there are many vacant houses, why the homeless are not given a chance to live freely without any hassles?
[Thirdly,] the evidence of scrapped materials in Flint, in old abandoned houses left for 1-3 years before foreclosures. Scrappers with no money in the pockets are ready to earn their living once they get a chance. . .
Finally, the moment of killing a house and its observant funeral afterwards for thirty minutes was a completely shocking experience in my life as a human being as well as an architect. . . The official institutions throw [away] all the materials and nobody cares about it. While there are poor people who so see this rubbish as treasures that they struggle to sneak and steal it.
"I started to think about our role as architects," Marwa wrote,
in motivating people to turn their individual potentials to collaborative community work. This is a call for cooperation and participation, which should be the cornerstone in any architectural design for the poor, namely, the resilient architectural design.
Her specific response on behalf of the "forgotten places and ignored people" in Flint, she titled "Scrap and Build: On Our Own Village," at the Third Avenue and Grand Traverse intersection. On land near a one-stall garage where a squatter lived, where we saw a stack of used mattresses, and next to an abandoned house.
Phase 1, a reused sink could be situated in a new partial wall built of recycled brick (maybe by a former-mason-now-homeless person) on a vacant lot and connected to an unused water line (left behind from when a house occupied the site). Phase 2, partial constructions—relocating a solid corner of a demo-ed house, salvaging house interior components of a demo victim, leaving a concrete slab for others to build on. Maybe next door, a lost house is deconstructed, its parts advancing other local constructions.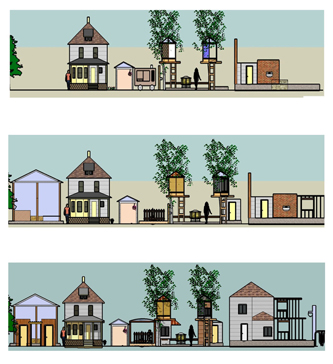 "On Our Own Village" proposal by Marwa el-Ashmouni for Flint, Michigan, November 2007. Top to bottom, Phases 1, 2, and 3.
Marwa wrote:
The hope is that such minimal interventions might entice both those with no houses and those with entrepreneurial spirit to complete the enclosures that, over time and by accumulation, will grow into buildings and a social network.
Phase 3, maybe the sink is enclosed and includes a shower and toilet, gardens are planted, an adventure playground. Who knows, a salvage yard (where squatter-entrepreneurs give materials to some and sell to others), an abandoned house is converted into a live/work facility for nearhomeless people, and why not small kitchen preparations from garden growings?
In the smallness (i.e., appropriateness, decency, realisms) of the proposed architectural work and the bigness of Marwa's heart is the value of design done not on behalf of homeless persons in Flint, but alongside local persons AND on behalf of architects and designers lost in conventional practices, deadhead jobs, and the cold-hearted calculus of a lost profession.
———-
Derek
West Indianapolis, cruising 10th and Michigan, Derek Mills and me. Friday the 13th (March 2009). We pulled over, stepped out–five abandoned houses in a row–started talking.
The residents' years of bad luck was, on this day, our good fortune.
Earlier, as he began his master's thesis, Derek sought to make quality houses available to people with limited income while incorporating "green building" sensibilities. After a talk with Partners In Housing Development Corporation, Derek too joined the ranks of abandoners, leaving his early precedent studies of prototypes on pristine natural open sites as he found the city's distressed west side.
He re-focused. Could potential be found in neighborhoods, buildings, and lives thought by many to be undeserving of attention, hope, or a future? Might it be possible, he re-reasoned, to be sustainable in a gone neighborhood? Could he, in his words, "design with a conscience"?
Derek wrote of our luck that day:
One major realization presented itself after a conversation with Antoine, a local resident, which became the epitomizing, turnkey moment for the creative project.
This moment in time framed my perspective on how Architects, like myself, have the opportunity to engage and construct ourselves in a manner that is better suited for people. During this conversation with Antoine there was an intellectual connection that was more based from the perspective of a casual interaction between like-minded, passionate citizens.
I came into the conversation with my own preconceptions about the effects of urban decay, what I knew to be true and what I thought to be true; but left with a memorable personal connection that goes far beyond any purely academic conversation. Being that the conversation was directed towards the feelings and objectives through the eyes of Antoine, and where he perceived his community moving, I was able to discuss my design knowledge as a "person" and not as an "Architect."
Amazingly this realization formulated a new way of thinking for how I want and should, present, illustrate, construct, and engage my design knowledge without all the Architectural organization undertones.
My basic conclusion from this turnkey moment was that, Architects should reconsider whom we place first as the most important client.
This shifted worldview led to some new questions.
Could some abandoned houses be deconstructed, pieces or chunks at a time, in order to reuse parts immediately to save other local houses?
Could an open lot be a staging area for crews working on adjacent houses? Might abandonment be an indicator of a better place to work?
Could the "raw" (i.e., no lead paint, no asbestos) six- and eight-foot-lengths of 2x6s and 2x8s in front porch floor and roof joists, and the 2×4 framing of garage walls and rafters, be of use?
Could concrete slabs of abandoned garages be re-purposed, in place?
Could a man down the block, doing small-scale construction work, suggest the presence of local building knowledge and neighborhood manufacturing industries?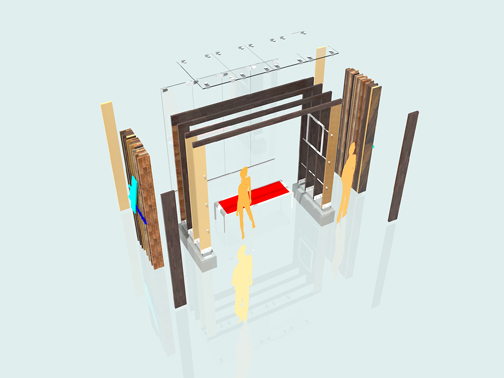 Derek proposed a four-tiered reuse/rehab strategy. In "Transfer" 100% material reuse ranges from a bathroom vanity to an entire room. "Soft Demolition," as shown here with a bus shelter prototype, reuses raw wood framing and minimizes demolition waste. (rendering by Derek Mills)

This neighborhood pavilion is another example of "Soft Demolition." "Band-aid" rehabilitates parts of houses through the use of new enclosure systems and "Defibrillator" introduces a "plug-n-stay" manufactured kit/architecture to give life back to existing houses. (rendering by Derek Mills)
With his thesis–"Material [Re]sourcing: A Systematic Approach Towards [Re]Creation of Urban Decay"–Derek started to believe in order to see. He came to believe in Antoine, in many Antoines. In small architectures. In the potentials of lives and places and things that appear lost, used up, or even invisible to many others. He has an increased belief in the relevance of his architectural knowledge.
And most importantly, he began to believe in himself.
———-
A number of practitioners are of interest here. Some I know through books, magazines, conferences, or websites: David Adjaye (Tanzania and England), Jalal Ahmad (Bangladesh), Tadashi Kawamata (Japan), Luyanda Mpahlwa (South Africa), Jaime Nisnovich (Argentina), Kyohei Sakaguchi (Japan). Others we interviewed in our "World Architects and the Working Poor" class: Cengiz Bektas (Turkey), Santiago Cirugeda (Spain), Sean Godsell (Australia). A few are colleagues: Rosane Bauer (Brazil), Marjetica Potrc (Slovenia), Scott Shall (U.S.).
Others are bookmarked at onesmallproject.delicious.office
Others are former graduate students with whom I worked closely as thesis adviser:
Amal Cavender, "Maloula [Syria]: Village of Endurance";
Anawat Chirattikalwong, "Studying [and suggesting minor improvements to] a Self-Built House by Construction Workers in Bangkok, Thailand";
Gabriela Valencia, "From Rural to Urban [in Panama City, Panama]";
Kathrin Loer, "At Home With The Un-housed: Conversations With Men and Women On The Streets Of Berlin"; and
Tulay Gunes, "Portable Houses and Context: The Case of Israeli Settlements in the West Bank."
Other writings by this author which share similar sensibilities include:
"A New Village in Sri Lanka: Learning Lessons There, Sharing Lessons Here"
"Consuming Knowledge / Constructing Knowledge"
"Archinect interview: One Small Project"
———-
I close with a quote from Jack Kerouac's "On the Road." In it, Sid Paradise describes Dean Moriarity, a newfound friend on his first visit to New York walking the street with Carlo Marx:
They rushed down the street together, digging everything in the early way they had, which later became so much sadder and perceptive and blank. But then they danced down the streets like dingledodies, and I shambled after as I've been doing all my life after people who interest me, because the only people for me are the mad ones, the ones who are mad to live, mad to talk, mad to be saved, desirous of everything at the same time, the ones who never yawn or say a commonplace thing, but burn, burn, burn like fabulous yellow roman candles exploding like spiders across the stars and in the middle you see the blue centerlight pop and everybody goes "Awww!"
I close and say goodbye to people, places, and lives . . . and I remember others, first editions. As Kerouac wrote of his buddies then, their lives, the street, the gravity of bodies and ideas in motion, their pull, power, force fields, attractions, their uncommonplaces–his Awww, or maybe his awe–I remember my own dingledodies.
Hello yesterday. Yamuna Pushta informal settlement, Delhi, a child touches me, jumps back, smiles. An old saleswoman streetside in St. Petersburg, green beans cupped in her hands, selling this small thing, maybe all that remained. The cartoneros child in early morning Buenos Aires, me finishing a night out, him just beginning, ripping through garbage piled on the streets, my garbage, him stopping to say hola.
Hello today. Anyone post-industrial. Anyone post-GM, post-Chrysler. Anyone post-Katrina, post-Rita. Anyone post-tsunami. Anyone post-anything, making a go of it.
Hello to the self-reliant designers and builders of the world, and to their struggles and strivings within big physical, economic, political, and cultural landscapes.
Hello to first names, small architectures, big landscapes.
Hello tomorrow.
Wes Janz teaches architecture at Ball State in Muncie, Indiana. He's the founder of onesmallproject.