Victor Margolin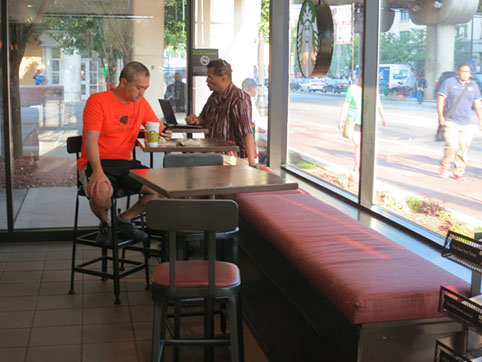 I like to go to a café in the morning to read the paper before I start work. I also enjoy meeting friends and colleagues in cafes. For some time, the Starbucks in my Chicago neighborhood was my choice for reading the paper and a Caribou Coffee a few blocks north of my home was the place where I chose to meet colleagues and friends. The reason for the distinction is that the Starbucks is designated as a high volume take out store with minimal seating, while the Caribou Coffee, now closed and soon to reopen as Peet's Coffee, had better seating options for meeting others.
For several years the seating arrangements in both stores, (perhaps coffee dispensaries is a better term), was adequate for multiple purposes. At Starbucks, I could sit at one of the four available tables or in one of the two booths to meet someone if need be and at Caribou, I could sit in one of the four comfortable leather armchairs and read the paper if I chose to. The trouble started when the manager of the Caribou Coffee decided to rearrange the furniture. There was a lovely corner of the store where four leather armchairs were located. To add to the sense of homeyness, there was a fireplace, although no fire ever burned in it. Well, the manager decided to remove two of the armchairs and replace them with tables, thus discouraging the newspaper readers from settling in too comfortably and therefore providing more seating space for larger groups. She also chose to rearrange the other section of the space, consequently reducing the number of tables for two.
I complained vigorously, arguing that she had made a mistake to disrupt a furniture arrangement that worked quite well. I presented my credentials as a design historian and thereby someone who knew a little about design. For several months, my proposals to restore the furniture fell on deaf ears but one day a miracle happened. The manager had been mulling over my argument and decided to change the furniture arrangement back to what it had originally been. I was overjoyed and began to enjoy the cozy armchair section again.
Things were fine for a while until that manager was transferred to another store and a new one took over. This woman was keen to make her mark as the doyenne of a store that could move coffee at a high volume clip. She removed two of the easy chairs and replaced them with tables for four that jutted well into the armchair space and all but wedged an armchair sitter in. She also removed some of the regular tables and chairs and replaced them with high tables and stools, which were less comfortable and consequently less inviting for extended sitting. I remonstrated with this new manager as I had with her predecessor but I was dealing with a different sort. Hell bent on selling beverages and food at all costs, the manager would have none of my arguments that the new arrangement was incommodious and uninviting for convivial conversations or tranquil newspaper perusal. In retaliation, I reduced my Caribou visits significantly and chose instead to concentrate on the Starbucks, which in any case was closer to my home. For a while I was able to make Starbucks acceptable for meeting others as well as reading the paper. The row of four tables lined up along a padded bench was adequate for conversing as well as perusing the paper. As a backup, there were two booths, which were occasionally vacant, although the high volume of customers at this particular Starbucks made securing a booth dicey.
One day I arrived at Starbucks, only to find that one of the four tables was gone. "What happened to the table?," I asked a barista. "It broke," she said, "and we are waiting for a replacement." Well, needless to say, the replacement never came and I began to suspect that her response was Chicagoese for "The table is gone because we need more space for the long lines of take-out customers." I decided that I could live with three tables but several months later, another one disappeared, leaving only two. "What happened to that table?," I asked another barista and received the same answer, "It broke." By this time, it was the Christmas holiday season and the table for four in the corner that had hosted so many job interviews and family get-togethers was also gone. What replaced it was a display of holiday coffee gifts. This was simply too much and I abandoned Starbucks for a local café just a few blocks away that was not beset by long take-out lines or district managers sweeping in to figure out how that particular outpost of their empire could sell more coffee.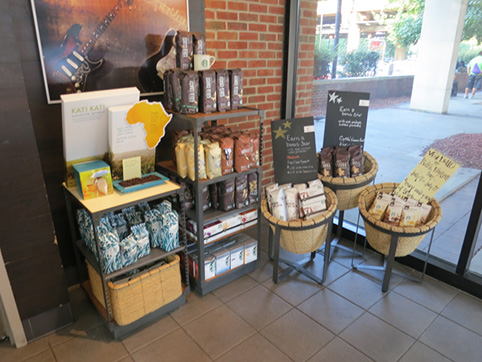 I still go back reluctantly to Starbucks when I have other business nearby and noticed recently that one of the two tables that had disappeared was back. I guess the long expanse of padded seating with so few tables looked too conspicuous. I have no hope however, that the fourth table will ever return and I observed that after the Christmas holidays, the corner display was replaced by another one with specialty coffees. I knew that the large table would never come back.
As if this was not enough, at yet another Starbucks, which I visit on Saturday mornings before I attend religious services, the furniture was changed as well. The tables for two in one section of the store was replaced by a long table which offers no opportunity for quiet reading or private conversation. It is good for laptop people with earplugs who are oblivious to anyone but themselves, their computer screens, and their music but terrible for anyone who wants to have a conversation with another person or read the paper in peace. What was gained by this change? A few more seats but along with it came a loss of privacy.
The instability of the furniture arrangements in these stores suggests that they are still trying to figure out what they are. The brand rhetoric of Starbucks and Caribou is that they are café's – third spaces, as Howard Schultz, Starbucks' CEO, likes to call his stores. Granted that some Starbucks still maintain the atmosphere of a living room with enough armchairs and tables to go around but at bottom these so called cafés are really focused on moving food and drinks, while maintaining a veneer of genteel hospitality. To liken them to European cafes would be a mistake. The instability of their furniture arrangements says everything. When they can figure out ways to boost sales without fully revealing themselves as fast food emporia, they will do so. In the meantime, I will have to take my chances with seating. This is hardly a problem at Les Deux Magots in Paris or Café Diemel in Vienna, where I know that the seating won't change every few months. A real café knows what it is. A fast food emporium with aspirations to be a café will always have an unstable décor as it fluctuates between gentility and sales volume.
Victor Margolin is Professor Emeritus of Design History at the University of Illinois, Chicago. He is currently working on a World History of Design to be published by Berg in London.