David Stairs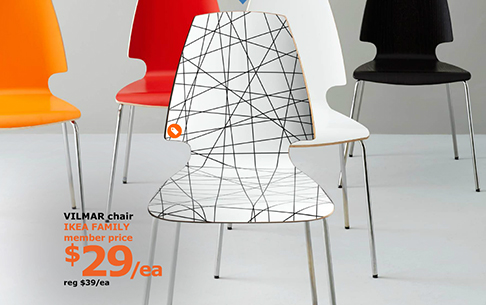 If I've heard it once, I've heard it a thousand times: design is not supposed to be about self-expression. It's iterative. It's altruistic. It's problem solving. But it's not supposed to be self-expressive. Considering the number of huge egos in the design world, this feels less and less plausible with the passing of time. In his lecture of 2003 celebrating Archeworks 10th anniversary Victor Margolin wrote that "Design is essentially a middle class profession that has delivered a comfortable life for middle class people, while also indulging the wealthy."
Take domestic design, for example: two of postmodernism's biggest design hits were Michael Graves bird whistle tea kettle and Philippe Starck's Juicy Salif, both designed for Alessi. It would be difficult to argue that either implement is necessary, or anything more than a style indulgence. In fact, the Starck juicer, while sleek and shiney, is clumsily large.
Ever since Charles Eames' 1946 solo show at MOMO New York, there has been tremendous cachet in chair design. One need only visit the Design Within Reach website to understand how a cult of personality is promoted using mid-20th century designer profiles to market chairs. And one does not need to have an Etsy account to see self-marketed work. I was recently looking at a site called Superbalist, a South African brand relayer that carries some examples of furniture designed by a friend's practice. It is generally average stuff but, according to his blog, it is selling out.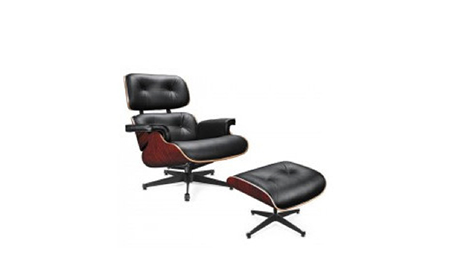 The "Divani Casa Moser Lounge Chair and Ottoman" by VIG Furniture, is the 670 Eames lounger in all but price
This led me to a similar site called All Modern. Here, one can find knock-offs of 20th century masterworks, like this citation of Corbusier, or this ripoff of the Eames lounger, not a bad price when compared to the real thing. Then again, we live in a world so corrupted by the interrelation of commerce and law that it's conceivable some of these designs have been licensed to sub-contractors. There are a few expensive pieces by Knoll at All Modern, like the Risom chair, or the Barcelona chair. But, for the most part, we're looking at pretty unexceptional stuff by secondary firms, in a word, modernist rehash.
How is such work even possible? Well, it seems people are happy to pay for ersatz modern because it's generally cheaper than the actual modern items on the Design Within Reach price list, where an Eames Aluminum Group ottoman goes for $738, or Design Out of Reach of Most for want of a better name. No wonder so many people shop at IKEA and consider themselves sufficiently posh. As for the stuff that simply does not qualify for the Design Within Reach catalog, well, there's always Pintarest.
Even in a world that has never been more in need of thoughtful, helpful, trouble-shooting design, designers will continue to crank out second-rate furniture and domestic items. Why? I think my original premise is the likeliest reason. Designers aren't just trying to make a living, you see, they are trying to do what they love AND make a living. Everyone loves adulation, especially self-aggrandizing "problem-solvers" like designers. So, whether it's a custom designer line, or a bespoke book, building, or bowsprit, design is, always has been, and will continue to be self-expressive.
David Stairs is the founding editor of Design-Altruism-Project.