David Stairs

Nativity façade of Sagrada Familia
If you are planning to visit Barcelona for reasons other than seeing the FCB, Futbol Club Barcelona, chances are you will visit a site designed by Antonio Gaudi. Gaudi is the city's favorite son, and his works are among the town's best-known tourist attractions.
Among the many sites Gaudi designed as part of Barcelona's Modernisma period, the best known is Sagrada Familia, arguably the most famous church in Christendom. Like medieval cathedrals, Sagrada Familia outlasted not only its architect, but also generations of craftsmen who have worked on it. The basilica was begun in 1882 and, it is hoped, will be completed in 2026, the centenary of Gaudi's death.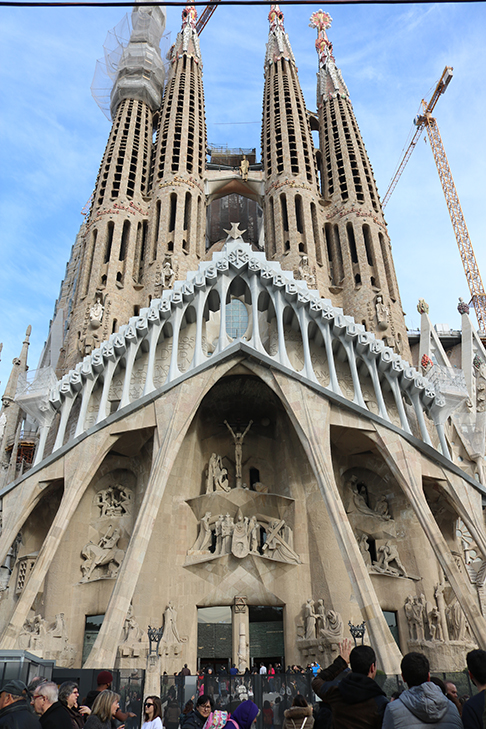 Passion façade
Gaudi took over responsibility for the project in 1883 when, at age 31, he was a rising star. The church became his passion and the main work of his life, a gesamkunstwerk or total work of art in the broadest sense. It is comprised of three façades commemorating Christ's nativity (east), his passion (west), and glory (south, under construction). When finished, Sagrada Familia will have eighteen towers, the tallest of which will reach 170 meters (560′) high.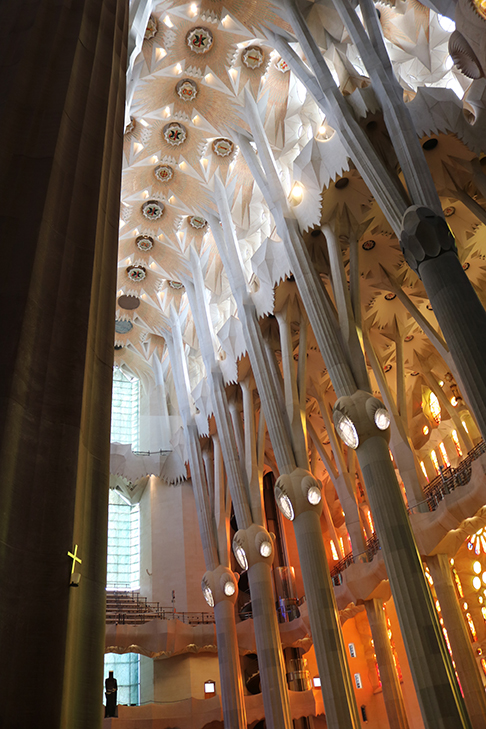 Tree-like columns ending in a canopied nave
Gaudi was not only a student of world architectural history, but a tireless experimenter. For the apse of Sagrada Familia, which is 75 meters high, he employed a series of catenary paraboloid arches to eliminate the need for the buttresses so common to Gothic cathedrals. The nave is supported by tree-like columns that branch and end in a ceiling canopy.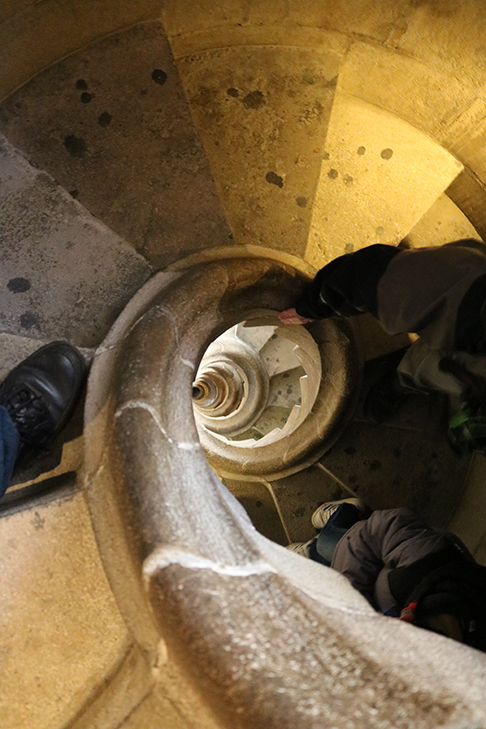 Spiral staircase in one of the towers
Construction materials include several varieties of stone, ranging from dark grey basalt through rose to light sandstone, the better to utilize a varying color palette. The east stained glass wall is in tints of green and blue, to emphasize cooler morning light, with the west glass wall comprised of warmer tints for the firey late day sun.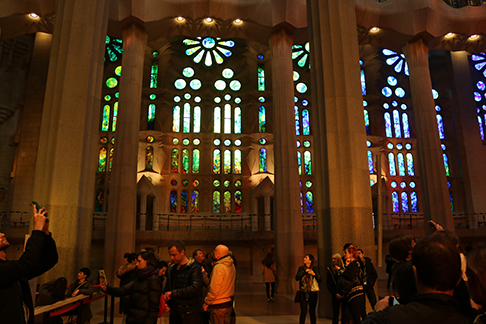 East-facing windows
Descriptions of Sagrada Familia have ranged from "sensual, spiritual, whimsical" to "vulgar and pretentious." George Orwell called it "one of the most hideous buildings in the world" while Walter Gropius described it as "a marvel of technical perfection." There's plenty to both marvel at and criticize in its many stylistic flourishes. Over the Passion Façade is the image of Christ's face transferred to Veronica's veil, but carved in reverse into stone. Then there's the holy water fount in the form of a big oyster shell.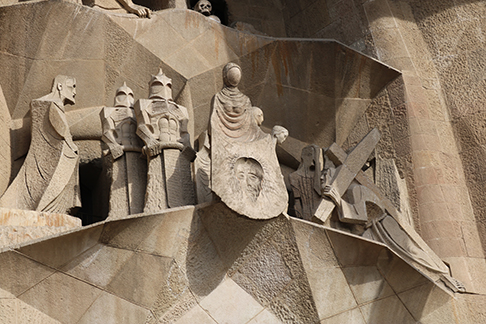 Veronica's Veil
Gaudi conceived his visions spatially, and only developed drawings when required to by the authorities. In this sense he belonged to the older, Gothic tradition. The basement of the church houses a model shop. Gaudi developed many models as guides for architects who would carry on the work after his death. Some of these were destroyed during the Spanish Civil War, while others have been recreated where possible, these days utilizing 3D printing technology.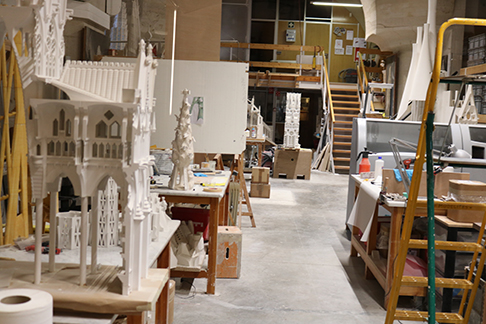 Model shop in the basement of the basilica
Descriptions of the project as bound in nature overlook the extent to which Gaudi's naturalism was influenced by the physics of geometry. Gaudi's use of hexagonal and parabolic design elements echo the occurrence of these forms in nature. This is borne out by a display in the basement of the church that compares architectural elements such as spiral staircases and buttress columns to chambered nautili and tree trunk forms. Gaudi's understanding of natural means to distribute weight and stress demonstrate his keen eye as an observer of nature.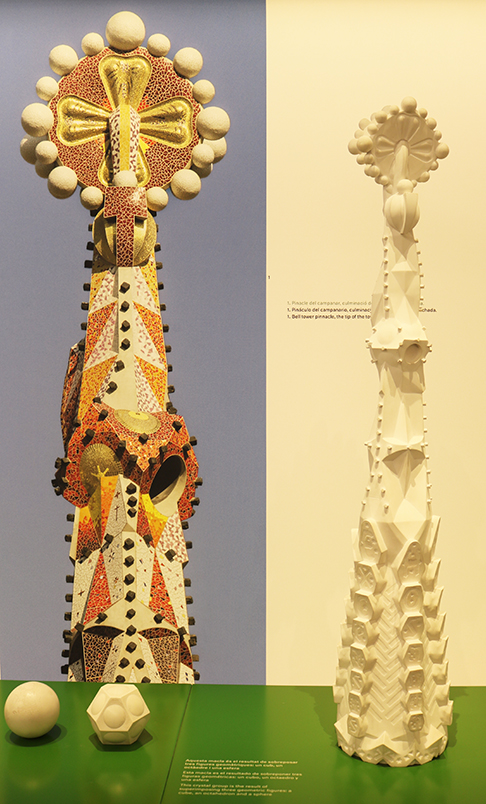 Gaudi's use of complex nature-based geometry runs throughout the cathedral
Another theme running throughout the design is the use of words as sculptural elements. Words like Hosanna, Sanctus, and Amen appear on the exterior façades, as well as the names of apostles and saints, and descriptions of Jesus. Also not to be missed are the polychromed carvings of fruit that surmount many of the towers, symbolizing nature's bounty.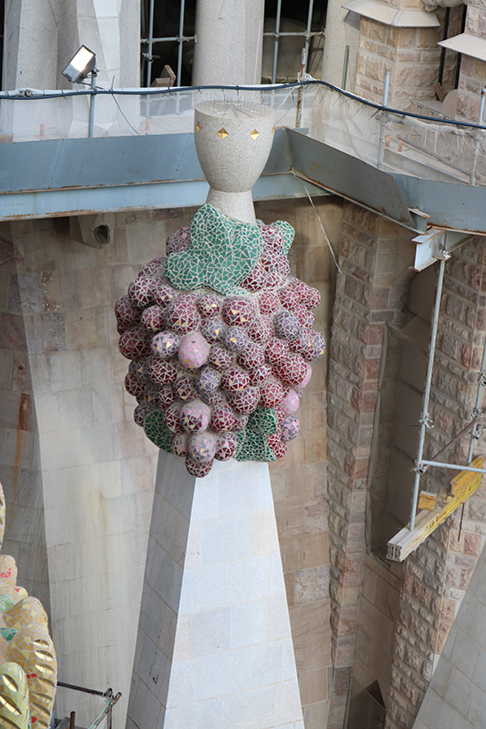 Fruit tops many of the spires
Gaudi was also involved in the design of furniture and other implements for the church and its services, such as candelabra, pulpits, and storage facilities for ecclesiastical garments.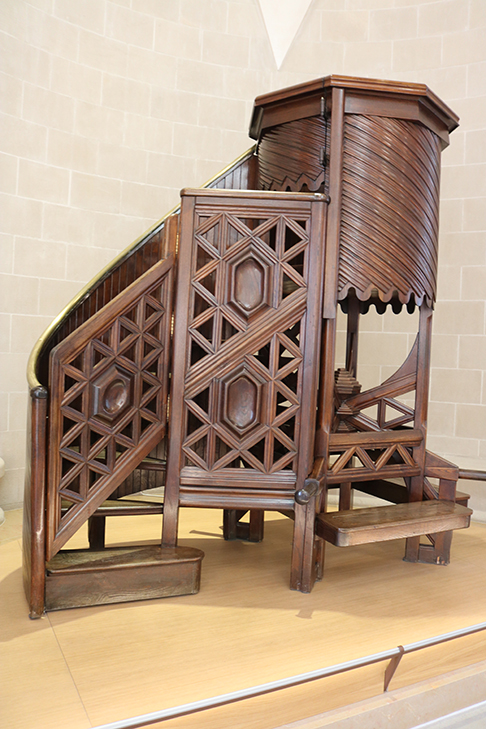 Gaudi-designed portable pulpit
Antonio Gaudi was hit by a tram while walking along a nearby street on June 7th 1926 and died three days later. He was buried on June 12th 1926 in the crypt at Sagrada Familia with a large crowd in attendance, a fitting last resting place for "God's Architect."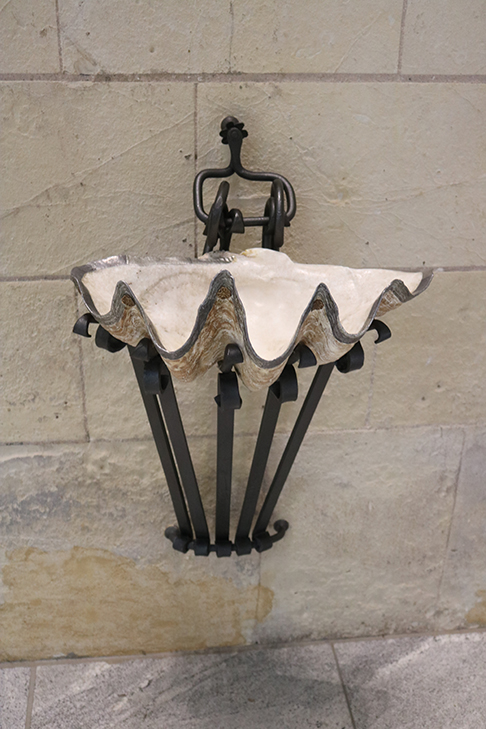 Holy water fount
David Stairs is the founding editor of the Design-Altruism-Project