David Stairs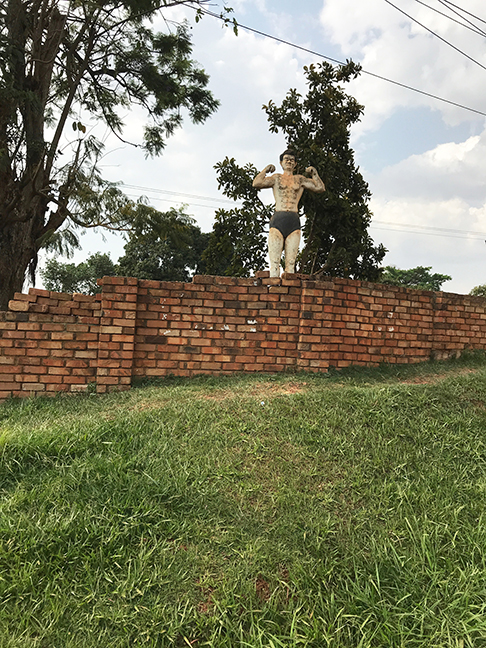 The Original Omusajja along Entebbe Road
Along the highway leading from Uganda's former colonial capital Entebbe to its modern capital Kampala there is a landmark that characterizes colonialism in a nutshell. Known as "Omusajja ku luguudo lweNtebbe" or just "Omusajja" for short in Lugandan, "the Man along Entebbe Road" is a fifteen-foot high statue of a white body builder flexing his muscles as the former symbol of durability for the Lweza Clays company.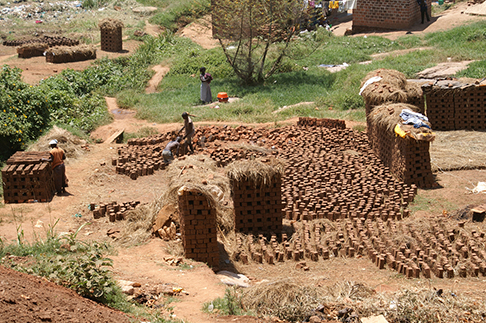 Roadside brick production
The surrounding area, known as Kajjansi, which means "clay" in Lugandan, has been a brick and tile manufacturing area for decades, blessed with clay soil criss-crossed by a number of small streams. Lweza Clays factory competes with nearby Uganda Clays for dominance of the manufactured building ceramics market. Small-scale amateur brickmaking is also often practiced on or near the site of a prospective construction with kilns of rough-made bricks mounded and fired in place. This can cause obnoxious local air pollution while the bricks are firing.

Small scale brick making
The Colonial Development and Welfare Act of 1940 was amended in 1945 with 120 million pounds earmarked for the expansion of manufacturing in the colonies. Among the goods that needed to be produced locally due to their expensive weight to transport ratio were bricks. 1947's Worthington Plan further emphasized economic over social development. The Uganda Development Corporation (UDC) was formed in 1952, the same year the Owens Falls Dam Hydro Project on the Nile was launched. The UDC was intended to serve to promote British manufacturing by having the state cover the initial capital risk.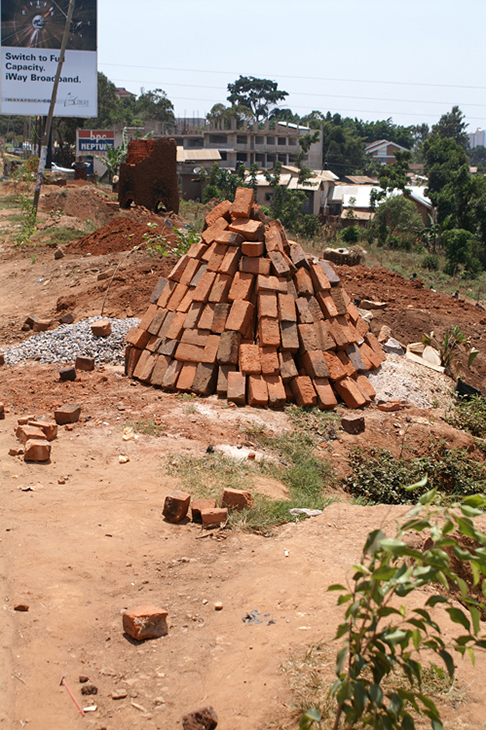 Marketing bricks by the roadside, with self-standing kiln in background
By the time of its 1962 independence Uganda was still being characterized as a "poor, mostly agrarian country," and the upheavals and civil wars of the first 25 years after independence did little to change that description. Since coming to power in 1986, Yoweri Museveni's government has struggled to diversify Ugandan manufacturing, making some small gains.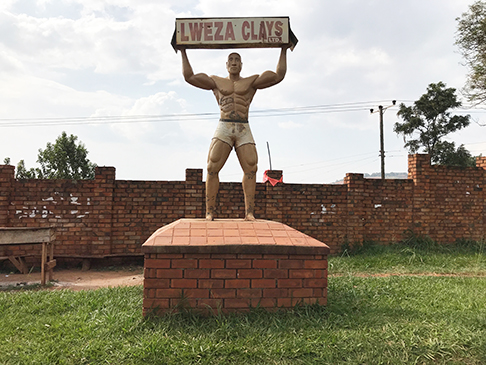 The original Omusajja has apparently lost whatever sign he was formerly holding, but a newer Man, looking a lot more like Dwayne "The Rock" Johnson than a colonial weightlifter, today proudly carries on the company name.
David Stairs is the founding editor of the Design-Altruism-Project