David Stairs
Say what you want about Art Nouveau, but when it came to invention its practitioners were not short-handed. For an example, I turn to Gaudi's most famous residence design.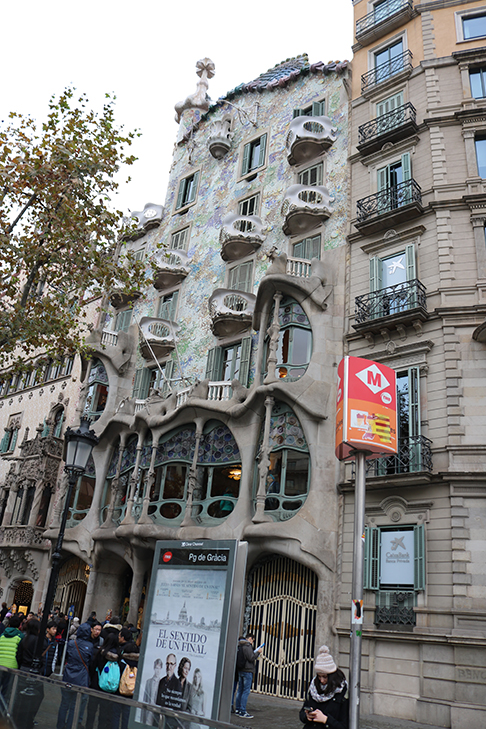 Casa Battlo, or "House of Bones," so named for its bone-like exterior columns
Originally built in 1877, Casa Batllo was purchased in 1900 by Josep Batlló, a Spanish industrialist. The house was located on the fashionable Passeig de Gracia, and Batllo wanted something utterly unique. At the outset, he wanted the old house torn down, but Gaudi convinced him that a redesign was, in fact, practicable.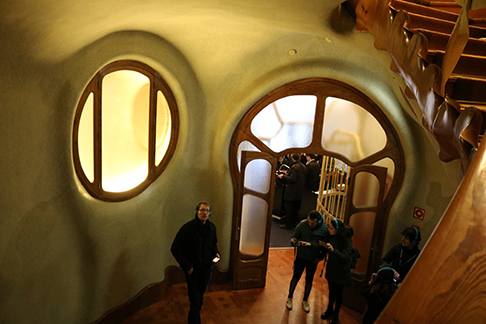 Entryway to Casa Battlo
Gaudi's original renovation work took place between 1904 and 1906, and redesigned not only the façade, but changed the interior to a large extent, as well as adding floors to the structure. As with FL Wright's Robie House, which was built between 1908-1910, after the family sold it in 1954 Casa Batllo has undergone subsequent renovations and has seen a variety of uses before finally being preserved as an architectural masterpiece.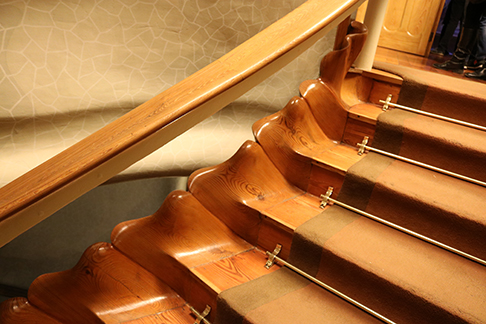 Detail of hand-carved entry stairway
Gaudi's vision, always sensitive to surface treatment, incorporated a number of his signature design tropes. Known locally as Casa dels ossos, or House of Bones, due to the skeletal-like columns on the front elevation, Gaudi also used generous amounts of multicolored tile. His employment of broken pieces of tile, arranged into mosaic patterns, is a technique known as trencadís. The roof is arched and tiled, like a dragon's back.

Tencredis, or mosaic made from broken ceramic pieces
Inside Gaudi made generous use of hardwood and leaded glass. The main living area is fronted by large windows set in organically-shaped frames that are hung vertically and raise for ventilation. Details, like a fireplace with built-in seating, are one of a kind.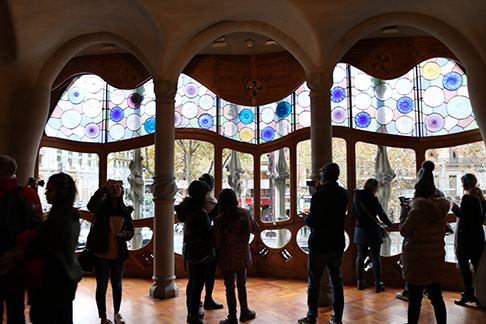 Front windows
The second floor opens to a garden area at the rear where, as with Park Guell— Gaudi's failed attempt at a gated community— Gaudi has taken care to consider rainwater drainage. Oddly, he chose to place two columns directly before the door that exits to the garden.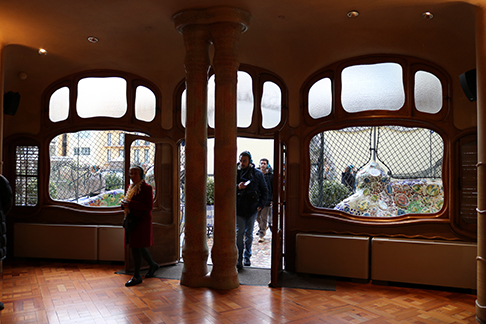 Exit to back garden with columns
The real showpiece of Casa Batllo is unusual. Gaudi decided to expand a four-story light well to better bring daylight to the house interior.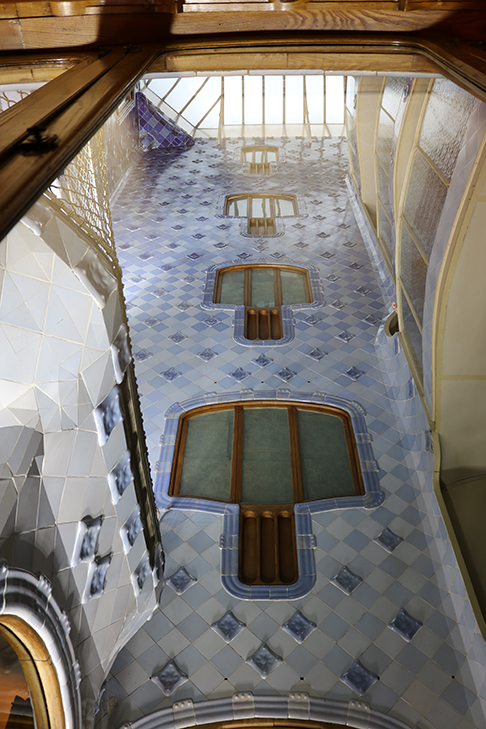 Four-story light well
His spectacular solution was to tile the entire interior surface of the well starting with light blue tiles at the bottom that become a dark blue as they approach the roof. Nowadays an elevator shares the well with the staircase that winds around the exterior.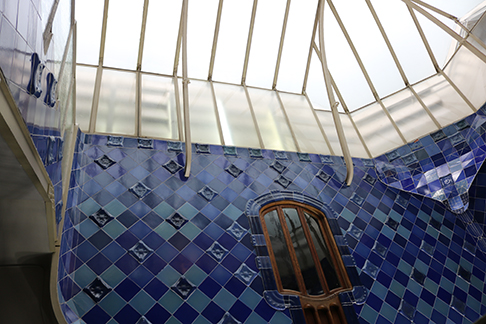 Tiles are lighter at the bottom, where there is less light, and darker near the skylight
The upper floors Gaudi reserved for servants quarters and work space. But he completed the top floor using his signature catenary parabolic arches.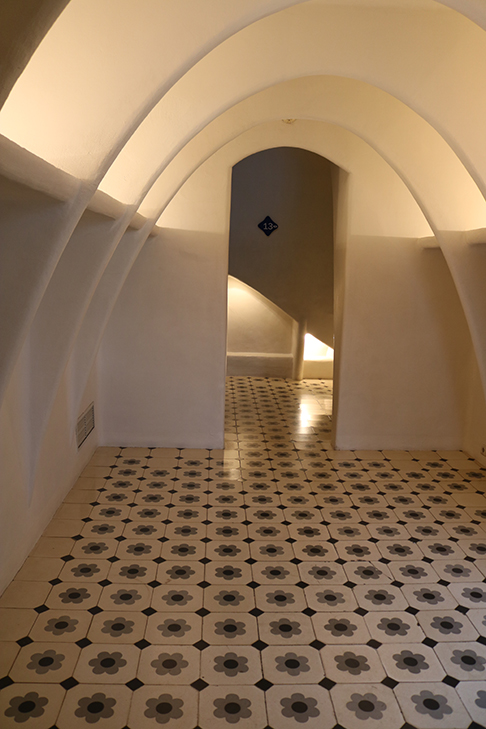 Gaudis' signature catenary arches
The rooftop is flat, and offers a commanding view of central Barcelona. Gaudi made it more interesting by designing organically-shaped chimneys, again covered in broken-tile mosaic. The dragon's back actually covers a small room originally intended to house the water reservoir for the house.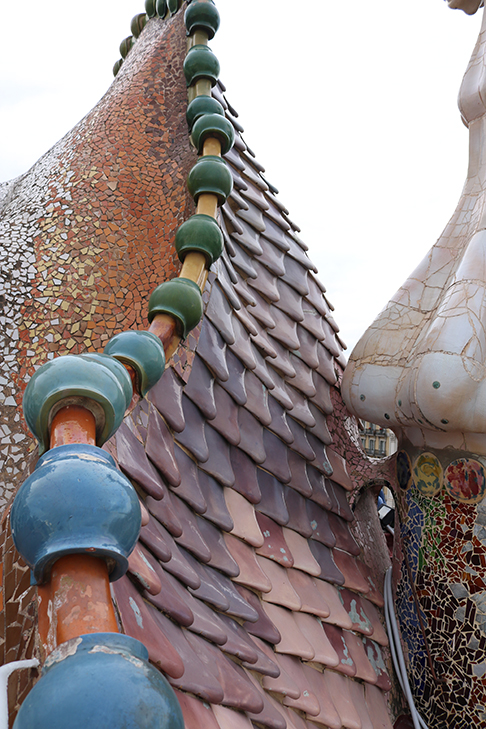 The famous "dragon's scale" roof tiles with trencadis to the left and right
Like Gaudi's other works, Casa Batllo is a World Heritage site and a very busy museum dedicated to his work. We visited early in the day during the off season of December, but when we exited a long line had assembled. The extravagant entry fees were a worthwhile donation to the preservation of Gaudi's eclectic vision.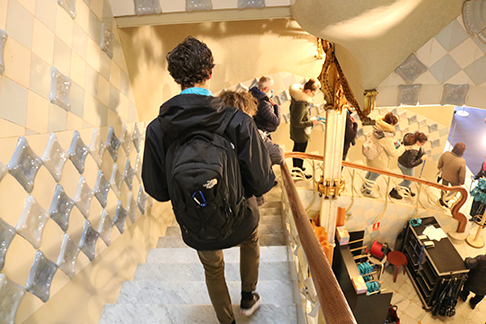 David Stairs is the founding editor of the Design-Altruism-Project