David Stairs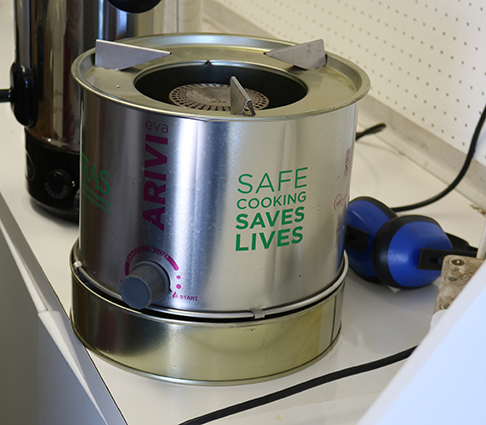 Way back in 2011 I first wrote about a wonderful device my friends in South Africa had come up with. Known as Eva, the Arivi paraffin stove had been an INDEX competition finalist in 2009, and had won an award from SABS, the South African Bureau of Standards, in 2011. While visiting them in Pretoria last Fall I caught a glimpse of social entrepreneurship on a micro-manufacturing level.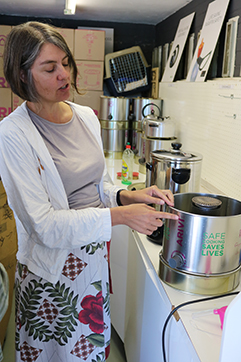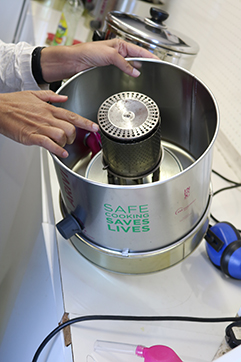 Anya Calantzis demonstrating the safety features of the Arivi kerosene stove
Tasos and Anya Calantzis of SuperUltra are currently manufacturing the product they've developed over the past decade. The complexities of building a fail-safe kerosene cook stove, one that shuts down if tipped, involve many design and materials-sourcing decisions. This entailed designing to tolerances that were new for South African manufacturing, and sourcing special parts that could not be affordably fabricated in South Africa from distant places.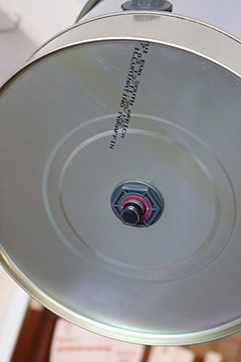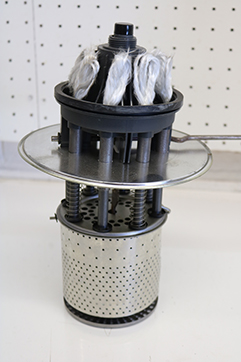 Federal safety registration on bottom of stove at left, safety spring wick/burner mechanism (inverted) at right. Development of the "no tip" burner mechanism ran to 200 prototypes.
Addressing a national emergency of fire and poisoning that can result from children living around stoves in township homes may not seem like a social design problem, but this is what garnered the Arivi attention from INDEX. Development of the spring-controlled anti-tip paraffin-wicking mechanism alone resulted in the design of some 200 prototypes.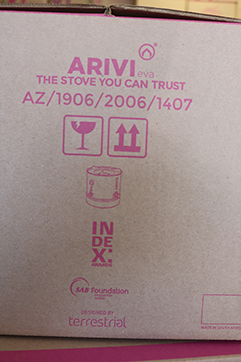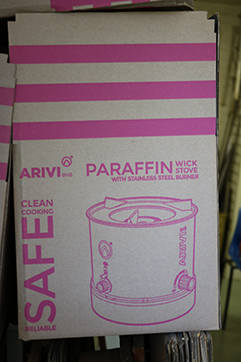 Endorsements from the INDEX competition, and SABS
To date, the Arivi is the only kerosene stove in South Africa to meet the exacting safety standards set by the government and overseen by SABS. Unfortunately, safety standards and better materials do not convert to a lower price point, and in Africa that's problematic. Unscrupulous merchants import dangerous and inefficient stoves that sell at a fraction of the price of the Arivi. Marketing a stove, even one that only costs $30 like the Arivi, can be a challenge when the competition is selling one for $6, despite its tendency to burst into flames.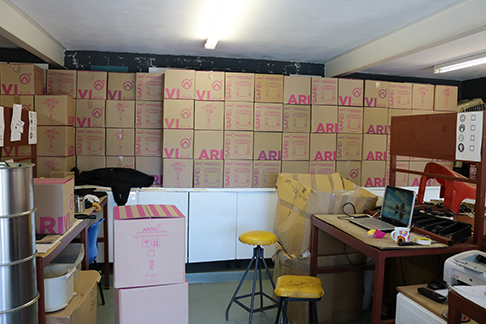 Tasos and Anya's garage "factory."
A side project by SuperUltra that developed a cap/spout/hook mechanism to be used with the ubiquitous 2-liter PET pop bottles South Africans recycle to transport kerosene did not catch on despite the potential for poisoning kids who mistake a partially empty fuel bottle for water. The Arivi itself has a 2-liter fuel tank and special spout designed to prevent spillage during filling.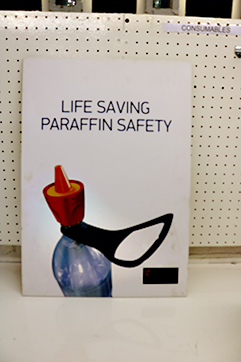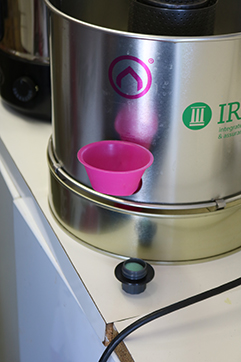 Fool-proof paraffin spout for 2-liter bottle at left, spout to stove fuel tank on right.
To date Tasos and Anya have only shipped 1000 units, but they are in conversation with a distributor who wants to take over the marketing for them. Scaling up of the project, which was originally partially supported by grant money, is a labor of love for SuperUltra and an object lesson in the trials, and potential success of socially-motivated design developments in Africa. But it can only be a win for South Africa.
David Stairs is the founding editor of the Design-Altruism-Project