Multi-Taskers Tee
Attention Deficit?
According to recent research, humans are not well-adapted to doing more than one thing at a time. People who are fond of following simultaneous electronic streams failed miserably on task-focused tests developed at Stanford's Communication Between Humans and Interactive Media Lab. "They're suckers for irrelevancy," said communication Professor Clifford Nass, one of the researchers whose findings are published in the Aug. 24, 2009 edition of the Proceedings of the National Academy of Sciences. "Everything distracts them."1
Don't let ADD bring you down. Get focused with one of these tastefully styled Ts, $18 post paid.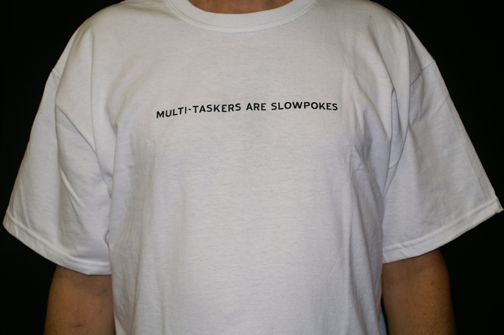 Please designate size: s,m,l,xl. All proceeds benefit Designers Without Borders.
To make a purchase click the tax-deductible donation button below.
1) http://news.stanford.edu/news/2009/august24/multitask-research-study-082409.html