David Stairs
Fred Quillin's not very big.
At 5'3″ he gets more than his share of Michael J. Fox comparisons. But when it comes to effect, Fred Quillin is high impact. Famous at Central Michigan University for recreating Michaelangelo's "Birth of Adam" on his dorm room wall with blue and silver duct tape, he is a well known and popular personality on campus. As a student in more than one of my design classes at Central, Fred was one of the only members of his peer group to be moved by the African projects I displayed in class.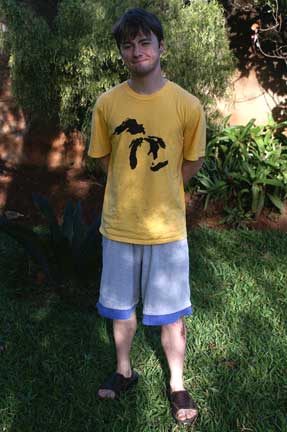 Fred Quillin in Kampala
Now Fred Quillin has come to Uganda to make his own mark. As Designers Without Borders' first student volunteer, Fred applied for and was rewarded a Summer Scholar stipend from CMU. At Central Fred is a double major in Graphic design and printmaking. Now he'll be putting his broad interests to work for one of our partners, the Foundation for Development of Needy Communities in eastern Uganda.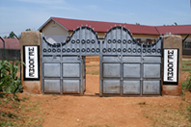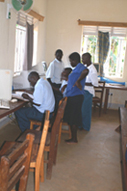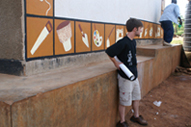 FDNC runs a vocational school five kilometers outside Mbale with classes in organic farming, masonry, marching band, special ed, sewing, carpentry, art, and computing applications. Fred will be applying his talents to this last area between now and August 8th, when he's scheduled to return home. FDNC is currently in the process of upgrading their computer facility. In January DWB donated a high-end graphic workstation, which will be Fred's teaching platform, and now Fred to complete the ensemble. This will be the first time classes using computers as art and design making devices will be taught at FDNC.
Fred will be posting to D-A-P periodically over the next couple months as his story unfolds. Safe journeys, Fred. We love you!